Notable Concordian
Father Emmett Johns
BA 74, LLD 97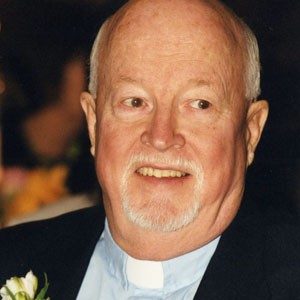 Awards & Distinctions
Great Concordian
Official chaplain of the homeless
The late Father Emmett Johns, BA 74, LLD 97, had been a parish priest for nearly 40 years when he decided to dedicate himself to fighting youth poverty. In 1988, the Montreal native founded Dans la rue.
He took out a $10,000 loan and purchased a used motorhome, which he drove around the city at night to offer a safe place, a meal and a listening ear to homeless youths. Within a year, Bishop Leonard J. Crowley named Father Johns "official chaplain of the homeless."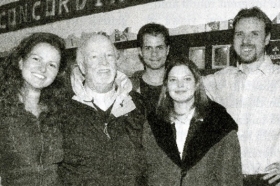 Father Emmett Johns with students of the Dans la rue alternative school at an exhibit organized jointly with Concordia University's Department of Design and Computation Arts in 2003. | Photo: Andrew Dobrowolskyj, Concordia Records Management and Archives Department
The young people who congregated around the motorhome at night affectionately called him "Pops." The charitable organization has grown considerably and, thanks to dedicated volunteers and donors, it now provides a variety of services through its overnight shelter (the Bunker) and its day centre (Chez Pops).
Members of the Concordia community have been long-time supporters of Dans la rue. Students have organized many fundraisers over the years while the Department of Design and Computation Arts pioneered an outreach program with the organization to empower street kids and combat exclusion.
Parallel to these initiatives, Concordia's Centre for Oral History and Digital Storytelling participated in the 20th anniversary of Dans la rue by helping collect, organize and present testimonies that retold the early days of Father Johns's nighttime rounds.
In 1997, the Loyola alumnus received an honorary doctorate from Concordia University. Pamela Bright, then associate professor in the Department of Theological Studies, introduced him as a "beacon of light for more than 150,000 homeless and runaway youths on the streets of Montreal."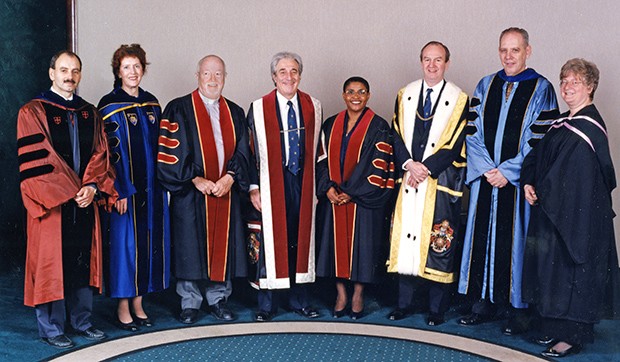 In 1997, Father Johns (third from left) received an honorary doctorate from Concordia University.
He was presented with the Queen Elizabeth II Golden Jubilee Medal (2002) and the Queen Elizabeth II Diamond Jubilee Medal (2012). Father Johns was admitted into the Order of Canada in 1999 and made Grand Officer of the National Order of Quebec four years later.
Father Johns has received numerous other awards for his tireless efforts, including the Rights and Freedoms Prize awarded by the Commission des Droits de la personne et des droits à la jeunesse (2001), the Anne Greenup Citizenship Award (1998), the United Irish Societies of Montreal's Simon McDonaugh Humanitarian Award (2002) and the Martin Luther King Jr. Legacy Award (2008).
Father Johns died on January 13, 2018. He was 89.
More Great Concordians