SafeWalk service
Campus Safety and Prevention Services offers all members of the community an accompaniment service at both Loyola and SGW campuses.
An accompaniment service is available to community members on both Loyola and SGW campuses, as long as your points of departure and arrival are within the red boxes on the maps below.
This service is available to all Concordia community members—including visitors—24 hours a day, 7 days a week.
Please note that we cannot make appointments for Safe Walk accompaniments. Our team does treat these requests as priorities and will respond as soon as possible. If our team is responding to an emergency call, the dispatcher will inform you and you may have to wait longer.
If you feel you are being pursued, harassed or threatened by one or several individuals, on campus contact Campus Safety and Prevention Services immediately at 514-848-3717 indicating option 1.
If you have dialed 911 Service de police de la Ville de Montréal, don't forget to call Campus Safety and Prevention Services (514-848-3717) after to provide your exact location so we can help emergency services get to you.

Sir George Williams - SafeWalk Area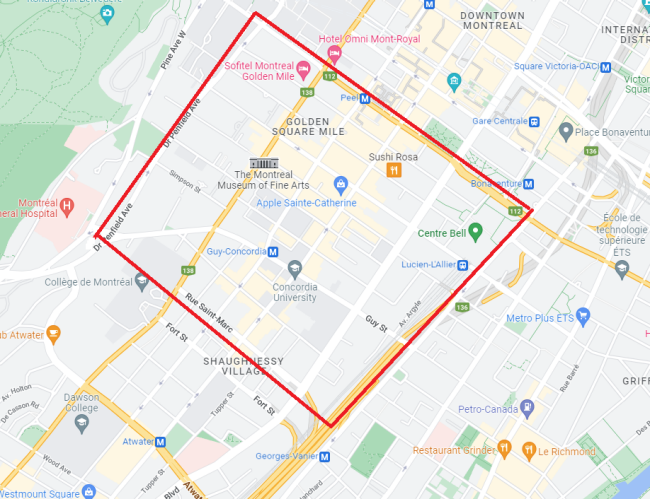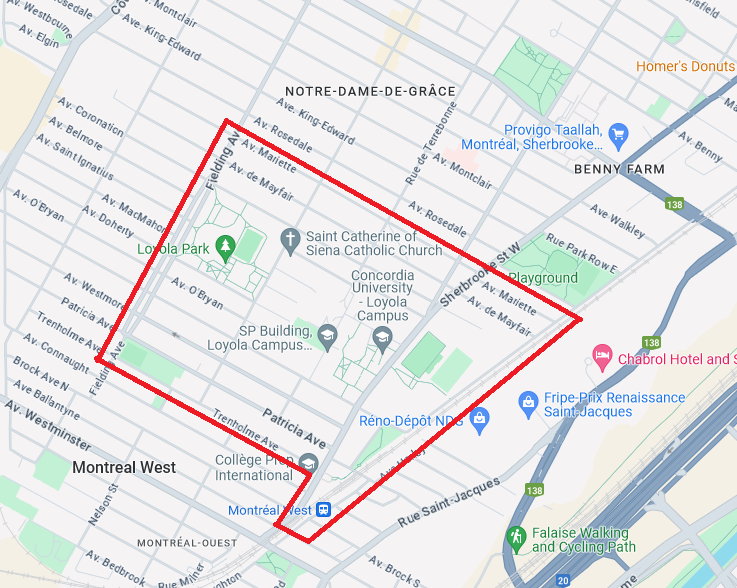 All students, faculty and staff have access to a virtual SafeWalk service via the Rave Guardian application for mobile devices. You may use the virtual SafeWalk feature even if you are outside of the outline SafeWalk area and as long as you have cellphone service. Campus Safety and Prevention Services will coordinate with local police departments if a response is required.
How does it work?
The virtual SafeWalk allows members of the community to set a timer while they travel from one location to another. The person chooses any contact that has a cellphone as a "Guardian" to moniter them while they travel. The guardian will receive the request by text message and upon accepting will be able to see the person's location for the duration of the timer. At any point during your travel, you can contact Campus Safety and Prevention Services if you feel unsafe. The user can deactivate the timer when they are safe, but if the timer expires the guardian will be notified.