Be a mentor
When you enable the mentor status on your Concordia Alumni Connect profile, it will appear in mentor search results.
1. From the Concordia Alumni Connect dashboard/homepage select the 'Find a Mentor or Mentee' menu item.

2. Select 'Find a Mentor'.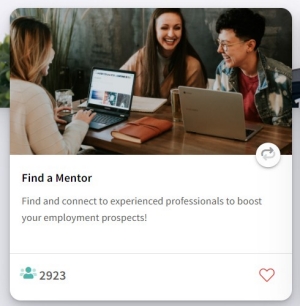 3. Click on 'Join' in the 'Become a Mentor' section and follow the steps outlined from there

4. Read and accept the 'Terms and Conditions of Concordia Alumni eMentoring Program'
5. Complete the necessary steps to set up your mentoring profile
6. Finish
IN THIS VIDEO: review steps to set up your mentor profile and find mentees
You decide which mentoring services you're willing to offer:
Provide advice via email or chat

Set up a phone call

Review a CV/cover letter

Organize a workplace visit or job shadowing session

Organize an in-person meeting
When someone selects you as a mentor, you will receive a notification message and will be asked to accept or decline the request.
Tips to facilitate communication with your mentee(s):
Explain your role as a Mentor.

Provide advice and guidance within your area of expertise.

Ensure discussions are kept confidential.

Respond promptly to the individual you are mentoring.

Try to regularly keep in touch with Mentees.

Communicate in a respectful manner.

Keep the relationship professional.

Share experiences and give examples.

Discuss the length of your Mentor and Mentee partnership.

Organize a schedule that is convenient for the Mentor and Mentee.