Concordia's FOFA Gallery launches its fall season with an exhibition by Bronfman fellow Madeleine Mayo
Printmaker Caroline Gagnon and painter Adam Gunn are also showing their works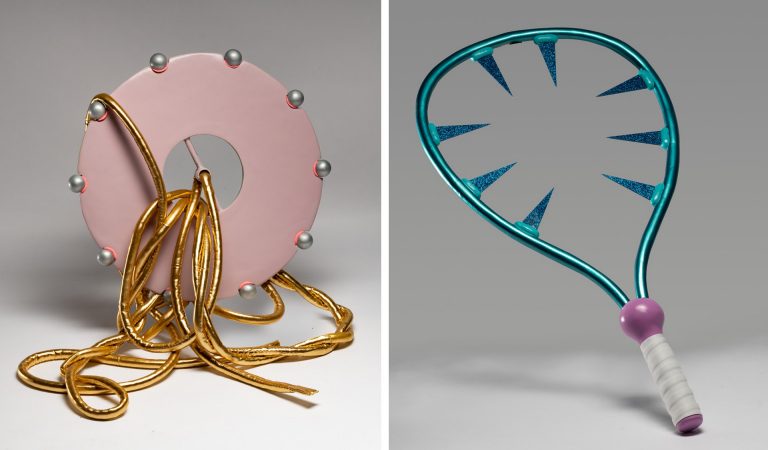 The FOFA Gallery at Concordia kicks off its fall programming with three distinct exhibitions across its vitrines and gallery spaces.
The majority of the gallery is occupied by interdisciplinary artist Madeleine Mayo, MFA 18, who is presenting an extensive and ambitious body of work. She created it with the support of the Claudine and Stephen Bronfman Fellowship in Contemporary Art, which she received in 2019.
Born in London, Ontario, Mayo earned a BFA in painting from the Ontario College of Art and Design University in Toronto before completing her MFA at Concordia. Her work has been presented in Montreal galleries such as McBride Contemporain and, most recently, the Visual Arts Centre, with an exhibition of her paintings titled Rules of Mantis (2022).
Vex-Visceral, Mayo's exhibition at the FOFA, consists of a series of large sculptural objects as well as wall paintings in the Main Space, York Vitrines and Sainte Catherine Street Vitrines. The explosive, energetic pinks, reds, yellows and greens of Mayo's sculptures are playful and theatrical, yet they also hint at conflict and taboo.
"I'm really interested in relationship dynamics," Mayo explains. "These objects are trying to deal with the complexities and complications in relationships. They could speak to people's deeper needs, things that may not be comfortable or appropriate."
This range of uses is clear in how some sculptures have sharp edges or resemble some kind of trap, while others are welcoming with extravagant, rounded parts. The visitor can become immersed in Mayo's fantastical imagination with the help of her extremely vertical mural paintings.
"I was very struck by how much I have a sense of my own body when I'm looking at the work," says Nicole Burisch, MA 11, FOFA gallery director. "There's something to be said about being in a large space with these striking physical objects as we're coming back after a couple years of virtual work. I very much enjoy that aspect of this installation."
For Mayo, Vex-Visceral is a full celebration of painting and colour. "Colour activates the objects and brings them to life," she says.
"Being in the space, surrounded by bold colours, gives me a sense of uplift and I hope the work offers that to others as well. It's about rousing a sense of robust energy and attentiveness to contend with the contradictions and tension within the work."
'The fellowship provided me with focus and time'
Each year, the Bronfman Fellowship is awarded to a full-time Concordia student who has completed or is about to complete a graduate degree in one of the fine arts disciplines. The recipient receives funds for their living allowance, research and materials. Other recent recipients from Concordia include Frédérique Laliberté (2018), MFA 18, and Andréanne Abbondanza-Bergeron (2017), BFA 07, MA 10, MFA 17.
"One of the greatest things about the fellowship is that it really provided me with resources and time," Mayo says. "With such a big project on the go, it made it easier to form connections with people, to collaborate, get assistance and be able to realize a project at such a large scale."
The Bronfman award exhibitions are an important way to highlight the best and brightest to come out of Concordia's fine arts programs, Burisch notes.
"These exhibitions are a great opportunity for an artist to propose something large and ambitious that can really advance their practice. It's also a chance for us to get to see that unfold and work with Madeleine in the space as she takes something that she's been working on for a long time and make that come to life."
New works in the FOFA Black Box and York Vitrines
The FOFA gallery's current exhibitions run until October 21. They include Regretté de Tous by Adam Gunn, MFA 17, in the Black Box. The show presents a series of paintings made in response to a prediction for a change in the colour of the sky and oceans as a consequence of human-made climate change.
And the gallery's York Vitrines show a multidisciplinary installation by printmaker Caroline Gagnon, BFA 03. Fetish Territories is a study of materiality related to Gagnon's artistic practice, exploring her creation and use of plant-based inks and looking closely at the surroundings and gestures that give rhythm to daily life, time and material transformation.
Vex-Visceral is supported by the Claudine and Stephen Bronfman Family Foundation and the Canada Council for the Arts.

Visit Concordia's FOFA Gallery from September 12 to October 21 to view exhibitions by Madeleine Mayo, Adam Gunn and Caroline Gagnon.
---