Notable Concordian
Xavier-Henri Hervé
BEng 87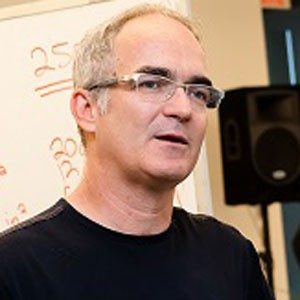 Awards & Distinctions
Great Concordian Humberto Santos Award of Merit
Engineering a better world through innovation
As an undergraduate studying mechanical engineering in the 1980s, Xavier-Henri Hervé, BEng 87, DSc 11, and four fellow students built a flight simulator prototype. They subsequently founded Mechtronix (now TRU Simulation and Training), a leading flight simulation enterprise based in Montreal.
Hervé served as its vice-president, International Sales (1997-2001); vice-president Business Development (2002-2008) as well as president and chief operating officer (2008-2012), contributing to the company's worldwide commercial and strategic expansion.
In 2010, Hervé and another of Mechtronix's founders, Joaquim Frazao, returned to Concordia to donate $150,000 for the renovation of the Society for Automotive Engineers' workspace, now known as Intelligent Machines World.
Hervé is a dedicated supporter of the Concordia University community and a strong believer in multidisciplinary research. He founded District 3, an innovation hub that brings together student and alumni entrepreneurs from a variety of disciplines.
Xavier-Henri Hervé and Concordia President Alan Shepard cut the ribbon to inaugurate District 3 in 2015.
Hervé describes the project as "one common pool, one common zone, one common ecosystem, one common network — with one mission: to sustainably drive the production of innovations from idea at one end of the cycle to market validation at the other end."
In recognition of his pioneering work, leadership and vision, the university awarded him an honorary doctorate in 2011. Addressing the graduating class, Hervé noted that innovation is about meeting the unmet need.
"Crafting, creating and engineering a better world is your mission. Combine perseverance, alignment of emotions, true leaders around you, a global perspective, and your team will bring you the heaven of innovation."
More Great Concordians