Notable Concordian
Dominic D'Alessandro
BSc 67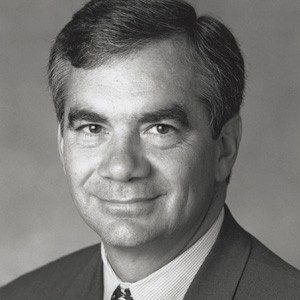 Awards & Distinctions
Loyola Medal
His success in business can be attributed to his forward-thinking, his personal strength and his honesty
Dominic D'Alessandro, BSc 67, has earned widespread admiration in a decade as president and CEO of Manulife Financial Corp. He took the company through demutualization and conversion to public company status in September 1999, and recently merged it with the U.S. giant John Hancock Financial Services.
D'Alessandro success in business can be attributed to his forward-thinking, his personal strength and his honesty. He inspires confidence and, in turn, earns loyalty and dedication from his colleagues, staff and shareholders.
As an old classmate and fellow Loyola Medal recipient Richard Renaud said at the dinner, "The company earns six times more today than it did the day he took over."
He earned his degree from Loyola College in 1967, and went on to qualify as a chartered accountant, earning the bronze medal from the Institute of Chartered Accountants. He has worked for Coopers & Lybrand, Genstar, the Royal Bank of Canada, where he was a vice-president, and the Laurentian Bank of Canada, where he was president and CEO.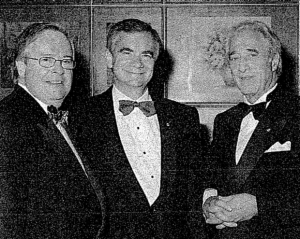 Richard J. Renaud and Rector Frederick Lowy with Dominic D'Alessandro (centre) at the Loyola Medal dinner on May 2, 2004, in Toronto.
D'Alessandro was named Canada's outstanding CEO for 2002, and the following year was named Officer of the Order of Canada. He received an honorary doctorate from Concordia in 1999.
Concordia has benefited from Dominic D'Alessandro talents and commitment, as he applied his remarkable management skills to the university's fundraising campaigns. From 1989 to 1996 he organized successful annual giving campaigns for Concordia, and has served on the university's Board of Governors.
In fact, the proceeds from the Loyola Medal gala dinner will establish an endowment in his name, which will provide financial support and to masters and doctoral students in research-oriented programs.
Other Loyola Medal recipients