Notable Concordian
Bernard Lonergan
LLD 77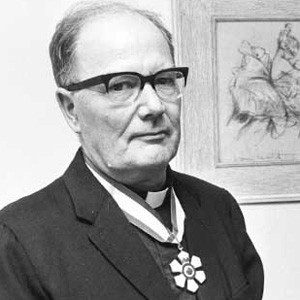 Awards & Distinctions
Great Concordian Loyola Medal
A theological giant
The Globe and Mail called Father Bernard Lonergan, LLD 77, a "theological giant" in March 1970. Time magazine corroborated a few weeks later noting the Jesuit scholar was "considered by many intellectuals to be the finest philosophic thinker of the 20th century."
Born in Buckingham, Quebec, in 1918, he relocated to Montreal to study at Loyola College, one of Concordia's founding institutions. He was a gifted student, but ill health forced him to interrupt his studies in the early months of 1920. He returned later that year and carried on until 1922 when, in his sophomore year, he decided to join the Society of Jesus.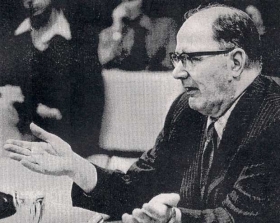 Father Bernard Lonergan, philosopher-theologian and author of
Insight and Method in Theology
. | Photo: Concordia Records Management and Archives
He taught Latin and Greek at Loyola College in the early 1930s as part of his regency assignment. Father Lonergan then studied in Rome and Amiens, France, before moving to Toronto, where he began work on Insight: A Study of Human Understanding and Method in Theology.
Newsweek magazine compared this seminal work to David Hume's An Enquiry Concerning Human Understanding. He was the author of numerous books.
When Loyola College marked its 75th anniversary in 1971, Father Lonergan returned to his alma mater.
Then-president of the Loyola Alumni Association Brian Gallery, BA 57, LLD 10, presented the Jesuit scholar with the Loyola Medal in recognition of an incomparable body of works which gave "needed point to human values in the present crisis of human existence, and clear direction to human aspirations in the generations to come."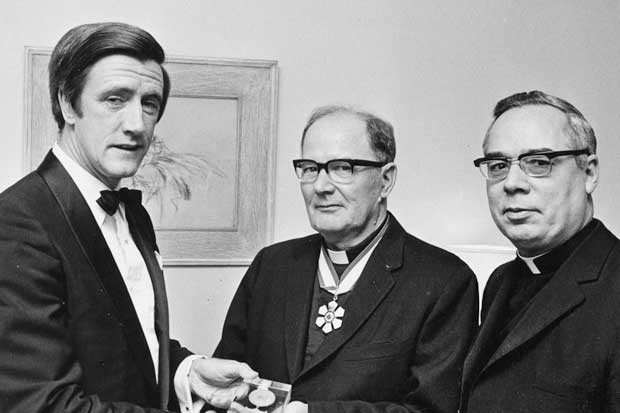 Loyola Alumni Association president Brian Gallery (left) presents the Loyola Medal to Father Bernard Lonergan (centre) in 1971. Pictured with them is Reverend Patrick Malone. | Photo: Concordia Records Management and Archives
Concordia awarded Father Lonergan an honorary doctorate in 1977. Lonergan College was founded to encourage discussions and research dealing with aspects of the philosopher-theologian's ideas. Similar centres now exist around the globe.
Father Lonergan was named a Peritus at the Second Vatican Council. He was made a Companion of the Order of Canada (1971) and a Corresponding Fellow of the British Academy (1975).
He died in 1984.
More Great Concordians