Notable Concordian
Brian Gallery
BA 57, LLD 10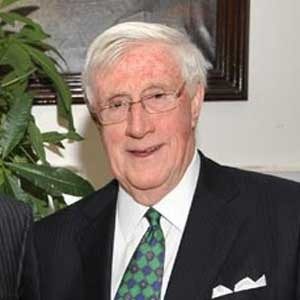 Awards & Distinctions
Great Concordian Humberto Santos Award of Merit
Canada's beloved Irishman
Brian O'Neill Gallery, BA 57, LLD 10, was an indefatigable civic leader and a champion of higher education. He was also one of Canada's most beloved Irishman — and for good reason.
"He combines the capacity to dream big dreams with the practical skills to ensure that they become reality," said Michael Kenneally, principal and chair of Canadian Irish Studies, on November 1, 2010. That day, Gallery received an honorary doctorate in recognition of his outstanding contributions and ongoing dedication to Concordia.
The former mayor of Westmount graduated from Loyola College in 1957. He maintained contact with his alma mater partly through the alumni association of which he was the president in the early 1970s. In 2007, he organized the golden anniversary celebration of his graduating class and helped secure funding for what became the Loyola Class of '57 Bursary.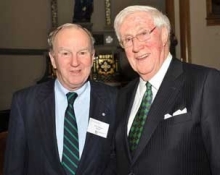 With Eric Molson (left) at the inauguration of the School of Canadian Irish Studies, 2009
In 1995, Gallery co-founded the Canadian Irish Studies Foundation to support the study of Irish history and culture. Funds raised through the foundation contributed to the creation of several scholarships and the establishment of Concordia's Centre for Canadian Irish Studies, now known as the School of Canadian Irish Studies.
For his role in building the School, the Concordia University Alumni Association presented Gallery with the Humberto Santos Award of Merit in 2010. Accolades also came from Canada's Irish community: Gallery received the St. Patrick's Society of Montreal Community Award (1997), was elected Montreal Irish Man of the Year (2000), and was made an Honorary Lifetime Member of the St-Patrick's Society (2008).
To recognize his "role in making Canadian Irish Studies at Concordia one of the pre-eminent academic centres in the world for the study of Ireland and the Irish Diaspora," Ray Basset, ambassador of Ireland to Canada, travelled to Montreal in October 2013 to meet Gallery and present him with a Certificate of Irish Heritage.
Gallery is also the recipient of the Commemorative Medal for the 125th Anniversary of Confederation (1993) and the Queen's Golden Jubilee Medal (2002).
Concordia's most beloved Irishman passed away on January 23, 2021. He was 86.
Read more about Brian Gallery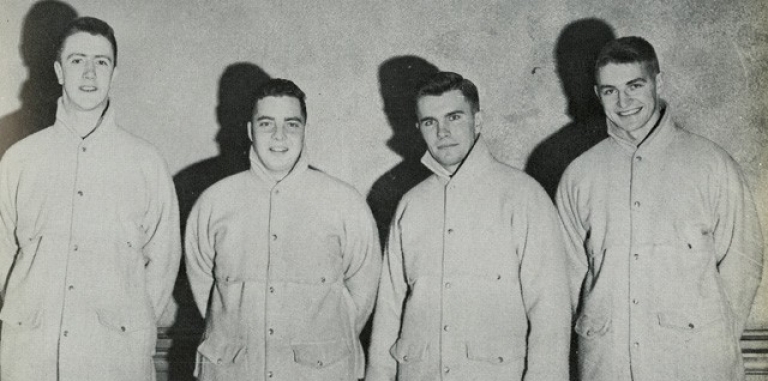 Loyola College's 1957 Varsity Curling team. From left to right: Brian O'Neill Gallery, Larry Boyle, John St. Onge and Joe Poirier. (Photo courtesy of the Records Management and Archives Department.)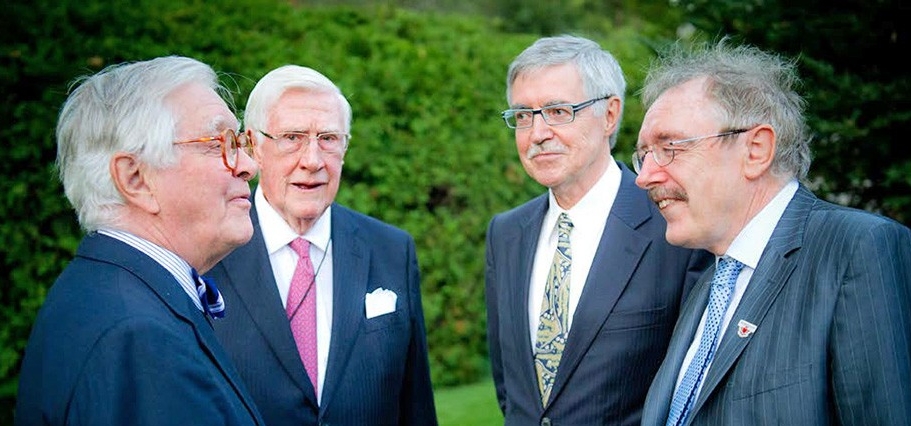 From left: Alumnus David Scott, former foundation chair Brian Gallery, Principal Michael Kenneally and Ray Bassett, ambassador of Ireland to Canada. | Photo: Ashley Fraser
More Great Concordians