Help fund the design and manufacture of our space-bound projects and support the launch of innovative public engagement initiatives.
Who we are
Space Concordia (SC) is a group of graduate and undergraduate students who have a passion for space science and exploration. We comprise more than 250 students working in four divisions to design and build projects that are out of this world!
Our current projects include:
An earth-observation CubeSat supported by the Canadian Space Agency (CSA) (Launching in 2022)
A liquid-propelled space-capable rocket: Starsailor (Launching in 2022)
An astronaut assistant Mars rover (Competing in 2022)
A microfluidics experiment to be tested during a parabolic flight and that later will be sent to space (Launching in 2022)
An ultrasound compatible, soft-robotic heart simulator
A research project to improve the cardiopulmonary resuscitation (CPR) process in space
On top of technical expertise, we are excited to share our knowledge and projects with the community by presenting at conferences, events, and coordinating community outreach.
We are proud of what we have achieved so far and are excited for our new projects on the horizon!
Our reach
SC is a constant presence at many conferences and outreach events all over the world. We strive to make the most of our technical work through collaboration with other student space associations across the city and the country. We have sent delegations to the Canadian SmallSat Symposium, Canadian Space Summit, and the International Astronautical Congress, on top of hosting our own events.
SC has and continues to play a crucial role in the hosting of the Montreal Space Symposium (MSS), an annual conference made by students for the community.
SC has also helped bring the international ActInSpace challenge to Canada for the first time ever last May, as well as NASA's SpaceApps Montreal. In partnership with the Canadian Space Agency (CSA) and SEDS Canada, the ActInSpace global event has found a foothold at Concordia.
Owing to our multiple successes in recent years, SC has emerged as a prominent member of the Canadian space industry, leading us to form valuable connections for our technical work and a presence on a national stage.
Additionally, the Space Concordia Outreach Program has been running for over 5 years, bringing together students, teachers, and faculty members from educational institutions all over Montreal. The aim of the program is to give back to the community by sharing our knowledge through various outreach events designed for multiple age groups.
Our most recent outreach initiatives include:
Kids Design Challenge

Spacecast, a podcast covering a wide variety of aerospace and space-related topics

Festival Eureka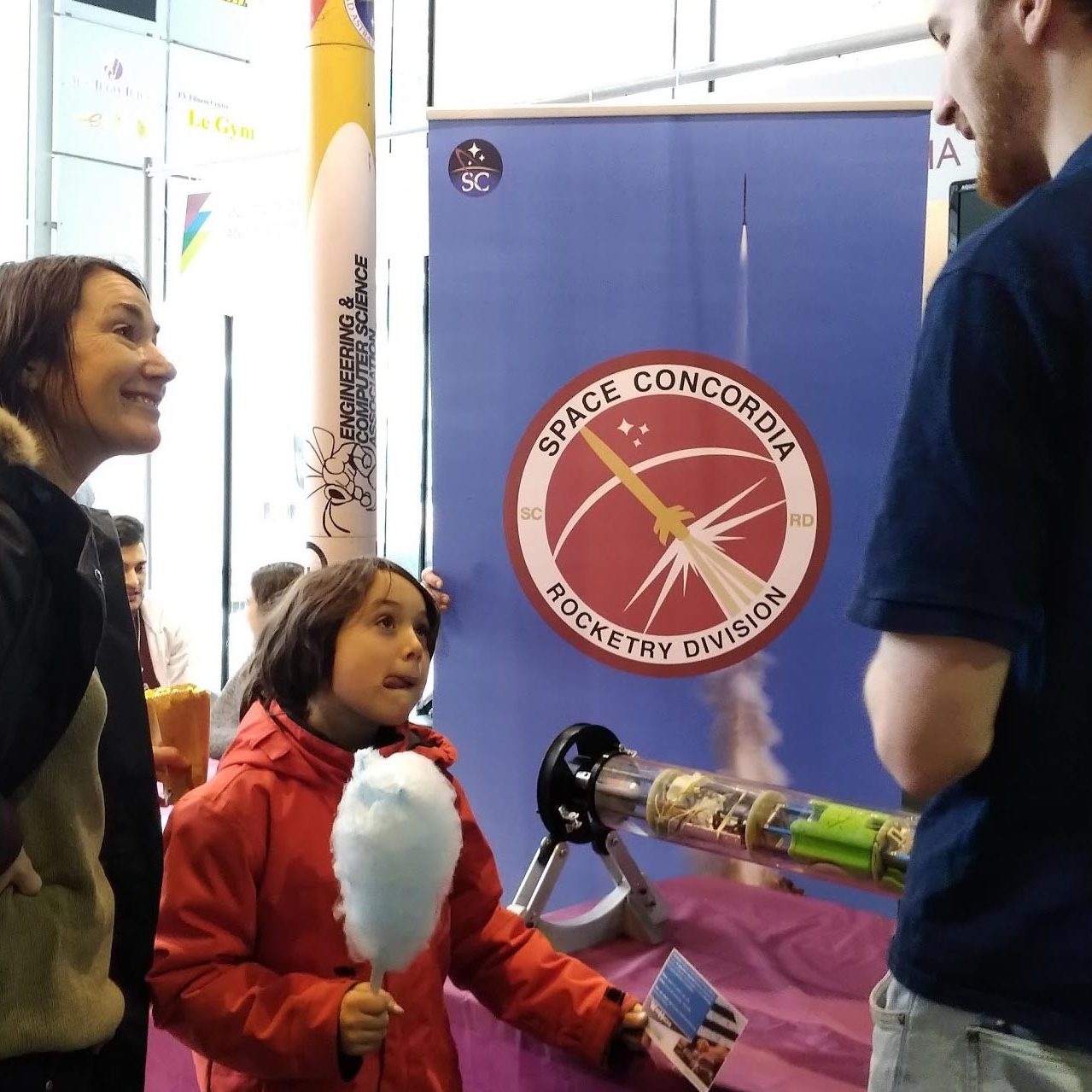 Why we need your help
Your contribution will be invaluable to help Space Concordia reach for the stars, while promoting Space and STEM-based education through practical learning.
With so many amazing and boundary-breaking projects on the horizon, we know we can't make it to the stars alone. Space Concordia thrives off the support of our community, Concordia students, the Gina Cody School of Engineering and Computer Science, the Engineering Concordia Association, our wonderful professors and our invaluable sponsors.
Our success is thanks to the generosity of people like you. We would not be where we are today without the help of our amazing support network — you've believed in us from day one. Our hope is that you believe in space too!
Ad astra!
OUR PROJECTS
Space Concordia is made up of four divisions with each team working towards bringing a technical space project to life on the cutting edge of space engineering. These projects often perform at competitions across Canada and internationally.
Rocketry
Space Concordia's Rocketry division has been building bigger and better sounding rockets since 2014. Starting with altitudes of 10,000ft., the team participated in the Spaceport America Cup, the world's largest rocketry competition, consisting of over 125 international universities.
In summer 2018, SC launched their first supersonic rocket, Supersonice, with a solid motor to a target altitude of 30,000ft, carrying a sophisticated fluid dynamic experiment onboard. As Concordia University's first supersonic vehicle, the rocket reached speeds of over 2400km/h in just 3 seconds. The team triumphed: winning 1st place in both the Advanced Category and the Space Dynamics Payload Challenge over universities such as Stanford, MIT, Caltech and McGill.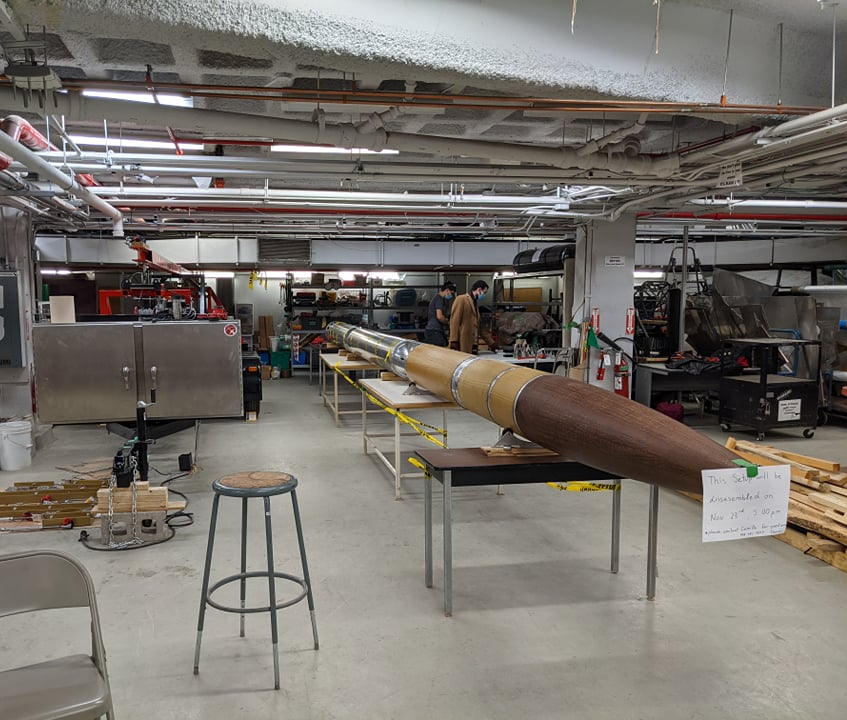 Now the Rocketry Division is shooting even higher.
Originally competing in the Base 11 Space Challenge, an intercollegiate challenge to develop a single-stage liquid fuel rocket to surpass the Karman line at 100 km of altitude and get to space, SC Rocketry aims to become the first student team to build a rocket that will reach space.
Despite a global pandemic, the team has already built most of the flight vehicle: Starsailor, and has successfully tested the rocket engine in the summer of 2021. The rocket engine test was a world-record setting event, as it was the largest rocket engine ever fired by students.
The team is small but they are working very hard to achieve their goal of spaceflight. They plan to launch the suborbital rocket in late 2022 from Churchill, Manitoba.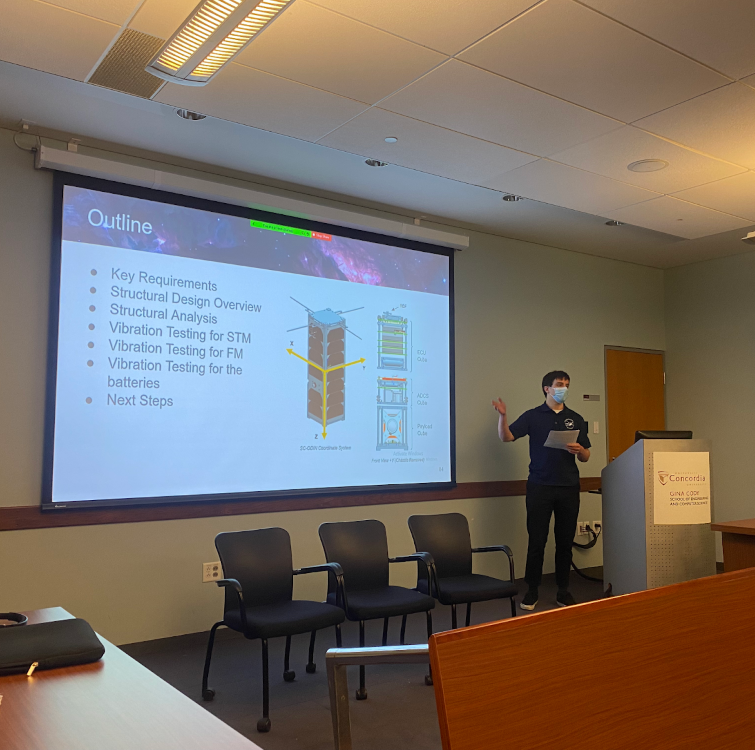 Spacecraft
Space Concordia's Spacecraft Division specializes in CubeSats: small satellites ideal for cost-effective launch and deployment.
We have been building CubeSats and winning competitions since 2010. These constricting dimensions, no bigger than a breadbox, have pushed us to be creative and efficient in our designs, demanding the best performance from our team, especially in our latest project as part of the Canadian CubSat Project (CCP).
The CCP is a CSA initiative to train the next generation of Canadian space engineers and scientists. We are one of the 15 teams selected across Canada to build a CubeSat fit for launch in 2022. Concordia engineering professor Khashayar Khorasani is leading a team of 10 professors across the Gina Cody School of Engineering and Computer Science, and over 50 graduate and undergraduate students from Space Concordia
Space Concordia's Orbital Dust Imaging Nanosat (SC-ODIN) will study the impact of dust aerosols on radiative forcing and to improve climate models. The spacecraft will retrieve scientific dust measurements with an imager designed for CubeSats. Furthermore, we aim to understand the effects of low earth orbit radiation with our secondary payload components to monitor the doses of radiation received inside and outside the CubeSat.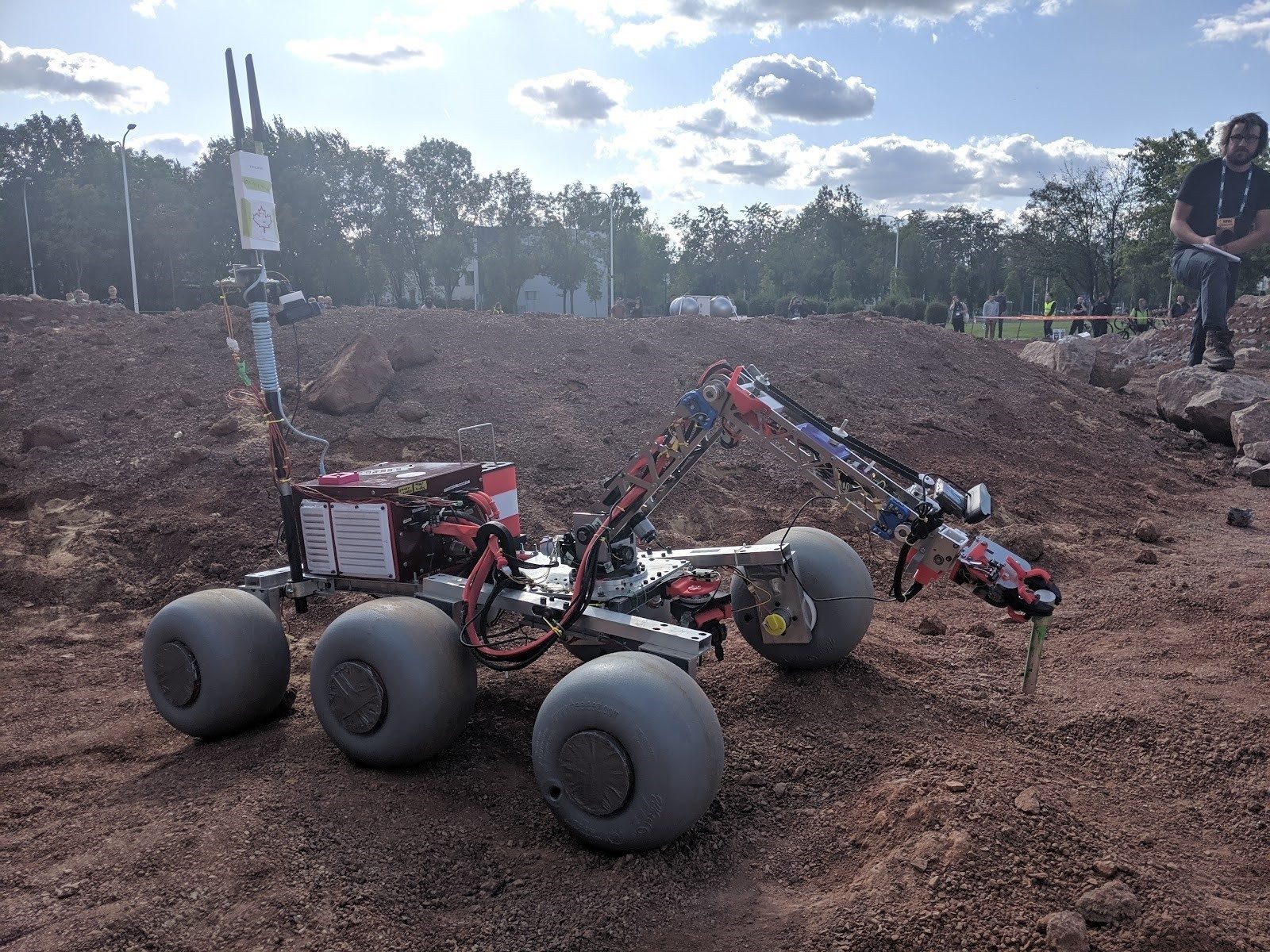 Robotics
Space Concordia's Robotics Division specializes in designing and building Mars rovers that would act as astronaut assistants for future space exploration missions. Their current rover: BEEP, which stands for BEEP Explores Extraterrestrial Planets, has been specifically designed to compete at international and highly competitive events such as the University Rover Challenge (URC) and the European Rover Challenge (ERC).
The team is one of Canada's largest rover design teams, and the only rover team in Quebec to compete at an international level! After only 3 years, the team has shown an excellent performance at the URC, and has represented all of North America at the ERC.
In 2019, the team qualified (only about 25 teams out of 80 made it through!) and competed in the URC at the Mars Desert Research Station in Utah. They also won 10th place at the ERC. The following year, the team was forced to compete virtually due to the global pandemic, nonetheless, they placed 15th out of 40 teams in the 2020 ERC. This year, BEEP will be entering the 2022 URC which is expected to take place in Utah once again.
In the future, the Robotics Division plans to improve on their existing rover with the goal of participating in both URC and ERC, as well as the Canadian International Rover Challenge (CIRC). Additionally, their members are hoping to develop a research-oriented rover that will allow various organizations to test new technologies and perform experiments as needed.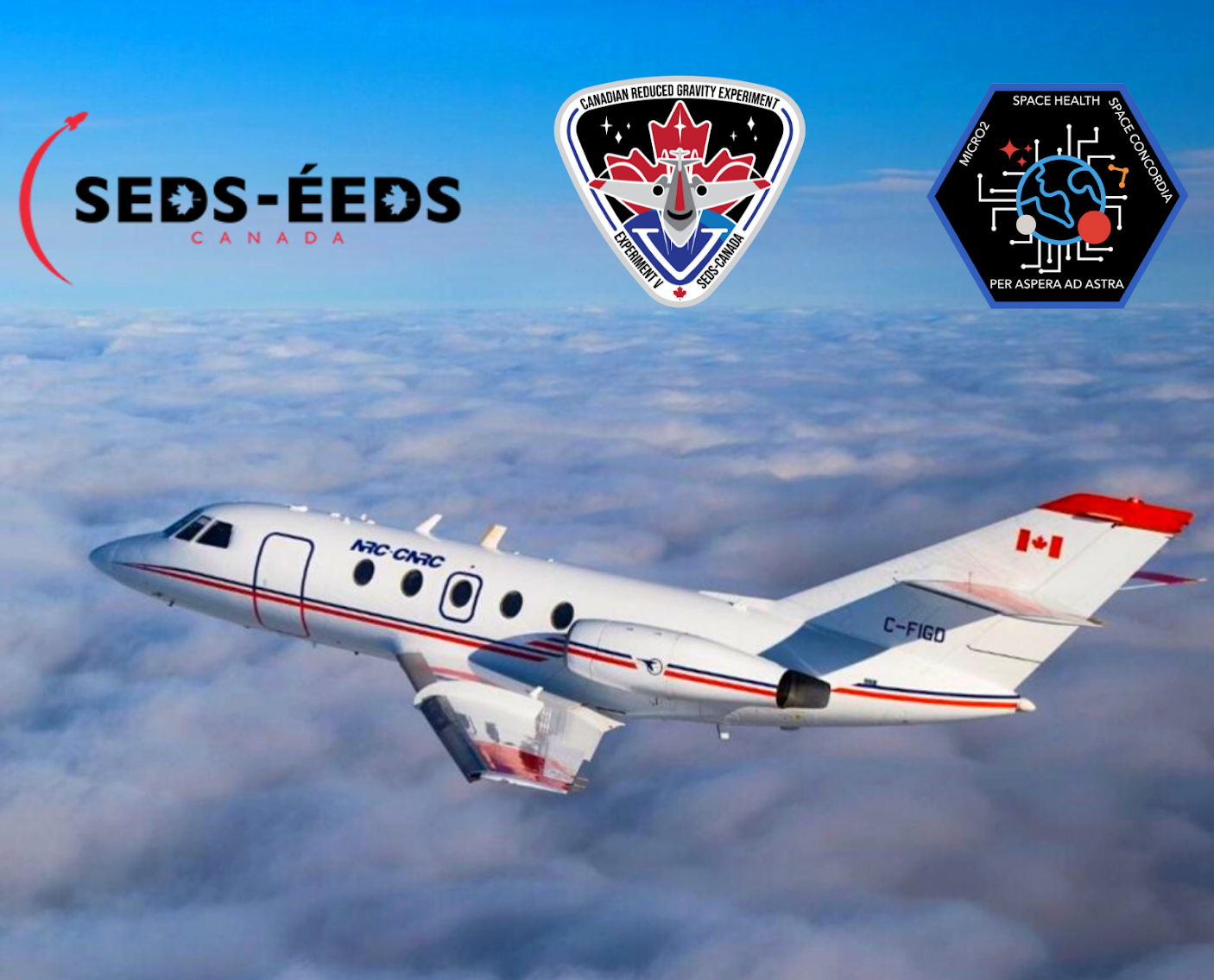 Space Health
Space Concordia's Space Health division was founded in February 2019 and since then it has grown to encompass a multidisciplinary team consisting of student researchers specializing in areas such as Biology, Biochemistry, Physics, and Engineering. The team was the 1st division of its kind established in Quebec. Space Health's mandate is to develop innovative biotechnology solutions for space missions.
Space Health is working on MICRO2, a project conducted in pursuit of better understanding the human immune response through changed induced by reduced gravity, as well as stress on genes induced by hypergravity. For the first phase of the project, (Project 1.0), the team will be performing ground experiments simulating microgravity using a Random Positioning Machine (RPM). For the next phase (Project 1.1), the team will be competing in the 2022 CAN-RGX design challenge organized by the SEDS-Canada. Space Health is in fact one of the four teams selected to fly on the National Research Council's (NRC) Falcon 20 microgravity research aircraft.The team will be participating in a parabolic flight to test their experiment! Lastly, for the last phase of MICRO2 (Project 1.2), the team expects to send their microfluidics experiment to space as part of the payload of SC Rocketry's Starsailor, to be launched to space in 2022.
Additionally, Space Health is also working on other research initiatives: Project 2.0, for which the team is building an ultrasound compatible, soft-robotic heart simulator, and Project 3.0, a project that seeks to improve the cardiopulmonary resuscitation (CPR) process in space allowing bystanders who are not trained in medicine to take control of emergency situations and increase the success rate of out-of-hospital CPR.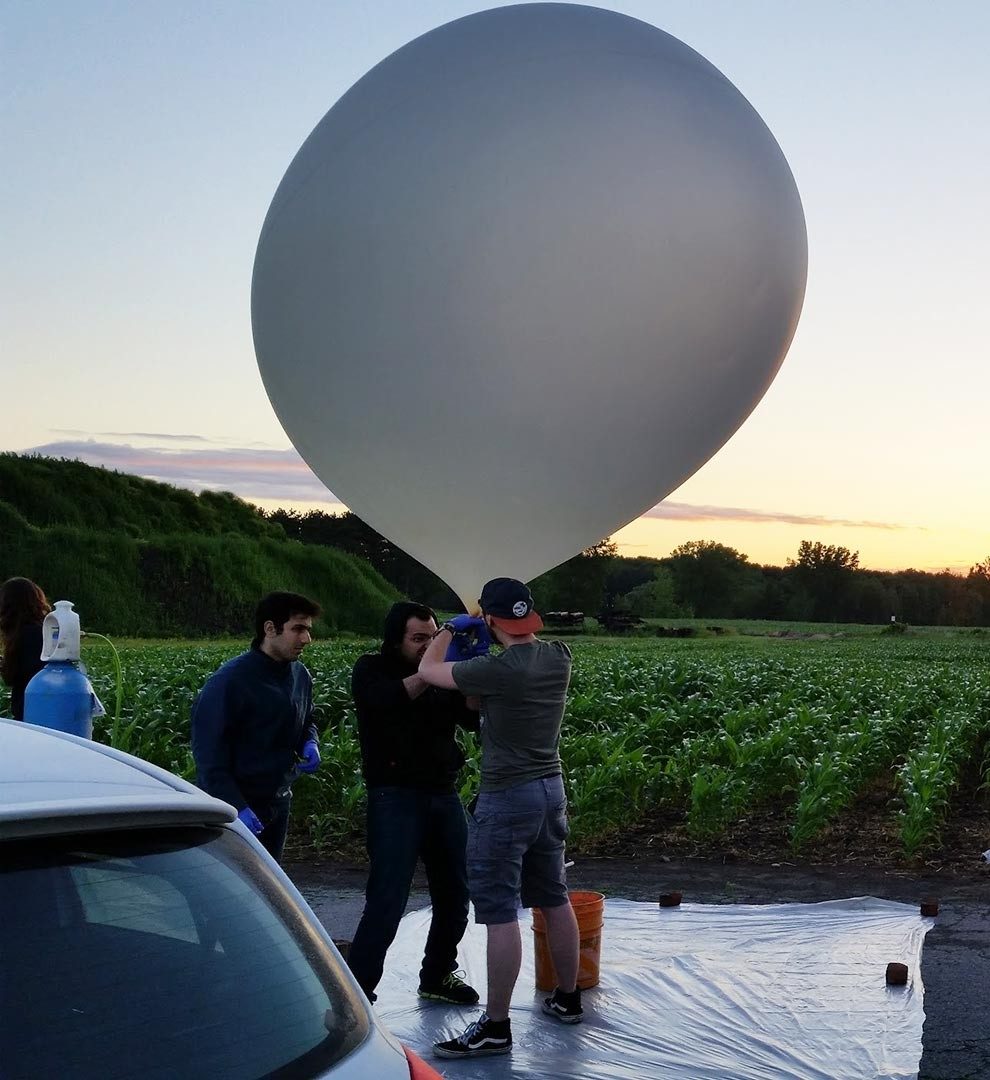 Special Projects
Space Concordia's Special Projects Division is a platform for students to develop independent space projects that exist outside of the other division's wheelhouses. We wish to promote new innovative ideas: may it be for internal R&D, university competitions, capstone projects, working groups, case competitions, or genuine curiosity.
Examples notably include the Icarus High Altitude Balloon and the winning entry "AD ASTRA" in the XENOS Initiative Solar Ecosystem 2018 competition.
If you are a Concordia student, and would like to get involved with Space Concordia, you can find them spaceconcordia.ca.

Help us reach for the stars!