JOHN MOLSON CASE COMPETITION PROGRAM
Our goal
To grow the John Molson Case Competition program and boost the school's exposure and reputation at the national and international level.
Case competitions in business education
The John Molson School of Business focuses on innovative educational practices that combine traditional classroom learning with real-life knowledge application. Business case competitions offer an enriching opportunity to integrate these two educational elements.
Recognized worldwide for their ability to analyze and provide solutions to complex business problems, John Molson undergraduate and graduate students both host and attend case competitions.
John Molson faculty members also write and publish cases and include case methodology in their teachings.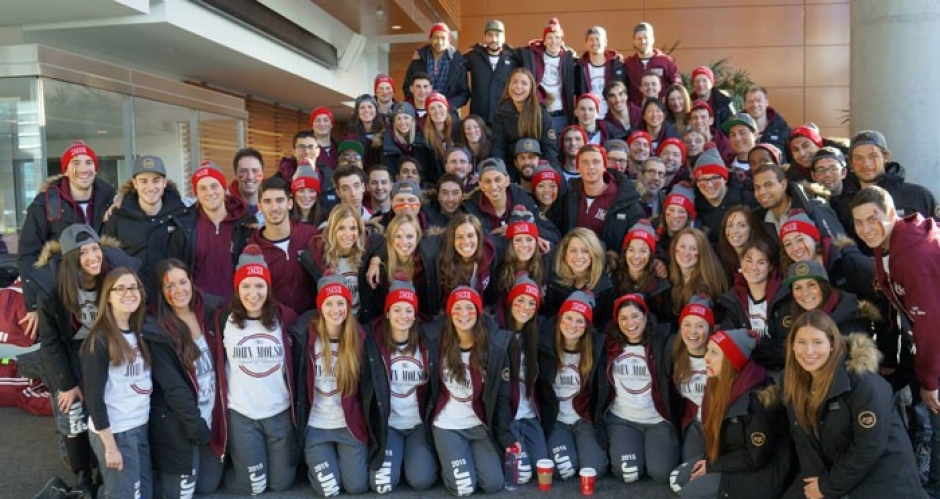 John Molson Case Competition (JMCC) team.
The case competition program at the John Molson School of Business started in 1982, and has become an integral part of our identity as a leading-edge international business school.
The successes of our hosted competitions, and our performance at competitions around the world, are unequaled. The undergraduate team reached the podium (1st, 2nd and/or 3rd place) 50 times in academic competitions and another 8 times in non-academic events, while last year the MBA delegate teams reached the podium a total of 6 times in 9 external competitions.
Along with sending delegates to national and international competitions, John Molson hosts two annual case competitions:
Both are considered the largest, best managed and most prestigious competitions in their respective categories and are attended by schools from all over the world.
Students benefit greatly from participating either as members of the planning committee or as a delegate. They are exposed to practical training, have a chance to network with peers from across the globe and to discover new career opportunities.
The program offers the ultimate university learning experience for John Molson students and enhances the school's reputation worldwide.
In the ever-increasing competitive landscape of business schools, John Molson's reputation as a case competition school has become one of our strongest differentiators. The successes of our hosted competitions, and our performance at competitions around the world, are unequaled.
There is a considerable cost associated with developing and maintaining the program, including event expenses, competition fees, airfare, hospitality, class material and gear.
It is a cornerstone of the program that anyone with a drive and passion for business is able to participate in competitions. Against a backdrop of significant cuts to university funding, we need support from the Concordia community to enhance both accessibility and quality.
Help us grow and sustain this world-renowned program, supporting the advancement of Concordia's most promising business students.
Highlights from previous competitions: