Georgian Football Club
For friendship, football, fun and lifelong learning
From 1967 through 1972, Georgian football teams fought for the glory of their school at a time when life moved at a different pace than it does today, and football was much more of a game, much less of a business.
The Georgians' home was the downtown "concrete campus" of Sir George Williams University in Montreal.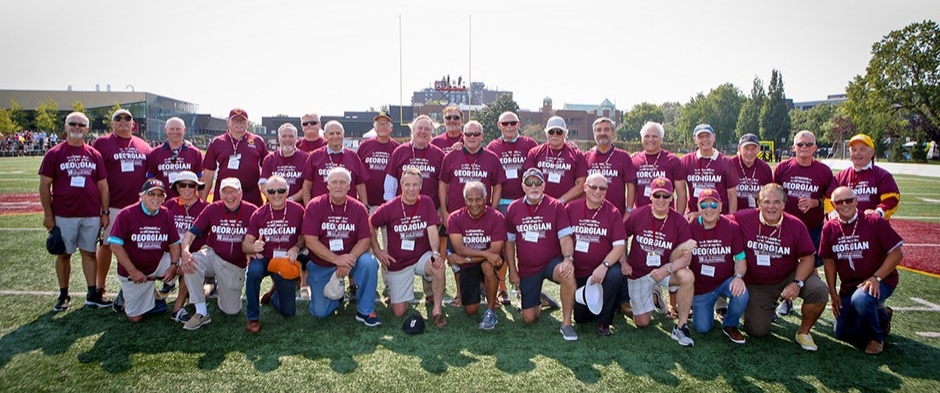 The Georgian Homecoming Huddle II, at Homecoming 2018.
With no football field of their own on which to practice or play, the Georgians made the daily trek to Verdun Stadium — a 50-minute bus ride if you couldn't grab a ride with a teammate with wheels. There were years when a dirty dozen guys showed up for the first practice of the season and chose, over the next two weeks, to spend their study time (not so serious) and their party time (very serious) recruiting willing comrades at a sales booth in the Hall Building, just so they could field a team.
The Georgians were not renowned for their winning football tradition, recording a 6-4 record in their best season. But they were acclaimed for their relentless pursuit of a sensible life balance between rigorous physical conditioning and skills development, and equally rigorous off-field party disciplines.
In 2017, exactly 50 years after Sir George Williams University's first ever entry into Canadian football history, 33 Georgians gathered for a raucous 50th Anniversary Reunion, dubbed the 1st "Georgian Homecoming Huddle", and in 2018 an expanded group founded the Georgian Football Club whose mission is to render eternal, their unique philosophy for Friendship, Football, Fun and Lifelong Learning.
Georgian Football Club (GFC) Award
In 2018, the late, great, Bruce Charron, BComm 72, established the Georgian Football Club Award Fund in support of our mission to help today's Concordia Stingers achieve their educational ambitions and improve their lives.
In the spring of each year, Stinger coaches select one deserving player to receive the GFC Award, presented by a Georgian representative at the annual Stinger Football Banquet.
2020 GFC Award
Marko Kolarevic is a first-year Marketing student from Calgary, Alberta.
In his first semester at Concordia's John Molson School of Business, Marko obtained a GPA of 3.7/4.3. He is on track to being an Academic All-Canadian next year.
Congratulations Marko!
Donate
Since Homecoming 2018, 40 generous Georgians and friends have hit the "DONATE" button to help young Stingers football players dream big, academically and athletically.
We have raised $36,305, a very good start on our way to our 5-year target of $100,000.
Your generosity makes it possible for the Georgian Football Club to play an important role in making our global community a better place to live.
Rekindle the Georgian spirit and help the next generation of Concordia athletes raise their game.
News and events
While plans were underway to host another great reunion at Homecoming 2020, in light of the arrival of COVID-19 we are postponing those plans to next year.
We expect that Homecoming 2021 will see a big turnout of Georgian football alumni. Preliminary plans see the return of our fun golf game and dinner. Not to be confused with our very popular sit down wine and dine evening dinner where we all catch up on life!
Watch this space for details of any upcoming Football alumni events.