Alumnus/Alumna profile
Fatima Halimi
Bachelor of Commerce 16
Major International Business (Co-op)
Minor Political Science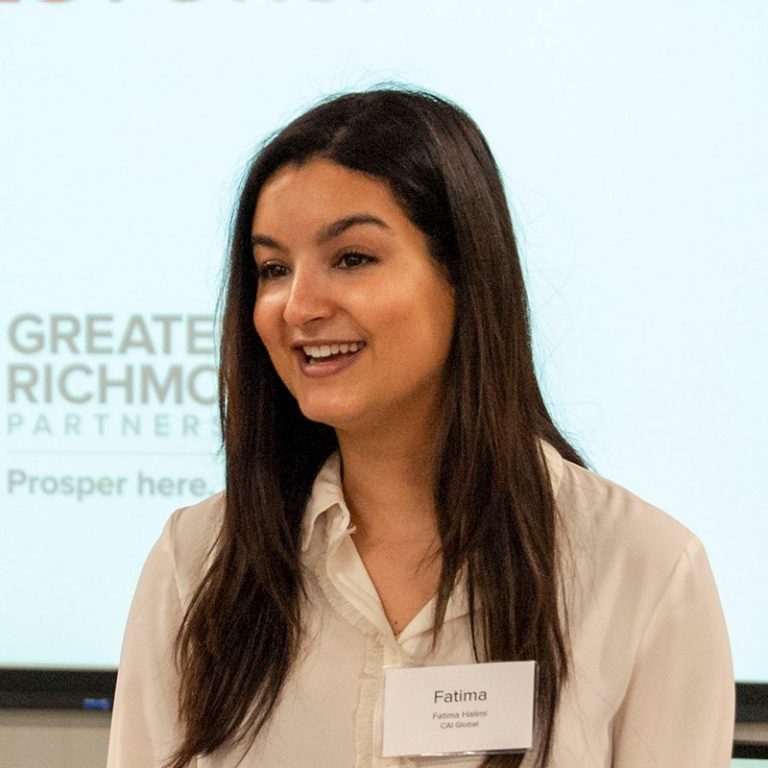 Experiential learning
Co-op
From Concordia Co-op student to consultant
Fatima Halimi gained resume experience while pursuing degree
Looking to expand her horizons and find a field that would help combine her interests, Fatima Halimi, BComm 16, turned to Concordia's John Molson School of Business to pursue an undergraduate degree in international business.
Thanks to the help of Concordia's Institute for Co-operative Education, Halimi kick-started her professional career through various internship opportunities during her studies. As a consultant, Halimi is now responsible for helping international companies tap into the North American market.
We recently caught up with Halimi to hear about the benefits of the Co-op program and her growth in the professional sphere.
What initially drew you to the International Business program?
The main reason I chose international business was to open as many doors as possible. I like travelling, business and learning about different cultures so I figured it was the perfect mix for me.
A highlight of the program was being a member of Concordia's Co-op program during my studies. Throughout my three internships, I had the opportunity to relate what I had learned in the classroom to the work I was doing on the job. It allowed me to build up my resume before even graduating, which is an amazing advantage.
How was the experience of being a Co-op student throughout your studies?
My first two work terms were as a marketing coordinator at Speech Mobility, a telecommunications company. I would help develop and implement their marketing strategy, which included trade shows, webinars, email marketing and social media.
Later on, my final work term was at a Montreal-based boutique consulting firm, CAI Global, as a project coordinator. My main task — in partnership with Investissement Québec and other government ministries — was to organize an event for leaders of subsidiaries of various international companies.
These were really great experiences. Both companies are on the smaller side, so I was given many learning opportunities and I was able to develop a lot of useful soft skills.
Did you participate in any extracurricular activities or university events?
I was a logistics director for TEDxConcordia events during my last year of study. I managed the venues, food and volunteers. It was very valuable because I connected with a lot of students and improved my project management abilities.
How did your Concordia experience lead you to your current position?
I now work at CAI Global, which is the last place I interned. I help companies from all industries with their expansion projects in North America. For example, if they're trying to establish a new plant, I help them find the actual location and the financial support.
I've been there for three years full time after a position opened up following graduation. The different skills I learned throughout my work terms and volunteering apply to my job on a daily basis.
Do you have any advice for current and new students?
The first piece of advice I have is to start building your resume as soon as you can. It doesn't have to be through a Co-op program. You can take certifications, volunteer, join clubs or have a part-time job on the side. When you get into the job market, you have to differentiate yourself and those types of opportunities can help you do that.
Something I wish I had done was to build my network. When you are at school, try to connect with as many people as possible because they are the ones who will be able to get you opportunities in the future. Anyone you meet can be a great connection.