Brigeen Badour
Cert 92, BA 00, GrDip 11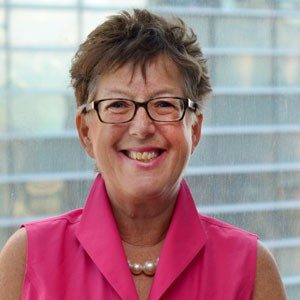 Making university possible
Brigeen Badour, BA 00, GrDip 11, has a knack for helping others – giving advice, volunteering her time and supporting Concordia students with her pocketbook.
A veteran Concordia staffer, she joined the university in 1985, working as a secretary in the Department of Mathematics and Statistics. By 1987, she moved to the Centre for Mature Students — which later became the Student Transition Centre — where she soon found her vocation as an academic advisor.
Until she retired in 2013, she guided students along their academic path, helping them see their future more clearly, navigate through course selections, regulations and sometimes complex situations.
"With her enthusiasm and complete dedication to students, Brigeen embraced and exemplified the School of Extended Learning's motto: 'We make university possible,'" said Javier Lee, director of administration at Concordia's John Molson School of Business.
"Not only was she knowledgeable about the university's programs and the academic needs of students, she's a great listener who would make every effort to understand the students' needs, interests, goals, and expectations," he added.
Without Badour's guidance and assistance, many may not have enrolled at Concordia, let alone graduate.
"Brigeen went above and beyond," said recent graduate Michael Daoussis. "I have never met such a kind, considerate and professional advisor in all my years."
Many students and graduates have echoed these sentiments. "Every time I had an obstacle, Brigeen had a solution," said Manon Daisomont, BA 03, in an interview for Concordia's Thursday Report in 2003.
In 2008, she co-organized Concordia's Single Parents Support Network, which later became the Concordia University Student Parents Centre (CUSP).
Badour has inspired others to contribute to Concordia in so many different ways. She brings out the best in her colleagues with her positive attitude and ready smile. She continually strives to advance the mission of Concordia, promoting the university and giving back.
In 2013, she funded the Pamela Badour Memorial Bursary — in the name of her late cousin — in support of undergraduate students who are also single parents. She is a longtime donor to Concordia's Community Campaign and spearheaded events with her colleagues to benefit the campaign.
Badour is a three-time Concordia graduate. As a mature student, she earned a certificate in arts and science in 1992, a BA in human relations in 2000 and a graduate diploma in adult education in 2011.
Despite her retirement, Badour couldn't stay away from Concordia, so she works on a casual basis at the John Molson School of Business and School of Extended learning.
Read more about Brigeen Badour