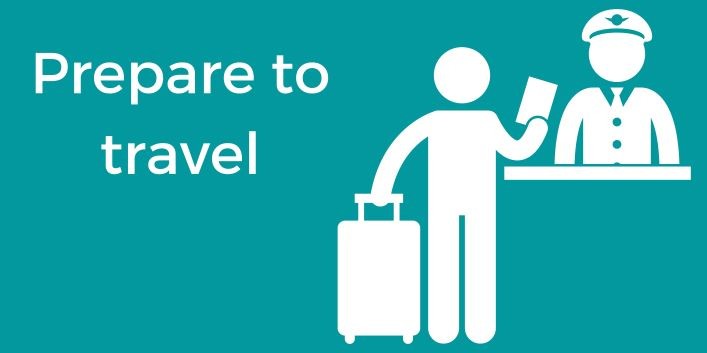 Now that your immigration documents have been approved, you'll need to prepare for your travel to Concordia University!
Once you receive your Letter of Introduction (upon approval of your Study Permit application), you are ready to plan your trip to Montreal. It's ideal to arrive a few weeks before your classes begin:
By August 15 for the Fall Term

By December 15 for the Winter Term

By April 15 for the Summer Term
Early arrival is strongly advised so that you have sufficient time to register for your courses, open a bank account, find a place to live, etc. without undue stress. Arriving later could also limit your choice of available courses, should in-person registration be required for your program, and housing options.
Remember: Pierre Elliott Trudeau International Airport is Montreal's principal airport, commonly known as Montreal-Trudeau Airport with the airport code YUL. It is located in the suburb of Dorval, 19 kilometres from Concordia's Sir George Williams Campus in downtown Montreal.
Please keep in mind that Concordia University and the ISO close for certain holidays, which might affect access to services and course registration. Consult the official University Holidays & Closures for upcoming closures and plan your trip accordingly.
You should also make sure to have booked some temporary accommodations for your first few nights in Montreal. More information about Housing is available on our Housing link below.
Once you have booked your flight(s), register with Accueil Plus. With information collected through the registration system, international students can get their study permit completed by the Canada Border Services Agency (CBSA) prior to their arrival, and benefit from streamlined procedures with the help of Accueil Plus.
What should you bring with you?
Do not pack documents or money in the luggage you plan to check-in at the airport. Instead, carry these items with you in a money/safety belt or in your carry-on luggage. These documents include, but are not limited to:
Your offer of admission (all pages and printed)

Your CAQ approval letter or CAQ certificate (printed)

Your proof of financial support (printed)

Your Vaccine Records: it is important for every university student to have this vital information easily accessible. Don't leave home without it!
There is a $10,000.00 cash limit when travelling to Canada but we do not recommend travelling with that much money. If you feel uncomfortable travelling with cash, make sure that your credit/debit card will work in Canada to get you through your first few days while you set up your bank account.

Appropriate seasonal clothing: if you arrive in August or early September, it will still be warm enough to give you time to buy winter clothing. If you arrive in December or early January, you will need appropriate winter clothing upon your arrival as temperatures from November through March are often well below zero Celsius (32 degrees Fahrenheit). Your winter wardrobe should a: winter coat, scarf, mittens/gloves, pair of winter boots, etc.
Don't over pack as you can buy most things in Montreal at reasonable prices, including a wide variety of products for cooking and small appliances (remember: electric appliances in Canada run on 120 volts with a 60-cycle alternating current). Airport fees for overweight luggage can be expensive. You should check airline regulations about:
The number of suitcases you're permitted to check

Allowable dimensions and maximum weight per suitcase

The cost (per kilo) of exceeding the authorized weight
Also, make sure you look into any baggage restrictions for all segments of your trip.
Arrange to ship your belongings, if needed. If you plan to ship your belongings to Montreal, compare the costs to what you would pay if you were to purchase them new in Montreal. Do cost comparisons for various stores online. Make sure that you can obtain a reasonable delivery date for your shipment to arrive in Montreal.
If you will arrive to Canada after the start of term:
September 5, 2023 if you are beginning your studies in Fall 2023

January15, 2024 if you are starting your studies in Winter 2024
you should have proof of enrollment for your travels in the form of a letter of attestation. In order to request this letter, make sure that you are registered for the upcoming term (ideally full-time registration). You can then follow these instructions to request your letter of attestation.
Tips on requesting an attestation letter:
If you are registered in courses, you can generate the letter yourself using the Instantaneous letter option
If you are registered as Continuing in Program (CIP), you will have to request the Conventional letter option
You can also print your unofficial transcripts as an additional proof of registration. (The link to view you unoffical transcript can also be found on the Student Hub's My CU Account page.)
As soon as you arrive in Canada, go through customs where an officer will:
Check your passport

Verify your visa to enter Canada(if required)

Refer to your Letter of Introduction

Ask you a few questions about the purpose of your visit to Canada
Have all pages of your Offer of Admission and supporting documents printed and ready to show the customs officer. Get your passport stamped and go to the immigration office.
After clearing customs, go immediately to the Canadian immigration office near the customs area where an Canadian immigration officer will ask to see your:
Passport

Letter of Introduction issued by a Canadian visa office

Print-out copy of the Offer of Admission from Concordia University (all pages)

CAQ Approval Letter (print-out of electronic version) or CAQ certificate (if received)

Proof of sufficient funds for your studies in Canada
After verifying these documents, the immigration officer will complete and issue your Study Permit.
Take a moment to review your Study Permit and ensure that all the information is correct. If you think there is an error tell the agent right away so that changes can be made. Alternatively it may take several months to have your document amended.
Be sure that the information on your Study Permit is accurate, i.e. your name, date of birth, gender, etc.

If you are planning to work, make sure that your Study Permit indicates that the permit holder 'may accept employment' or 'may work' in Canada.

If you notice any typographical errors on your document, ask the officers to make the corrections before you leave the immigration office.
Or, if applicable, register with Accueil Plus - Get your Study Permit printed faster at the Montreal-Trudeau Airport with Accueil Plus. This service is only available for students arriving for the Fall term and certain eligibility requirements apply. It does not exempt you from having to apply for your Study Permit and obtain a Letter of Introduction prior to arriving in Canada but it will make getting your study permit issued quicker!. Register in advance with Accueil Plus.
Do not leave the airport without having your Study Permit issued.
How to get to downtown Montreal from the airport?
Montreal 747 Express bus
The 747 bus runs 24 hours a day between Montreal Trudeau Airport and the Berri-UQAM metro station near downtown Montreal. One-way cash fare is $10 payable in Canadian coins only – no bills. If you don't have any Canadian coins to pay the fare on the bus directly, you can buy a fare card at the airport (International Arrival level).
Visit the STM information counter at the airport to find out:
When and where the next bus is leaving

How to purchase a ticket in advance

Which stop is closest to your destination

Whether additional buses or subway rides will be necessary
Information is also available here.
Take a taxi
Taxi fares to downtown will be about $41. Drivers prefer cash although most will take a credit card. Other taxi services, such a Uber, may have diffrent rates.
Confirm your arrival in Canada
Call or register in person with your country's consular representative in Canada. See a list of embassies and consulates in Canada:
Select a country (your country of citizenship)

Select a city: Ottawa.
Now that you have arrived, check out our New Student Checklist and find out about important things to do such as:
Uploading your immigration documents

Registering for your courses

Opening a bank account

Etc.