Real estate developer and Concordia PhD student wants to start a green revolution in the construction industry
Natalie Voland: 'I have never been someone who falls in line with general practices'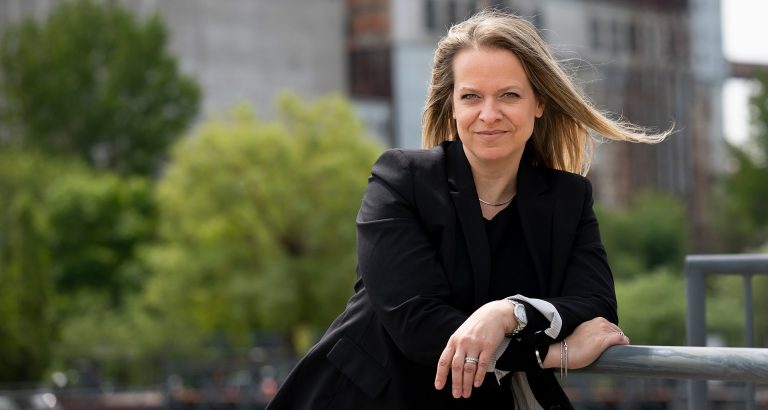 Natalie Voland has partnered with Concordia's Next-Generation Cities Institute (NGCI) to disrupt the construction industry one project at a time. The president of real estate developer Gestion Immobilière Quo Vadis is on a quest to decarbonize Montreal's buildings.
A self-proclaimed climate activist, Voland isn't interested in business as usual. Twenty-five years ago, she left her career in social work to helm her ailing father's business with a vision of strengthening community through construction projects. Since then, Voland has led her company to a B Corp Certification for high standards and has pioneered innovative ways of restoring and advancing sustainably.
From converting historical buildings into accessible spaces for small-scale businesses to completely decarbonizing Quo Vadis's Complexe Dompark property, Voland has managed to cut waste and greenhouse-gas emissions without sacrificing profitability.
Now she's studying the barriers and opportunities for private developers to build carbon-neutral, affordable housing as part of her PhD.
Her supervisor is Ursula Eicker, founding co-director of the NGCI and Canada Excellence Research Chair in Smart, Sustainable and Resilient Communities and Cities. Carmela Cucuzzella, Concordia University Research Chair in Integrated Design and Sustainability for the Built Environment, and Rebecca Duclos, professor in the Department of Art History, are part of her supervisory committee
Voland is also co-director of Concordia's recently announced zero-carbon buildings accelerator, where she's helping provide developers with tools and resources to make the entire industry more sustainable.
'I just want to build a ton of carbon-neutral buildings'
When you started in real estate development, what were some of the things you wanted to change about the industry?
Natalie Voland: I was pretty discouraged with certain practices in the construction industry — the throwaway, single-use construction cycle. I thought that we could do things better.
We changed how we do waste management, and we stopped allowing tenants to demolish their spaces inside and then just rebuild at random. It was a habit that once a tenant leaves an office space in Montreal, you rip the whole thing down and then you hire some architect to rebuild.
Firstly, it's super expensive to do that. Secondly, it's wasteful because you usually end up building the conference room four feet from where it was before. I thought we can be smarter about the way we design our spaces, so we don't need to demolish everything every time.
What are some of the challenges of convincing developers to adopt sustainable solutions?
NV: It's all based on risk. Developers are worried that building sustainably will make projects more expensive. They wonder: Who's going to pay for that? Is the market ready to absorb the costs? Who do I hire to build carbon neutral? There's no real one-stop shop to figure it out.
A lot of people think developers are just big, bad people. But they're economic drivers. They hire people; they inject money into communities. But can we build better? Yes.
How would you describe your philosophy for doing business?
NV: I have never been someone who falls in line with general practices. I used to be a social worker. I was working in trauma intensive care with burn victims before I became a property manager. During my first week managing property, this lady comes to see me and is absolutely freaking out because the toilet in her office is not working. And I realized something deeper was happening. I said to her, "The reaction that you're having about this toilet doesn't make sense. Are you okay?" Then she just kind of looked at me and she said, "No, my son was just diagnosed with cancer."
I think from that day on, I approached property management very differently. I got to know my tenants. I got to find out what was going on with them. We developed an entire property management system based on what is now called human-centric design. But at the time, it was just a matter of respect.
What do you hope to accomplish through your work with the NGCI?
NV: We're trying to allow students to integrate and test things out on our portfolio. We have a PhD student working with us to create an energy model so that Complexe Dompark, one of our buildings, will be certified a Zero Carbon Building by the Canada Green Building Council. Now we're about to do it for the rest of our portfolio over the next 24 months.
I just want to build a ton of carbon-neutral buildings that have social KPIs (key performance indicators) on them. We're getting heavily involved in biodiversity in our projects right now. We're just doing crazy stuff. So, I hope that we continue to be crazy for a long time.

Find out more about Concordia's Next-Generation Cities Institute.
---