Programs
We offer both undergraduate and graduate programs which provide a challenging, collegial environment for all students.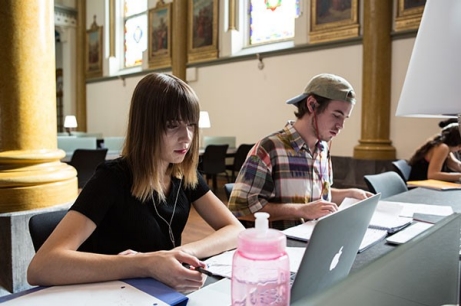 Why study economics? Economists provide essential knowledge for today's business leaders and policy makers who must constantly face decisions with economic dimensions. The ups and downs of economic activity, interest rate volatility, budget deficits and surpluses, and the problems of continued economic growth are all at the forefront of public debate. Economists study the tradeoffs between growth and pollution, equity and incentives in the tax system, and the public versus private provision of medical and social services.
We are committed to providing a collegial environment for its students. Tutorial support is provided in key areas for new students. Senior professors participate actively in the undergraduate curriculum. At the upper levels, there is a wide array of applied courses building on economic theory. Statistical and mathematical methods are emphasized, as is the development of analytical and communication skills.
Graduate programs are designed to provide students with a broad based knowledge of theories, quantitative methods and applications of economics. At the doctoral level, students specialize by choosing two areas in which they will pursue advanced course work and research, while at the master's level, one field is required. The Diploma in Economics is designed to provide students, who already hold an undergraduate degree, with a more specialized knowledge of economics. The emphasis of the Diploma is on applications and policies as opposed to the purely theoretical aspects of economics.
Courses are offered in economic development and planning; financial economics; public economics; international economics; industrial economics; labour economics; economic theory; and econometrics.
Learn more about our four graduate programs:
Read the Department of Economics: Graduate Course Registration Guidelines.
Co-op program
Our Co-op program is available to both BA and MA students. Co-op allows you to gain work experience while studying, understand real-world applications of economics and earn money to help finance your education.
Minor in Economics
The Minor in Economics is a 30-credit degree program for students in other Departments.
Minor in Analytical Economics
The Minor in Analytical Economics is a 24-credit program intended for students in Mathematics/Statistics or Engineering.