Concordia earns gold STARS for its sustainability efforts
Despite more stringent criteria, the university improved its overall grade with the leading U.S.-based rating system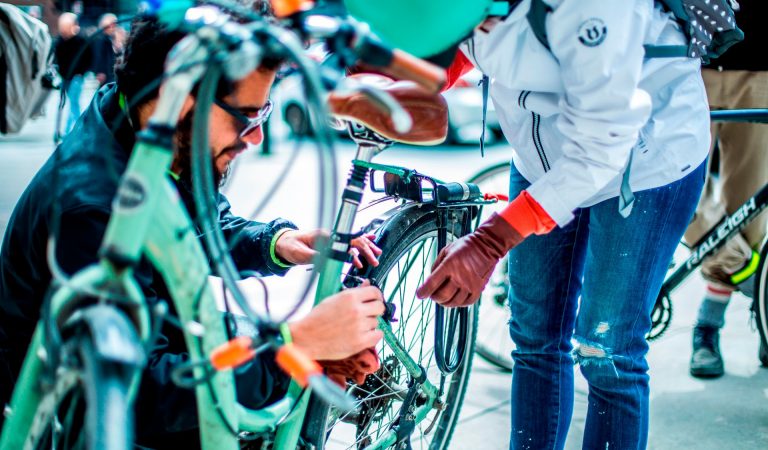 Concordia has scored a gold Sustainability Tracking, Assessment and Rating System ranking from the Association for the Advancement of Sustainability in Higher Education (AASHE).
Developed in 2010, STARS is designed to help institutions measure their progress in sustainability and allow for comparisons between them.
"We are really pleased with the gold recognition," says Michael Di Grappa, vice-president of services and sustainability.
"We are also grateful to team members who worked on generating all the data required by AASHE, in addition to their regular tasks. It speaks to their commitment to sustainability efforts."
The current framework covers five categories of activities: academics, engagement, operations, planning and administration, and innovation and leadership. There are also subcategories, each with a set number of available points.
"For example, in research, a subcategory of academics, Concordia got full marks," notes Jessica Krejcik, sustainability analyst for the Office of Sustainability.
"This is thanks to our researchers themselves and to the institutional support provided by departments and units. Some points also come from the sustainability-related fields of study available at Concordia and student research support offered by groups like the Sustainability Action Fund (SAF)."
Tougher criteria
Though Concordia has earned gold before, the current application was analyzed under AASHE's more stringent 2.2 STARS framework.
"The bar was set higher than the last time we applied yet we did five per cent better in terms of our overall points," says Krejcik.
In addition to research, engagement is another category where Concordia did well, due to its outreach, orientation and training activities.
"And we should be able to improve next time because we'll have expanded our new Employee Sustainability Ambassadors Program, which is currently in its pilot year," Krejcik adds.
The attitudes and practices of the community are also reflected in the gold rating. For example, those who took part in transportation surveys demonstrated knowledge and support for active and public forms of transportation.
AASHE also took note of the university's Vélosympathique certification, which indicates that the university promotes and supports cycling to campus.
Leading and innovating
Concordia also received a perfect score in the category of innovation and leadership. Community garden projects, fair-trade initiatives and project funding were just some of the reasons for the high marks.
"These initiatives are also a credit to our community since many of the projects came from them, such as the Mind.Heart.Mouth garden," says Cassandra Lamontagne, sustainability coordinator for the Office of Sustainability. "Concordians also run a number of food support programs, some of which helped students through tough points of the pandemic."
The Sustainability Living Lab — another collaboration with SAF — led to additional points for innovation. The lab combines funding and a framework for students, faculty and staff to collaborate and implement new sustainability projects.
"The Sustainability Action Plan, with its goals and strategies toward increasing sustainability in Concordia's physical and academic operations, was another valuable addition to this year's STARS submission," Lamontagne says.
Building better
Despite ranking very high among Quebec universities for building efficiency, there's room for Concordia to do even better in the STARS ranking. As per the action plan, it must make the transition from natural gas heating toward more renewables. It also needs to improve the efficiency of older facilities, which make up a large part of the building portfolio.
Still, Concordia's newer, greener buildings are already making a difference.
"The STARS points we received for LEED-certification are thanks to our state-of-the-art Applied Science Hub," Di Grappa says.
"That's a particular source of pride, since earning LEED Gold is far more challenging for a research-intensive building like the hub than a standard building."

To learn more about Concordia's performance in STARS, read the detailed report or check out AASHE's Concordia web page.
Know a student researching ways that Concordia could become more sustainable? Encourage them to apply for a Sustainability Action Fund scholarship before this term's March 15 deadline.
---