Concordia's Applied Science Hub earns LEED Gold
Official recognition from the Canada Green Building Council coincides with the Loyola facility's one-year anniversary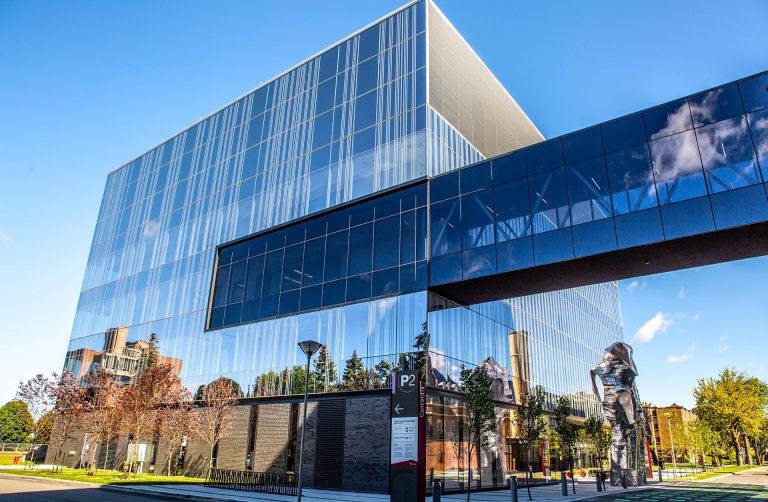 Concordia's Applied Science Hub has been certified LEED Gold. The facility succeeded in meeting the rigorous LEED (Leadership in Energy and Environmental Design) standards of the Canada Green Building Council, which reviews projects based on considerations like the well-being of community members and the reduction of environmental impacts.
"From its conception, to its funding, to its official opening, the Hub team had to be innovative — and not just because we completed the project in the middle of a global pandemic," says Michael Di Grappa, vice-president of services and sustainability.
"We created a facility where researchers can collaborate across disciplines without sacrificing the requirements of their own highly specialized areas. Through the District 3 BioHub, we also delivered an incubator where graduates are turning great ideas into new businesses."
Celebrated design
Inaugurated one year ago, the Hub comprises two research levels below ground and four above. They connect to the Richard J. Renaud Science Complex through a passerelle, simplifying the movement of researchers between facilities.
The Hub also includes an amphitheatre, multidisciplinary laboratory spaces, collaboration and ideation spaces, and aquatic facilities.
The architectural firms Menkès Shooner Dagenais LeTourneux and NFOE Architecture have already won prizes for their collaboration on the Hub, thanks in part to integrating key energy-efficiency guidance from engineering consortium Pageau Morel and SNC Lavalin. The firms received an INT Grand Prix du Design in July and an Architecture Masterprize in November.
"They really rose to the challenge. It's not easy for a research-intensive facility like the Hub to be as energy efficient as institutional or commercial buildings," says Marie-Claude Lavoie, associate vice-president of Facilities Management.
"Because of vital research components — like the 100 fume hoods and their complex systems — we had to aim even higher elsewhere. We did so with 100 per cent LED lighting, heat recuperation methods and demand-controlled ventilation."
Efficient ventilation doesn't mean less of it. The Hub's systems exceed industry standards for fresh air by 30 per cent, something that earned it an LEED point. Performance is even higher in laboratory settings where fresh air requirements are particularly stringent.
Reduce, recycle and replant
The Hub also earned LEED points for use of recycled materials, low VOC (volatile organic compounds) emissions and materials produced locally. It also scored for reduction of landfill waste in the construction process.
Water use was considered for both the inside and outside of the building. Low-flow options were installed through the interior, while landscaping decisions centred on drought-hardy, indigenous plants.
The amount of green space maintained is another positive: the Hub project easily surpassed the 40 per cent of the grounds required to be considered "exemplary" by LEED.
"We think moving away from grass toward more biodiversity is a step in the right direction. And by continuing to collaborate with Concordia researchers, we hope to turn Loyola Campus grounds into a living lab they can use in their work," Di Grappa notes.
The council also attributed certification points because of reflective roofing and paving materials that reduce heat-island effects, the installation of new bike racks and electric-vehicle charging stations.
Green financing
Since innovation and sustainability can come with more up-front expenses, the university created a new funding model for the Hub: in 2019, Concordia became the first Canadian university to issue a sustainable bond.
"We were serious when we signed the United Nations-supported Principles for Responsible Investment," says Denis Cossette, Concordia's chief financial officer.
"The $25-million senior unsecured bond provided us with the capital for our share of Hub financing. It also allowed us to break the ice on integrating sustainability financing principles into funding major initiatives."

Visit the Concordia Campus Master Plan web page to learn more about why to expect more of these accolades in the coming years and to take part in the process as the university continues to evaluate its buildings and exterior spaces.
---