Concordia launches its Sustainability Action Plan
Long-term goals guide short-term actions and priorities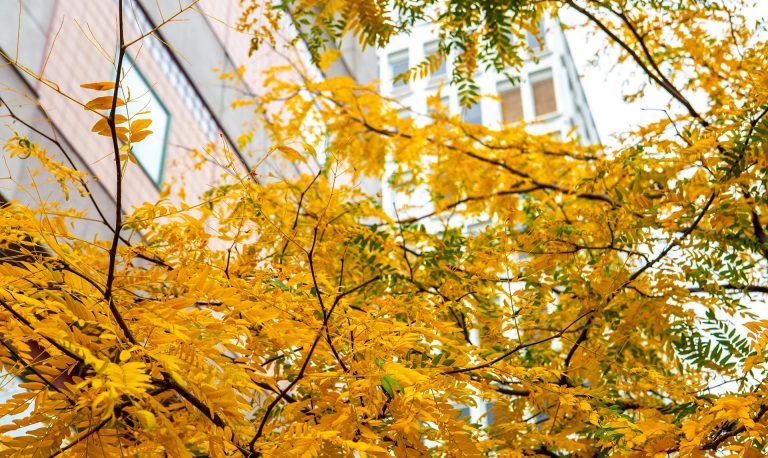 The global COVID-19 pandemic may have shifted some attention away from the climate emergency. But at Concordia, sustainability remains a top priority.
This week, the university is officially launching its Sustainability Action Plan — which is already in its implementation phase.
"The pandemic has brought us face to face with human fragility and tested the resilience of our systems and institutions," says Concordia President Graham Carr.
"It's forced us to confront some fundamental assumptions about health, economic well-being, and social inequity, underlining the necessity for collective responsibility and leadership. In this vein we cannot, we must not, ignore that climate change is one of the most critical issues of our time," he says.
"And for that reason, I am filled with pride to announce the launch of our Sustainability Action Plan, which reflects the collaborative efforts of students, staff, faculty and administrators."
The new plan will combine with other efforts to support Concordia's newly announced commitment to accelerate solutions to the UN Sustainable Development Goals.
A core value of the university
Though university community members have been working on sustainability issues for decades, the work on the plan began in earnest in 2016, following the adoption of the Sustainability Policy.
"The policy positioned sustainability as a core university value," says Roger Côté, who was vice-president of services until last month. "For non-academic units, this helped evolve our strategic planning in areas identified by our community members as essential to achieving sustainability goals."
In 2017, students, faculty and staff determined that Concordia should focus its attention on five overarching streams: food, waste, climate change, research and curriculum.
"The streams allowed for a diverse set of voices to be represented and removed the sense of silos between operational and academic units," says Michael Di Grappa, Concordia's new vice-president of services and sustainability.
With his return to the university, Di Grappa saw the sector expand to include Residences and Recreation and Athletics, reflecting the importance of sustainability in all areas of operations, along with food and event services, building management, distribution and transport energy efficiency.
Direct action and cutting-edge research
"Institutional climate action is a key part of global efforts to decarbonize our energy systems and transition to a low-carbon economy," says Damon Matthews, chair of the climate change stream committee.
"Concordia can have a positive influence by using our skills and resources to influence a broader societal transformation towards low-carbon energy systems. Actions such as transitioning our parking facility to support electric vehicle charging is an example of a key action that will help accelerate the transition to electric vehicles, and decrease the indirect emissions caused by vehicle commuting within the Concordia community," he says.
While Services employees work on reducing the carbon footprint of the institution today, Concordia research units are looking to improve the way they support new findings and innovation.
"As a university, we're committed to sustainability and the health of our environment and communities," says Paula Wood-Adams, Interim Vice-President, Research and Graduate Studies. "Formalizing and implementing our strategic goals is an essential part of bringing about concrete changes.
"Concordia continues to be a leader by ensuring that our own practices are sustainable, and by contributing to cutting-edge research in many disciplines related to climate and sustainability," Wood-Adams adds.
Sustainability in the classroom
How Concordia helps frame and support learning and teaching also contributes to the university's Sustainability Action Plan.
"Promoting sustainable living requires more than just scientific knowledge and technological development. It also involves policymaking, ethics, politics, business, law, art, design, and other fields of study," says Anne Whitelaw, interim provost and vice-president, academic.
"Many of our institutes, programs and initiatives are led by renowned experts who work closely with students on sustainability issues, helping them develop knowledge and values that can shape future studies and careers."
Sandra Gabriele, vice-provost of innovation in teaching and learning, oversaw the work of the curriculum stream committee.
"We focused our exchanges and recommendations on creating curricular options that would help students deepen their understanding of issues related to sustainability," she says.
"Supporting the development of next-generation of sustainability leaders is a demonstration of Concordia's commitment to the ideals of teaching for tomorrow and pursuing an active role in society as a whole."
Rebecca Tittler, research administration coordinator for the Loyola Sustainability Research Centre, coordinated the work of the research stream. As a biology professor, she also took great interest in the living lab component of the plan.
"It will definitely allow us to reach more students. It will be incredibly beneficial from a pedagogical perspective, providing valuable experiential learning opportunities," says Tittler.
The Sustainability Living Lab will act as a framework to support community involvement in the plan by linking research, teaching and learning with the plan's goals and targets. In partnership with the Sustainability Action Fund, Concordia will provide funding for new projects that support implementation of the plan.
Pedro Peres-Neto, who also teaches in the Department of Biology and also sat on the research stream committee, highlights practical implications of the Sustainability Action Plan.
"It will accelerate our capacity to perform multidisciplinary research and develop new dimensions of connecting research to sustainability practices," says Peres-Neto.
"It will help us develop institutional frameworks and support innovation in sustainability research."
The goals of the plan are just as central to the work of Amr Addas, finance professor at the John Molson School of Business and member of the climate change stream committee.
"I teach two courses on sustainable investing, in addition to leading the Sustainable Investing Practicum and the Sustainable Investment Professional Certification program," says Addas.
"I've been promoting sustainability issues for a long time and I could not be prouder that the university is fully embracing sustainability in its operations, teaching and research."

From better waste management to ethical food options
Though some elements of the plan focus on fostering sustainability frameworks, others are entirely pragmatic.
"Maintaining and growing our campuses in a sustainable way has been our focus from the start, says Daniel Gauthier, building performance coordinator and member of the climate change stream committee. "But these new recommendations place higher value on our greenhouse gas emissions than was the case before."
Waste is another area where the university has sought to be a leader — in word and deed — and where the plan will help move Concordia forward.
"The new focus is on reduction of overall waste volume, whereas in the past we prioritized diversion. This means increased emphasis on reuse and on purchasing policies, to complement our work around compost and recycling," says Faisal Shennib, coordinator of Concordia's Zero Waste Program.
"For the committee, there was also a need to foster greater community engagement. The plan sees students, on-site tenants, event planners and departments as key players in reaching our goals and targets," he notes.
The final stream of the plan focuses on campus food and food systems. The food stream committee was chaired by Sabrina Lavoie, executive director of budget, planning and business development.
"Our goals include increasing plant-based and culturally inclusive food offerings on campus, deepening our commitment to local and ethical purchasing, seeking to support and expand urban agriculture initiatives and tackling campus food insecurity," says Lavoie.
"They are ambitious but essential because they will help build strong cross-campus relationships to help us arrive at creative solutions and a food system of which we can be proud."

Learn more about Concordia's Sustainability Action Plan.
Concordia members are also invited to join university leaders and the coordinator of the plan in a virtual launch event on November 3 from 1 to 2 p.m.
---