The expansion of the Richard J. Renaud Science Complex provides our scientific community with new state-of-the-art research facilities and equipment that helps enhance research, innovation and training at Concordia University.
The new space is strategically designed to physically connect researchers between spaces, encouraging interdisciplinary collaboration and research. It houses laboratories and research spaces supporting research fields such as agriculture, health and sustainable development.
"We want to deliver on innovation," says Concordia President Graham Carr. The $62-million facility has been designed by Menkès Shooner Dagenais LeTourneux Architectes and NFOE; two award-winning Montreal-based firms with institutional experience and a focus on sustainable development.
Onsite research includes aquatic biology, microscopy, cellular imaging, nanoscience, bioprocessing, and chemical and materials engineering. The Hub also hosts Concordia's District 3 Innovation Hub, a start-up incubator, promoting industry scale-up opportunities on-site. This type of interdisciplinary research is an exemplar of Concordia's next-generation approach.
The Hub provides all occupants with both advanced equipment and a collaborative, interdisciplinary space. A new work of public art outside the building, "Montre-moi par où on commence. Dis-le-moi au creux de l'oreille," by Quebec artist Marc-Antoine Côté, stands two storeys tall.
Made from 2,700 kilograms of metal — mainly aluminum — the sculpture's title roughly translates to "Tell me where we start. Whisper it right into my ear," which invites passersby to interact directly with the work, to the point of stepping right inside of it if they wish.
"By going inside the sculpture, people get a perspective that's completely different than what they see from above, from the surrounding buildings or from the ground," Côté says.
Encouraging interdisciplinary collaboration and research

Fostering innovation with state-of-the-art research spaces and equipment

Partnering with industry to help solve real problems facing our communities

Growing smartly by adding capacity where our strengths and enrolment demands intersect

Providing a next-generation education that's connected, transformative and fit for the times

Creating a beautiful campus that is accessible to all

Improving the existing biomass of the Loyola Campus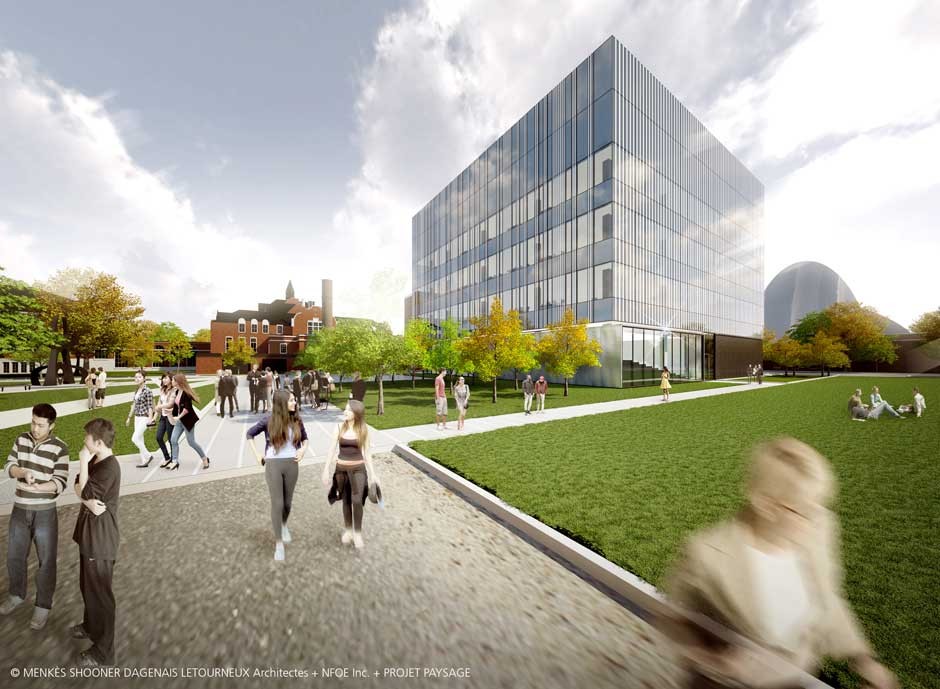 The space will house researchers from a wide range of disciplines studying a variety of topics, including biology, chemistry, biochemistry, engineering, health and sustainability. This space will allow researches to partner with next-generation industry to help solve real problems facing our communities.
Back to top

© Concordia University