New research and funding power the nanoparticle lab at Concordia's Applied Science Hub
Rafik Naccache's team is tackling sustainable biofuels, post-operative wound healing and more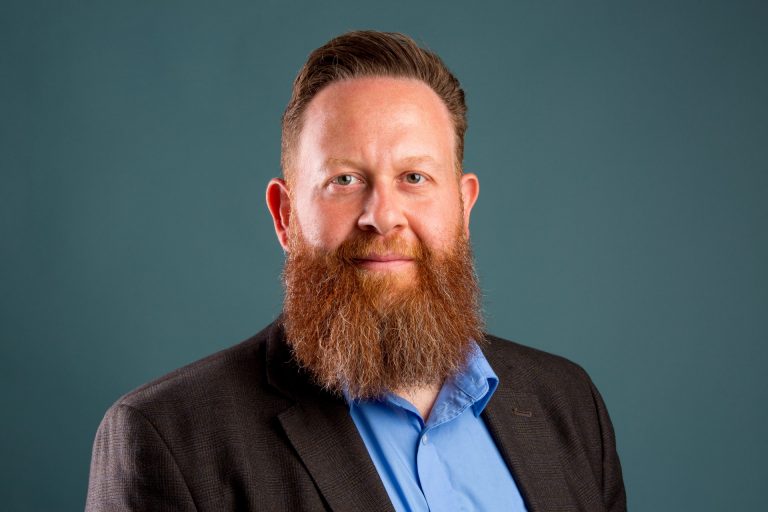 The Naccache Research Group in Concordia's Applied Science Hub is thinking big on a tiny scale.
Recent developments in the group's nanoparticle lab include important work in sustainability and post-operative wound healing. The latter project was recently awarded $1 million in funding via a Natural Sciences and Engineering Research Council of Canada (NSERC) Alliance grant.
Other work is funded by several NSERC funding programs, the Fonds de Recherche du Québec – Nature et technologies, Concordia's research chair program and the Centre québécois sur les matériaux fonctionnels.
"We are working very hard on making new progress in our research, particularly on the sustainability side and biofuel research," says Rafik Naccache, associate professor of chemistry and biochemistry in the Faculty of Arts and Science.
Naccache, who has been the Concordia University Research Chair in Sustainable Multifunctional Nanomaterials (Tier 2) since 2021, is looking at ways to make biofuels environmentally safe by greening an in-depth understanding of their chemistry.
He works with carbon nanomaterials, which can be prepared from carbon sources such as orange peels, coffee beans or simple molecules, making them cost efficient and sustainable.
It's not easy being green
The challenge for the team is finding ways to use these carbon nanomaterials to convert oils into biofuels.
"One challenge is that conventional approaches require extensive purification and winds up generating a lot of wastewater, which renders the process less sustainable," Naccache says.
"We are also trying to move away from using refined oils and focus on converting waste cooking oil, but this brings a lot of challenges as these oils undergo degradation and become more acidic. So we need to design novel materials that can convert this waste oil to a clean biofuel that can power engines and machinery."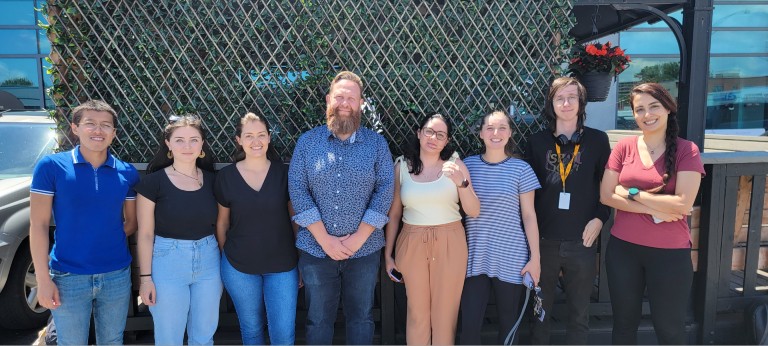 Left to right: Diego Mendoza, Aisha Hamilton, Michelle Pains Duarte, Rafik Naccache, Tayline de Medeiros, Adryanne Claremont Paquette, Gregory Amato and Arezoo Setayesh
Healing with laser technology
Another project the team is working on, with fellow researchers Annie Castonguay (INRS-AFSB), Luca Razzari and Roberto Morandotti (INRS-EMT) and Anie Philip (McGill University), uses lasers and nanotech to enable better healing of post-operative wounds.
"You want to reduce healing time, and you want to minimize tissue scarring," Naccache explains.
Laser-assisted wound healing is an appealing and emerging concept in surgical medicine that could allow for sutureless surgery.
"We use low-powered lasers and excite nanomaterials generating heat to close up wounds with minimal damage," Naccache notes.
The role of the hub
Naccache is quick to credit Concordia's Applied Science Hub for taking his lab's work to the next level. The building houses researchers from the Faculty of Arts and Science, Gina Cody School of Engineering and Computer Science and District 3 Innovation Hub.
"The tangible ways involve access to more state-of-the-art infrastructure including characterization and imaging techniques, and the ability to use scale-up facilities," Naccache says.
"But there are also intangible things. We have an open lab concept with multiple researchers. The hub has allowed the cross-fertilization of ideas because so many people are working amongst each other," he adds.
"There are no walls, no physical barriers. It's very amenable to walking over and just talking with a colleague, allowing ideas to brew. There's a lot of good that comes out of this."
Find out more about Concordia's Applied Science Hub and the Naccache Research Group.
---