Concordia commits to experiential learning for all undergrads
As of fall 2022, the opportunity applies to all incoming undergraduate students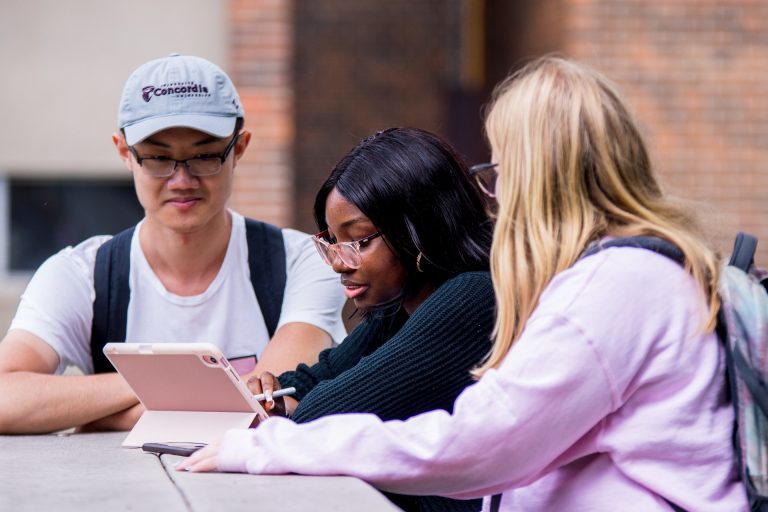 Starting this fall, Concordia is committing to offering every incoming undergraduate student at least one experiential learning opportunity during their studies and at least two by 2025.
The commitment is a fitting way to formally recognize what's long been a priority for the university, says Concordia President Graham Carr. "This decision is our way of officially acknowledging — and perpetuating — Concordia's reputation for offering academic programs that really equip you with the tools to build the world you want to live in."
Learning by doing allows Concordians to invest in their skills and knowledge on a whole new level during their time pursuing a degree, through hands-on opportunities that might take the form of an internship, research project, field course or capstone project, to name a few.
Carr stresses that the experiential learning commitment is especially timely. "Society is in the midst of rethinking the future of work, against a backdrop of labour shortages, supply-chain disruptions and the proliferation of new technologies," he says.
"Developing, integrating and retaining next-generation talent has a new urgency."
The proof that Concordia already champions experiential learning lies in the thousands of opportunities currently on offer, says Nadia Bhuiyan, Concordia's vice-provost of partnerships and experiential learning.
"Implementing the commitment will ensure that every undergraduate student, no matter their field of study, can access key experiences as part of their degree," she says. "We know from speaking with past graduates that this mode of learning can make all the difference in their professional or postgraduate trajectory."
The university defines experiential learning across several categories, in terms of ways to integrate academic studies with hands-on learning.
Course integrated: labs, simulations, final-year capstone engineering projects, studio work, performances or exhibits
Work integrated: practical setting like internships, clinical placements and teaching assistantships
Research based: becoming a research assistant or collaborating on a major research project
Community based: activities like research for social change, volunteering on or off campus or interning with a community organization
Internationally based: going on exchange, participating in a field school or research project, or doing an internship in a global setting
Student-life learning: competitions, workshops, challenges, entrepreneurial activities or workshops or special events

See all your options for experiential learning at Concordia.
---