Concordia celebrates the exceptional research achievements of 9 faculty members
Award winners 'exemplify the strength and breadth of the university's knowledge production'

Their work spans zero-energy buildings, age-related diseases, circus aesthetics and more.
Concordia recognized nine outstanding researchers for their inquiries into a wide range of topics at a reception on the 11th floor of the Engineering, Computer Science and Visual Arts Integrated Complex on August 29.
Christophe Guy, vice-president of research and graduate studies, presented seven University Research Awards as well as two Petro-Canada Young Innovator Awards for exceptional contributions to furthering the scholarly and social impact of research at Concordia.
Other honourees at the event included the new cohort of Concordia University Research Chairs and this year's Distinguished University Research Professors.
"The University Research Awards and the Petro-Canada Young Innovation Awards celebrate exceptional research achievements at Concordia. These faculty members exemplify the strength and breadth of the university's innovation and knowledge production," Guy says.
Concordia's University Research Award winners are selected for their contributions to propelling knowledge forward, supporting a productive training environment for students and elevating the university's visibility as a research institution.
Each recipient receives $5,000 and holds the title of Concordia University Research Fellow for one year.
The Petro-Canada Young Innovator Awards honour standout young faculty members doing innovative research that adds to the learning environment within their departments and is likely to be of significance to society.
The award, which comes through an endowment from Suncor Energy, carries a $10,000 research grant.
Concordia University Research Fellows

Hua Ge, Centre for Zero Energy Building Studies
Hua Ge's current research focuses on high-performance and durable building envelopes (including innovative wood-frame constructions and plus-energy curtain walls), quantifying wind-driven rain loads by field measurements and modelling, and optimum building envelope design for future climates.
Angelique Willkie, Department of Contemporary Dance
Angelique Willkie's research interests include approaches to interdisciplinary artistic creation, European circus aesthetics and dramaturgy and the notion of a personal dramaturgy. Her work maintains an underlying interest in the use of the voice as a creative tool and performance instrument.
Christopher Brett, Department of Biology
Christopher Brett has expertise in neuroscience, biochemistry and genetics. He studies the specialized organelles called lysosomes, which break down toxic biomaterials that accumulate in cells as they age. He aims to translate state-of-the-art knowledge into new strategies to promote longevity and treat age-related diseases.
Marc Steinberg, Mel Hoppenheim School of Cinema
Marc Steinberg examines the formation and evolution of digital platforms in Japan, South Korea and North America — from feature phones and smartphones to streaming sites, mobile games and chat apps. This work pays particular attention to the ways managerial theory and logistical systems mediate contemporary media culture and cultural production.
Dale Stack, Department of Psychology
Dale Stack's research program focuses on the development and trajectories of children at low and high risk for developmental problems and psychopathology, and on infant development (typical and at-risk). She studies parenting, the parent-child relationship, quality of interactions and developmental outcomes in several groups of at-risk dyads, including a sample crossing two generations.
John Xiupu Zhang, Department of Electrical and Computer Engineering
John Xiupu Zhang's current research focuses on fronthaul transmission technologies and high-performance lasers and photodetectors for future 5G and 6G communication.​
Matthew Unger, Department of Sociology and Anthropology
Matthew Unger draws on contemporary theory to interpret current conditions of social, aesthetic and juridical judgment. His two main research trajectories are contemporary and historical socio-legal theory and social theoretical analyses of symbols within sound studies and musical subcultures.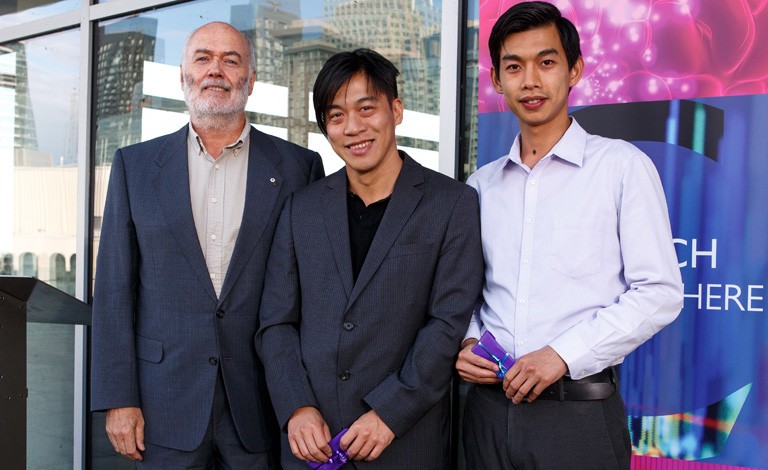 Petro-Canada Young Innovator Award recipients David Kwan (centre) and Tsz-Ho Kwok (right) with Christophe Guy.
Petro-Canada Young Innovators

David Kwan, Department of Biology
David Kwan focuses on using techniques in synthetic biology as a means of exploiting enzymes and developing them as tools in industrial biocatalysis, as well as targeting them within pathogenic microbes to disable them with specific inhibitor drugs to treat infectious diseases.
Tsz Ho Kwok, Concordia Institute of Aerospace Design and Innovation
Tsz Ho Kwok's current research focuses on design for additive manufacturing, functional design and fabrication, cybermanufacturing and product design and customization. Specific projects include 3D printing of smart materials, geometric simulation and fabrication for soft robots, topology optimization to create lightweight structures and machine learning in mass customization.

Find out more about Research at Concordia.
---