Notable Concordian
Maïr Verthuy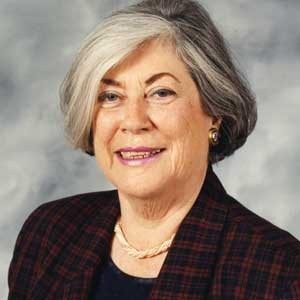 Awards & Distinctions
Great Concordian
Champion of women's studies
In 1966, Maïr Verthuy was hired to teach the history of French literature at Sir George Williams University. A lone female voice in her department, she encouraged her colleagues to include works by French-speaking female writers in their reading lists.
It proved to be an uphill battle as women's studies were not yet established.
That changed in 1970 with the introduction of a philosophy course called "The Nature of Woman," which was taught by Christine Garside and Greta Nemiroff. This initiative was quickly followed by similar efforts in other disciplines.
The merging of Sir George Williams University and Loyola College in 1974 provided the context for the creation of a college dedicated to women's studies. "Ian Campbell, who was dean of Arts at Sir George Williams, wanted to humanize what was going to be a large institution by having colleges," Verthuy recalled in an interview with Concordia University Magazine.
For the next few years, she and other feminist scholars worked on the blueprint of the Simone de Beauvoir Institute, which opened in 1978 with a mission "to stimulate the investigation, understanding and communication of the historical and contemporary roles of women in society and to encourage women to develop their full creative potential." Verthuy was the institute's first principal.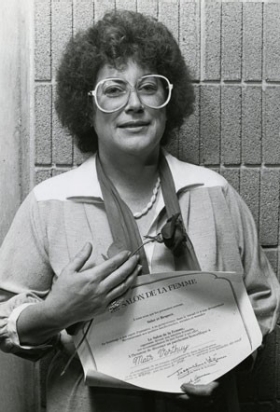 Maïr Verthuy at the 1979 Salon de la femme.
A passionate advocate of women's rights, Verthuy has lent her expertise and energy to the Montreal Council of Women and the Thérèse Casgrain Foundation. She has also participated in UNESCO-related efforts in the Arab world.
Verthuy has written dozens of articles and books, including a monograph on Jeanne Hyvrard, which earned Verthuy and co-author Jennifer Waelti-Walters the Prix de l'Association des professeur(e)s de français des universités et collèges canadiens (1986).
Verthuy has received numerous other awards, including the John O'Brien Award for Excellence in Teaching (1985), the YWCA's Women of Distinction Award (1997), the Governor General's Prize in honour of the Person's Affair (2008) and the Diamond Jubilee Medal (2012).
She has been awarded the rank of Chevalier in France's Ordre des Palmes académiques (2001), granted the title of Distinguished Professor Emerita (2004) and invested into the Order of Canada (2012). She is an Honorary Lifetime Fellow of the Simone de Beauvoir Institute and continues to give interviews and present papers on topics related to women's rights and French literature.
More Great Concordians