Notable Concordian
Luca Patuelli
BComm 09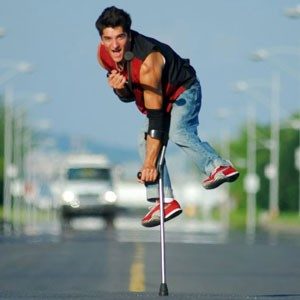 Awards & Distinctions
Great Concordian
No excuses, no limits
Montreal's Luca "Lazylegz" Patuelli, BComm 09, was one of the shining stars of the 2010 Vancouver Paralympics Opening Ceremonies. In 2013, he performed on the Ellen DeGeneres Show, receiving a standing ovation after wowing the audience.
His brilliant performances are the culmination of a decade-long exploration of the art of breakdancing.
Patuelli was born with a rare condition known as arthrogryposis, a disorder characterized by joint contractures and a lack of muscle development. It affected his lower body, but didn't prevent him from taking on skateboarding.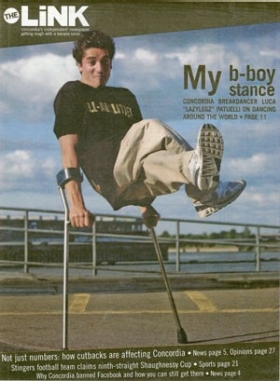 Luca Patuelli featured on the cover of the September 16, 2008, issue of Concordia's The Link. (Photo courtesy of the Records Management and Archives Department.)
When knee surgery forced Patuelli to abandon the sport in his mid-teens, he turned to breakdancing — using his strong upper body and crutches to assert himself on dance floors across the city, the country and the world.
He joined the Illmatic Styles in 2004 and accompanied the dance group to the United States where they performed on NBC's America's Got Talent. Patuelli then travelled incessantly as he refined and expanded his inventory of dance moves. In 2007, he founded ILL-Abilities, a crew of differently-abled dancers from the Netherlands, Chili and the United States. His motto? No excuses, no limits.
Patuelli's unflinching drive also helped him complete an undergraduate degree at Concordia's John Molson School of Business. The 2000s was a busy decade for him, but he succeeded thanks to support from administrators and professors during the seven years he spent at Concordia.
"It's doable. School's been extremely accommodating," he explained in an interview for Concordia student newspaper The Link.
Patuelli has not slowed down since graduating six years ago. Aside from the Vancouver performance, he appeared at the 2011 Parapan American Games and, more recently, he danced on the set of the Ellen DeGeneres Show.
In 2015, he received the Governor General's Meritorious Service Medal.
He is co-founder of Project RAD, a Montreal-based organization that offers dance programs for kids with disabilities.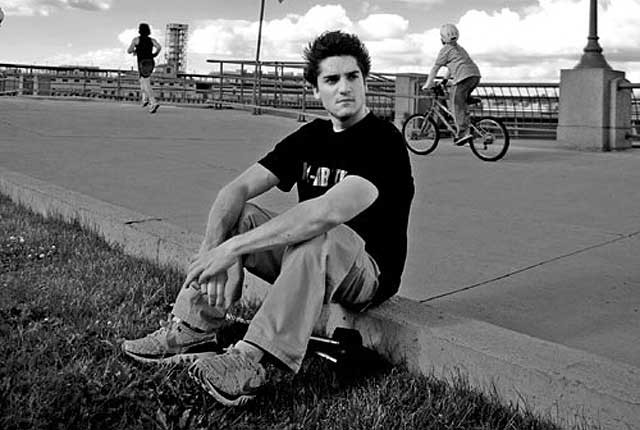 From skateboarding to breakdancing; and "the beat goes on." (Photo courtesy of the Records Management and Archives Department.)
More Great Concordians