Notable Concordian
Corinne Charette
BSc 75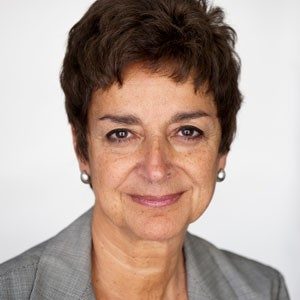 Awards & Distinctions
Great Concordian
Canada's top technology bureaucrat
When Corinne Charette, BSc 75, LLD 11, took the reins as the Government of Canada's chief information officer in 2009, she may not have envisioned herself as the nation's key commentator on state-sponsored cyber-attacks emanating from distant shores. Yet last July, journalists sought her out on that issue when the National Research Council of Canada was hacked.
Earlier this year, when governments suffered from Heartbleed, a computer coding flaw, Charette directed federal departments to disable vulnerable websites. "This is the best course of action to protect the privacy of Canadians," she said. A cool head in a crisis, Charette has a long history of high-level problem-solving.
Several key private- and public-sector roles led Charette to her position as Canada's top technology bureaucrat. She honed her skills at IBM Global Services, KPMG Consulting, Desjardins and VIA Rail. Notably, Charette served as vice-president and chief information officer of Transat AT and as senior vice-president of CIBC's Internet channel, retail and small-business banking. She also served as deputy director and CIO of the Financial Transactions and Reports Analysis Centre of Canada, Ottawa's money-laundering and terrorist-financing watchdog.
Charette, one of the highest ranking women in the federal civil service, was among a handful of women who studied engineering at Loyola College — one of Concordia's founding institutions. An active campaigner for charity and board member of the former Loyola Alumni Association, she was awarded an honorary doctorate from Concordia in 2011.
In her current role, Charette is responsible for policy and oversight of six areas including how the government's sensitive information is accessed, managed and secured. Her office directs federal agencies and departments on technology and policy initiatives. In a 2009 interview with CIO Magazine, Charette said successful tech projects boiled down to sound project management, effective information sharing and rigorous reporting practices. "You can't be effective if you're trying to do it all," she said.
Today, Charette is about midway through what could be a decade-long project to consolidate information technology across the federal government. Diversification has led to more than 100 different email systems, some 300 data centres and more than 3,000 network services in operation across Canada. "IT is not the kind of service you can step up or down instantly," Charette says.
Despite the demands of her career and her constant quest for new challenges, Charette's commitment to her two sons, her family and friends is unwavering.
More Great Concordians