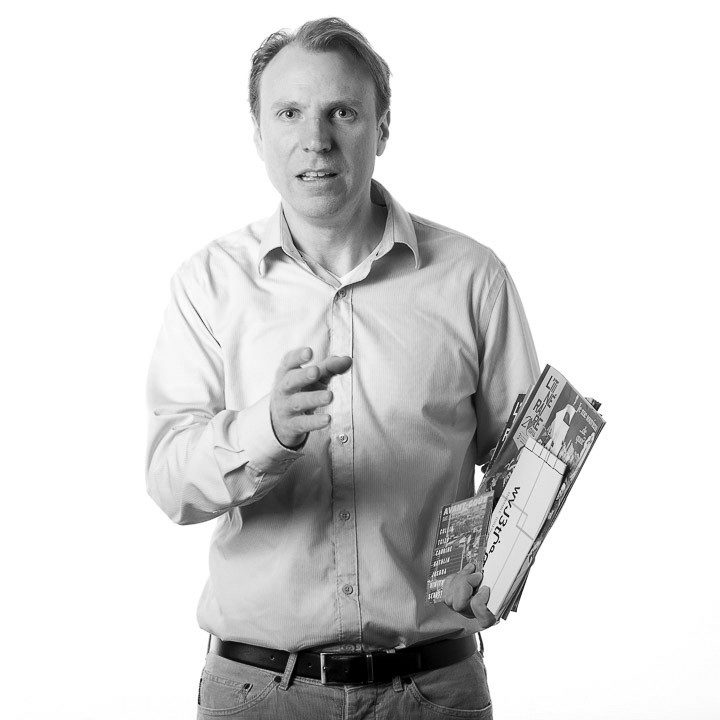 Après mon bac en Design-Arts, j'ai commencé comme travailleur autonome à faire des images de marque corporatives et des sites web. Par la suite, je suis devenu concepteur multimédia puis directeur de création avoir d'avoir mon propre studio qui se spécialisent en affichage numérique.
Please introduce yourself, tell us a few interesting things you would like to share and what are you doing in your current career or level of study?
Il m'arrive encore de prendre des mandats, question de rester à jour, mais je suis maintenant à temps plein dans l'enseignement : principalement comme coordonnateur du département de graphisme du cégep Marie-Victorin et aussi comme chargé de cours au département de design de l'Université Concordia. J'y enseigne le cour DART 453 design and community engagement; un laboratoire d'enseignement basé sur le mentorat entre jeunes de rue/ jeunes à risque/personne en marge et étudiants universitaires en Design.
pk Langshaw à été le premier prof à m'offrir une opportunité à l'extérieur des cours et j'ai par la suite collaboré avec elle sur de nombreux projets qui ont donné naissance au cours que je donne actuellement depuis plus de quinze années de file!
En plus des arts visuels (peinture, sculpture), j'ai exercé le théâtre dans divers contextes. Cela m'a finalement amené à m'investir dans l'animation 2D, un domaine que j'adore!
Il est important pour moi de pousser les aspects alternatifs du design. Je crois que notre domaine ne devrait pas se limiter au objets commerciaux. La majorité des projets sur laquelle j'interviens maintenant s'intéresse à l'aspect social et au développement communautaire et international. L'individu à risque ayant des problèmes de santé mentale, de pauvreté et d'itinérance, tout comme les pays non-aligné, peut bénéficier de notre aide. Par exemple, en travaillant avec eux sur des projets valorisant aux niveaux visuels et en s'aidant des médias sociaux, on peut aider à vaincre l'isolement et l'employabilité.
Do you have a favourite project and if so, why?
Je suis en ce moment investi dans des projets de design graphique avec le Sénégal et cela semble très prometteur de pouvoir aider ce pays à se relever en formant une nouvelle génération de designer graphique là-bas.