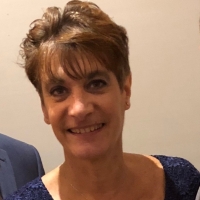 Elio Bidinost, Sensor Lab Coordinator

Education
Graduate Diploma in Computer Science (In Progress)
BFA Computation Arts

Global citizen Elio Bidinost, grew up with Italian parents in South Africa, where he was quite fascinated by the flora of the African lands. After pursuing a career in film in the UK and South Africa, he studied Computation Arts at Concordia. Proficient at the intersection of Design and Computation including Interaction and Interface Design, Tangible Media and Physical Computing and Responsive Environments, Elio has managed the Sensor Lab in the Department of Design and Computation Arts at Concordia since 2007.

Elio has collaborated with Jason Lewis (obx labs), Christopher Salter (xmodal labs), Valerie Lamontange (3lectromode) and in 2014 with Martin Racine.
Sabine Rosenberg, Computation Lab Coordinator

Education
M.Comp.Sc., Concordia University ('13)
B.Comp.Sc. Honours Computer Applications, Major Computation Arts ('09)

With a background in theatre and multi-media along with aspirations for a more formal education, Sabine Rosenberg completed the double-major program in Computation Arts and Computer Science (B.Comp.Sc.,'09) at Concordia University. Sabine went on to complete a Masters of Computer Science in 2013 with a focus in Natural Language Processing. While pursuing her graduate studies, Sabine was also a Research Assistant in the Computational Linguistics Lab at Concordia University. Currently, Sabine is the Computation Lab Coordinator, a facility for assisting CART and DART students with programming intensive projects.
Contact us
General and undergraduate program inquiries
Department of Design and
Computation Arts
Kathy McAleese (Department Assistant)
514-848-2424, ext. 4626
Graduate program inquiries
Angela Enea (Graduate Program Assistant)
514-848-2424, ext. 4456
Martin Racine (Graduate Program Director)
514-848-2424 ext. 4656
Department of Design and
Computation Arts – Office
1515 Ste-Catherine Street West
EV-6.761
Montreal, Quebec, Canada
H3G 1M8
Department of Design and
Computation Arts
Concordia University
1455 de Maisonneuve Blvd. W., EV-6.761
Montreal, Quebec, Canada
H3G 1M8