Communication Studies (BA)
Why choose Communication Studies?
We are one of the most established and respected Communication Studies programs in North America, and are well known for combining creative media production with the study of media theory, criticism and history. We draw from the humanities, social sciences and fine arts in a unique program that has trained many influential media makers.
You will work with a variety of media art forms and you will examine how meaning and ideas are communicated through media in various ways. In the first year you will create projects with sound, video and intermedia, as well as study theory, criticism and history of communications and media. You will be part of an exciting and dynamic team of students. You'll work together for three years, taught by an engaged and dedicated faculty of renowned scholars and artists.
The difference between Communication Studies and Communications & Cultural Studies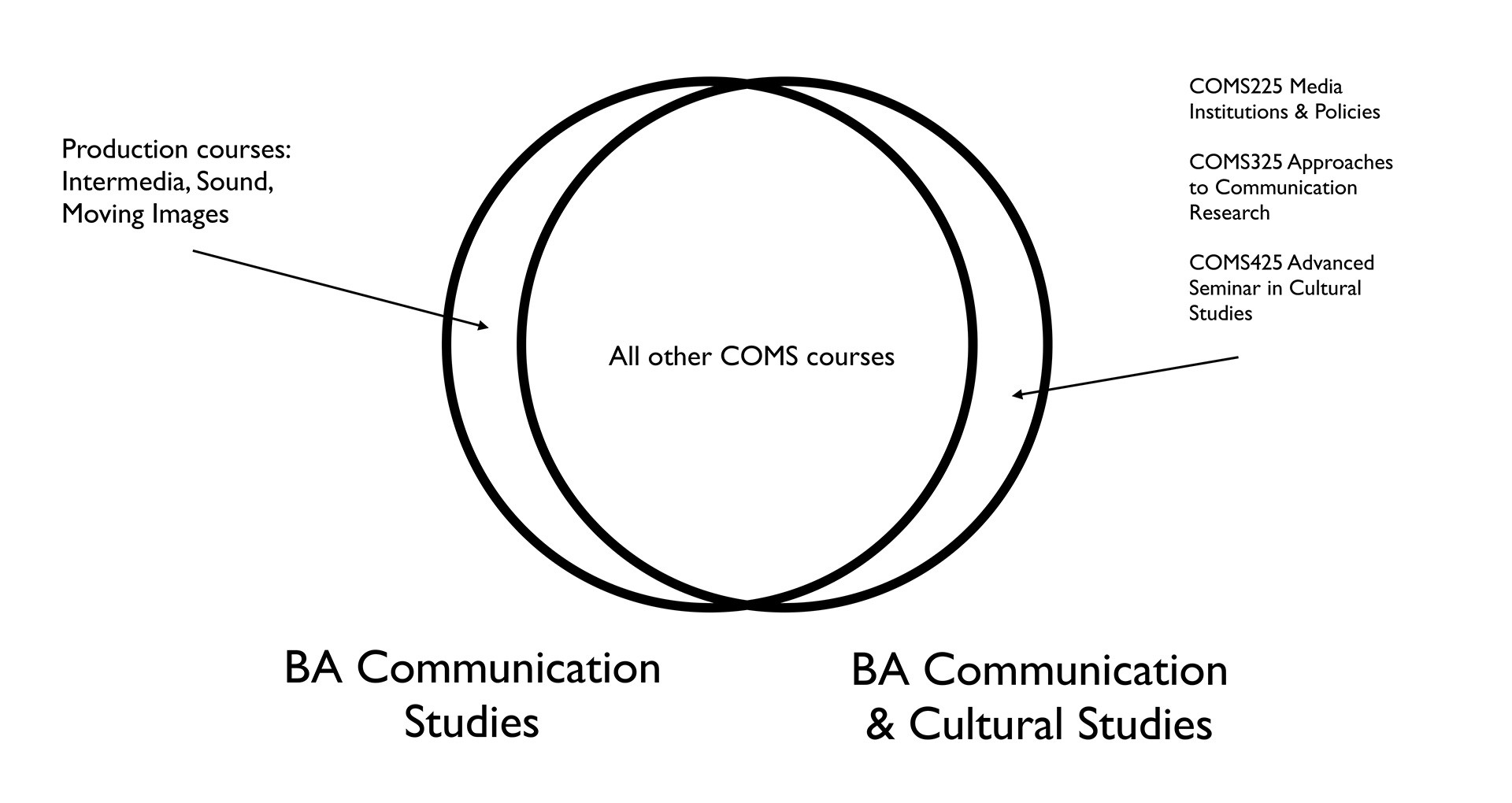 The BA in Communication Studies features media production courses in Intermedia, sound and moving images. Core coures for the BA in Communication & Cultural Studies include COMS 225, COMS 325 and COMS 425.
A Bachelor of Arts degree takes a minimum of three or four years (90–120 credits) of full-time study, depending on your academic background.
Concentrations:
Major in Communication Studies (42 credits)
Specialization in Communication Studies (60 credits)
This program is only available for Fall admission.
Minimum cut-off averages
Quebec Cegep: 25
High School: B-

ACT or SAT is NOT required

University Transfers (internal/external): B-
Baccalauréat français: 12
International Baccalaureate (IB) diploma: 27
Course requirements for admission

None. You must meet Concordia's minimum admission requirements.
Additional requirements for admission
Minimum cut-off averages should be used as indicators. The cut-off data may change depending on the applicant pool. Applicants who meet the stated minimum requirements are not guaranteed admission to these programs.
You've sent your application from:
Fall term deadline
Winter term deadline
Inside Canada

March 1

Certain programs have extended their deadlines. Please check program availability.

N/A

Admission to this program is only available for the Fall Term.


Outside Canada
(International)
February 1
N/A
We reserve the right to close admission to a program at any time after the official deadline without prior notice.
Learn to analyze and critique media and popular culture by integrating an interdisciplinary knowledge from the humanities, fine arts and the social sciences.
Media Production (video, sound, intermedia)
Scriptwriting for Media
Alternative Media
Communication Analysis of Environment
Media and Gender
Youth and Media
Advanced Topics in the Photographic Image
Consult the undergraduate calendar for a complete list of current courses.
You'll spend much of your time using the facilities in CJ for your research, projects and course work, including:
Equipment Depot
Video Editing Suites
Intermedia Computer Labs
Shooting Studio
Green Screen Studio
Blue Screen Studio
Sound Recording Studios
Sound Editing Suites
Study Areas
Student Lounge
Concession (coffee, tea, snacks and sandwiches)
Bookstore
Digital Print Shop
Our programs open up many career paths in the media arts and cultural industries, such as entry-level positions in:
Film, television, radio, animation, social media
Publishing and professional writing
Independent arts organizations (galleries, film co-ops, festivals, arts spaces, etc)
Media and communications policy consulting/analysis
Advertising, marketing, design and public relations
NGOs, eg humanitarian and environmental organizations
And - advanced studies at the graduate level