How to request an undergraduate degree transfer (Mobile)
This is a guide to requesting an undergraduate degree transfer (e.g. from a Bachelor of Commerce to Bachelor of Fine Arts / from Bachelor of Arts to a Bachelor of Engineering) using your self-serve dashboard.
Important
Before you start or if you are experiencing any issues accessing your Student Centre:
Make sure your browser is up-to-date with the latest version available.

If you are using pop-up blocker, please ensure it is turned off.

If you are still experiencing issues, try using a different browser.
How to access your Student Centre
Log in to the Student Hub, select My CU Account, then the Student Centre.
Sign in with your Netname and password.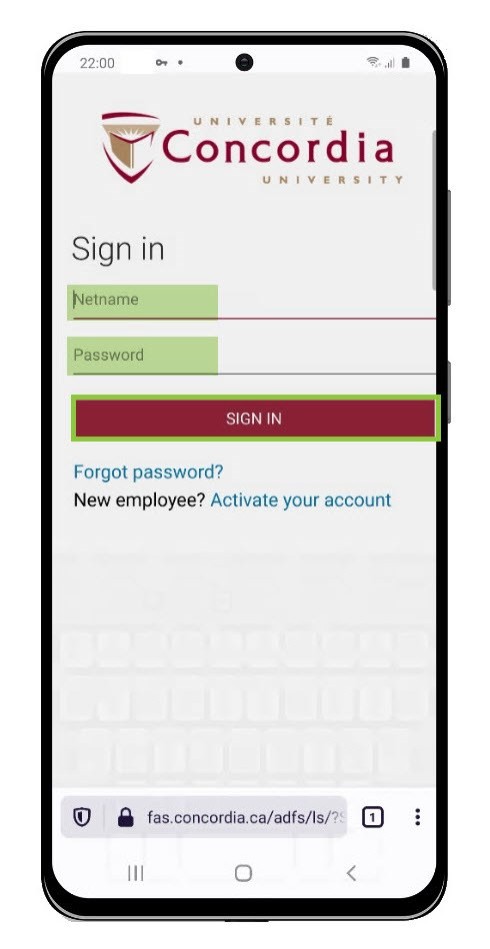 Access the application for admission
Select the Menu icon on the upper left-hand side of the screen.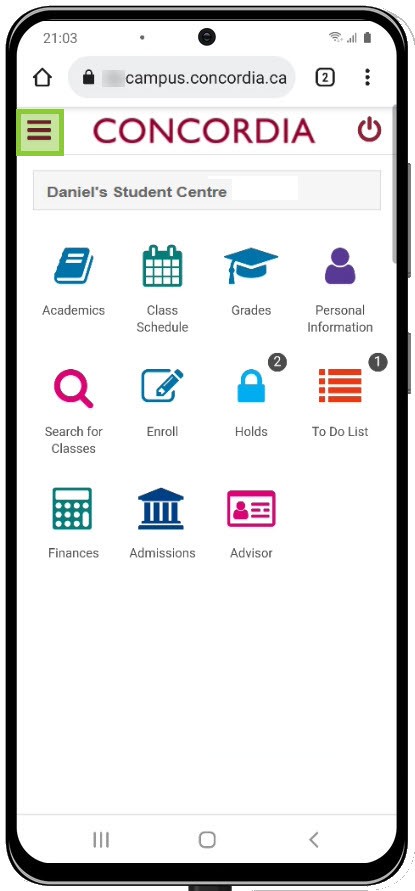 Select Admission Application.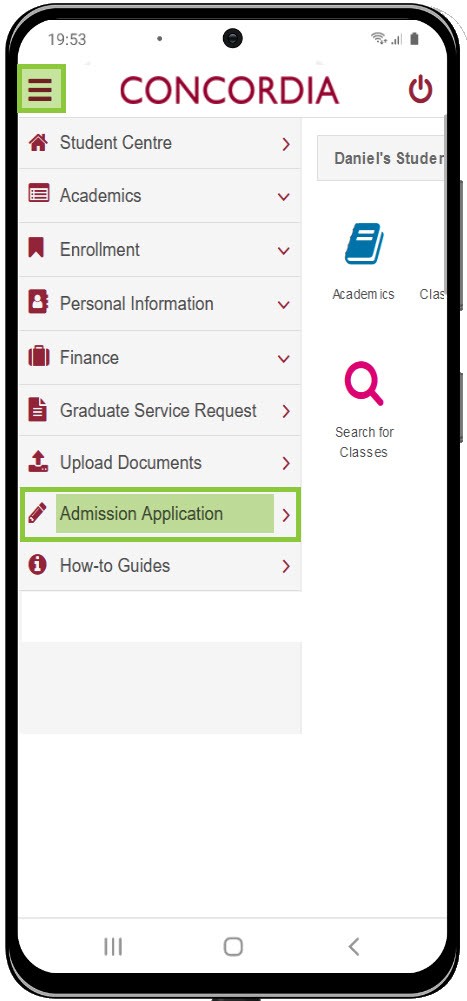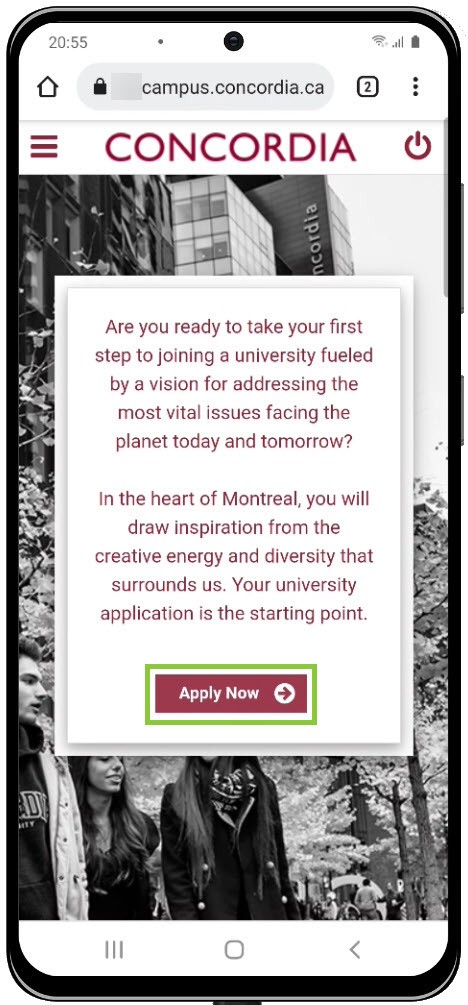 Submit an undergraduate degree transfer request
Select Concordia Undergraduate Degree Transfer.
Select Next Step.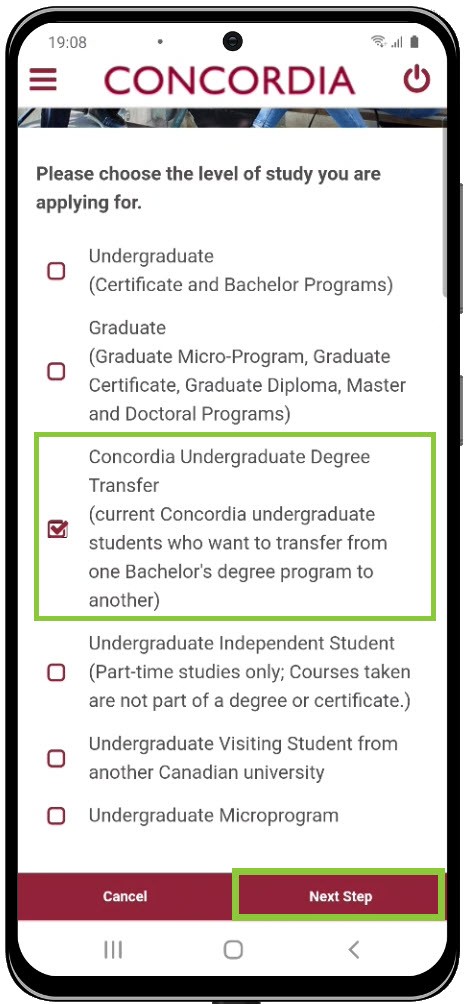 Use the drop-down menu to select the term you'd like your degree transfer to take effect.
Select Next Step.
Submit your request by filling out the Degree Transfer Application form.
IMPORTANT: Make sure you read the instructions and information on the page beforehand.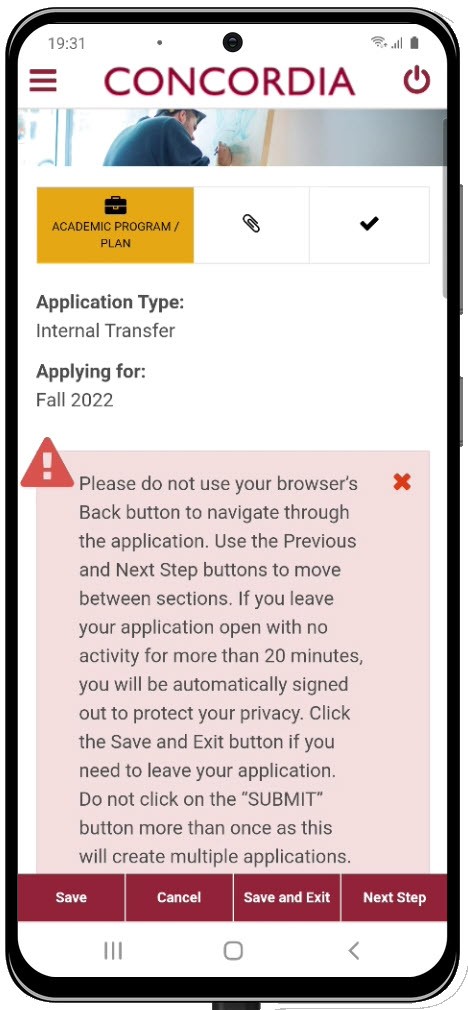 You must provide the Academic Program code and the Academic Plan code for your new degree program.
The Academic Program is the type of degree (for example, Bachelor of Science).
BA = Bachelor of Arts
BADMI = Bachelor of Administration
BCOMM = Bachelor of Commence
BCS = Bachelor of Computer Science
BED = Bachelor of Education
BEng = Bachelor of Engineering
BFA = Bachelor of Fine Arts
CERTU = Certificate - Undergraduate
If you know the name of the Academic Program and the Academic Plan, you can select them from the drop down list.
You can search by Subject if you cannot find the Academic Plan you want to select.
Select Search by Subject.
Select the Subject drop-down menu.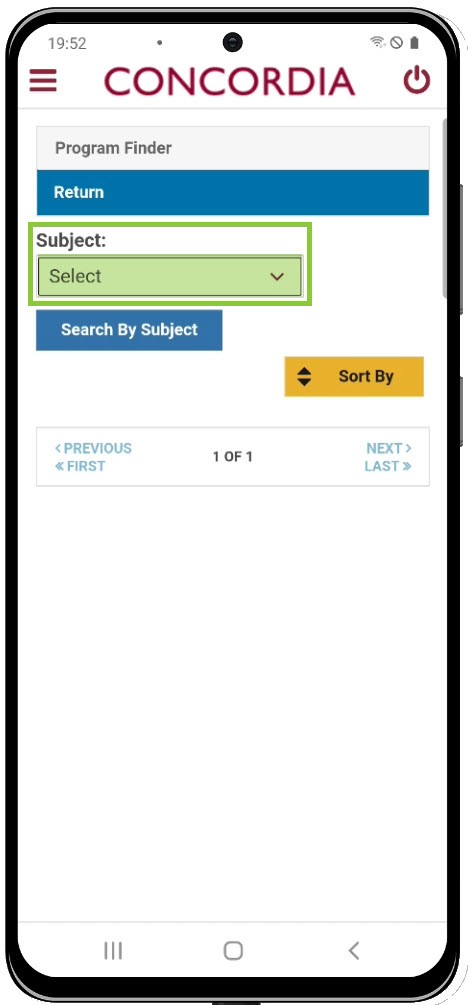 To find your Academic Plan code, start by choosing your new subject (for example, Business) from the drop-down menu.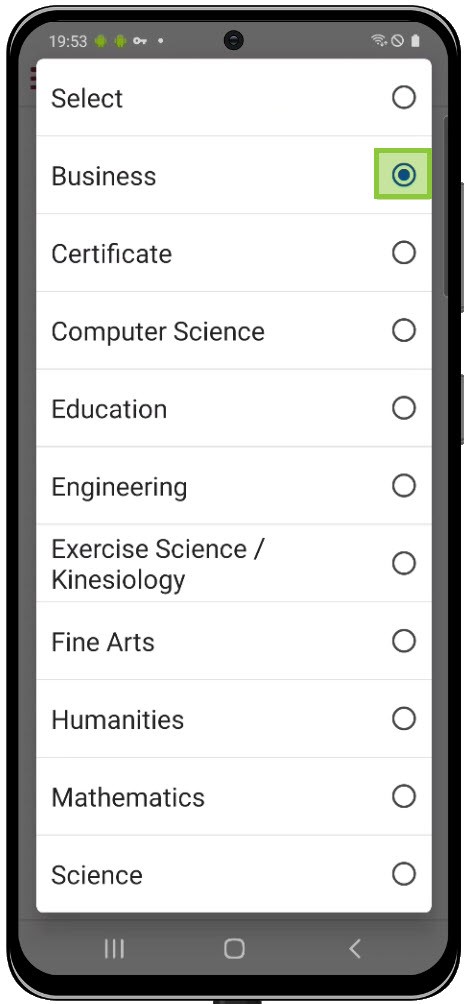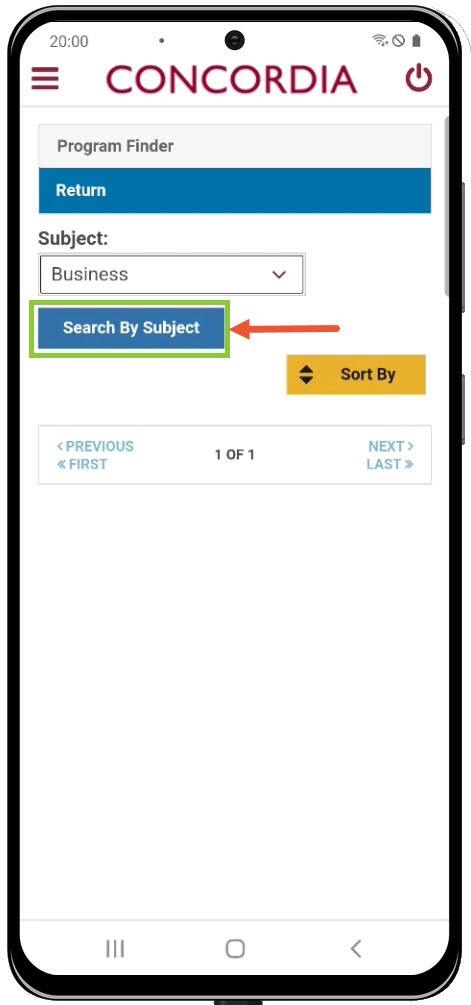 Review the list of Academic Plans available for the subject you selected and select your new plan.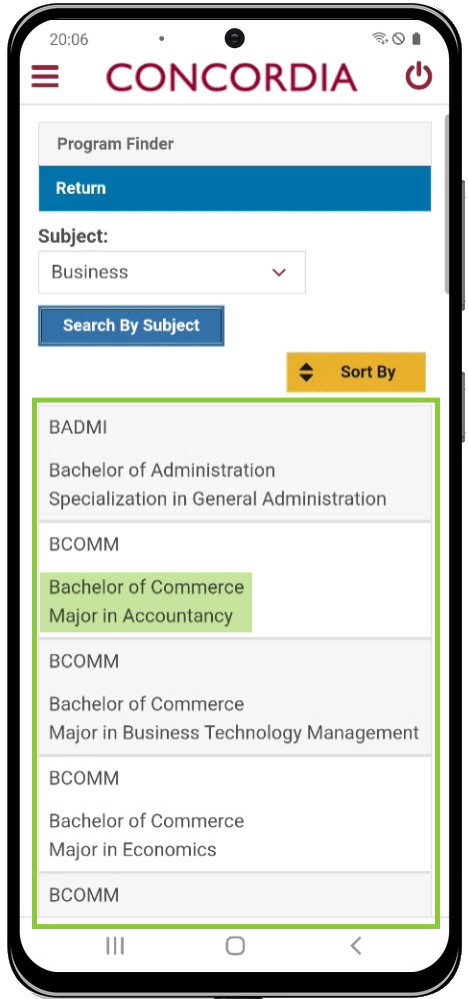 Your new Program and Plan information should now appear on the application screen.
Select Add a second Plan if you want to add an additional major and/or a minor to your request.
If you're interested in internships through Co-op, select I want to apply for the co-op option. Please note Co-op is not available for all program/plans.
Select Next Step.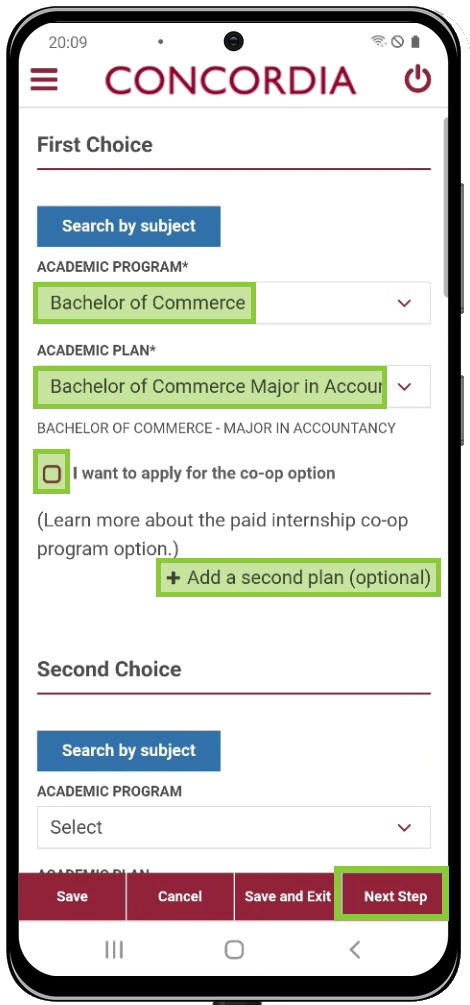 Use the Upload File option to add documents to support your request.
Select Next Step.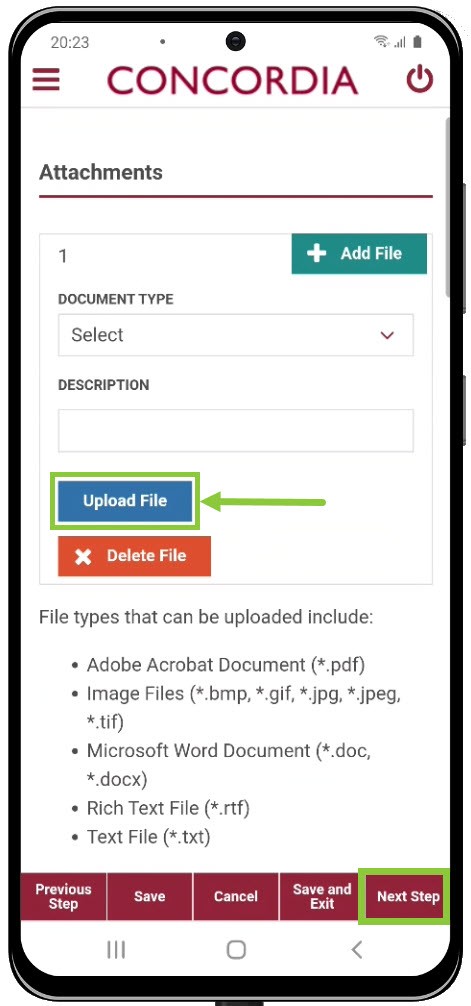 Make sure you read all the sections on this page, including Release of Information, Additional Information and Applicable Fee.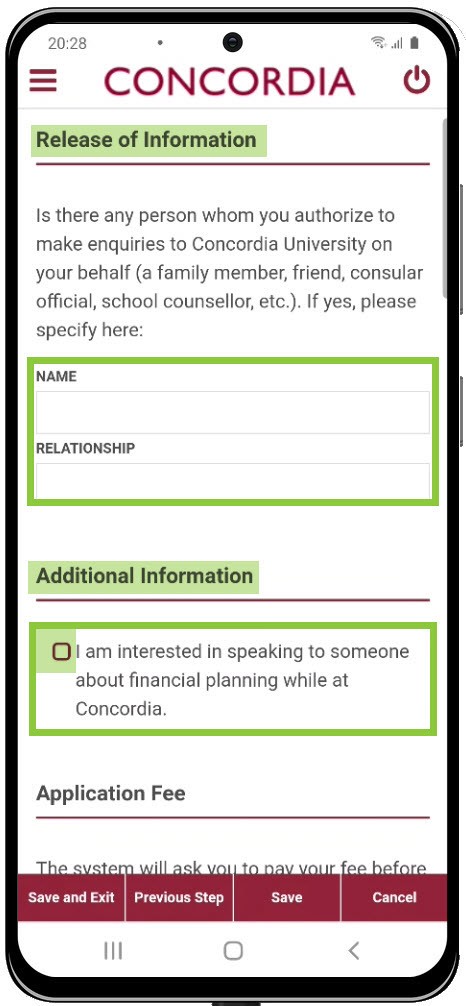 Select Terms and Conditions to read important information before you submit the request.
Select I agree to the Terms and Conditions.
Select Submit.
Proceed with the Application Fee payment to complete your request.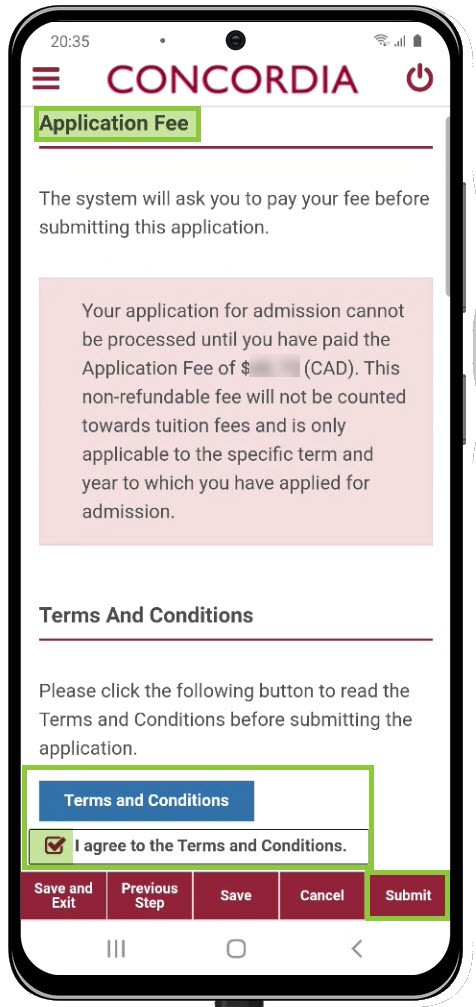 You will get a pop- up message stating that your Degree Transfer application was successfully submitted.
You can check the status of your request on the Admission Application page.