Open-access games, aerospace labs and a hardware flip
10 new Curriculum Innovation Fund projects support the next generation of course and program transformations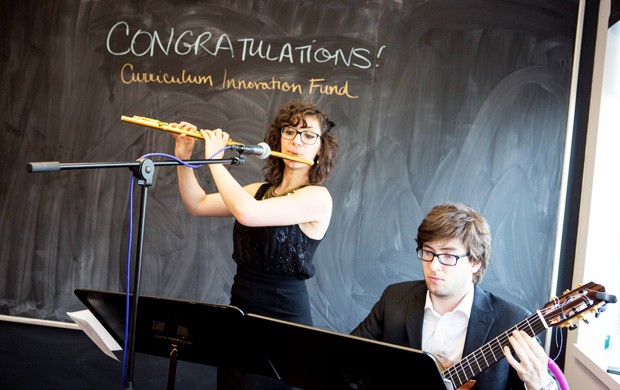 What if Concordia's Aerospace Engineering students graduated with hands-on experience in professional laboratories? And what if they'd completed four apprentice work terms in the process?
It's a great idea and it's just one of 10 exciting new proposals to receive support from the Curriculum Innovation Fund (CIF) for the 2016-17 academic year.
A force for change, the CIF is a Concordia initiative that supports faculty members as they explore ways to improve classes and teaching methods. It's a joint effort of the Office of the Provost and the School of Graduate Studies that upholds the university's Academic Plan to provide students with dynamic programs and engaging learning experiences.
On May 12, funding recipients and participants came together at the Centre for Teaching and Learning to celebrate this year's successful CIF proposals.
"This year we were pleased to see many group proposals with an emphasis on experiential learning — tying in with our strategic directions, Get Your Hands Dirty, which speaks to Teach for Tomorrow," said Graham Carr, vice-president of Research and Graduate Studies at Concordia.
The CIF's accepted proposals span the academic spectrum, from an online algebra course to interdisciplinary problem-based blended learning in the Department of Education.
The recipients come from 10 different departments, centres and institutions, including the Simone de Beauvoir Institute, the Department of Mathematics and Statistics and the Centre for Engineering in Society (CES).
Catherine Bolton, vice-provost of Teaching and Learning, along with the five-member selection committee, approved Catharine Marsden's proposal to take the Aerospace Engineering Program to another level.
"Having the students learn in state-of-the-art aerospace facilities — laboratories dedicated to things like avionics, instrumentation, landing gear and flight controls — is invaluable," said Bolton.
She is heartened by the previous 33 great projects funded by the CIF that have now become reality, and looks forward to seeing how the current round of ideas develop.
"We learn something new every time about how to become more interdisciplinary, how to activate change."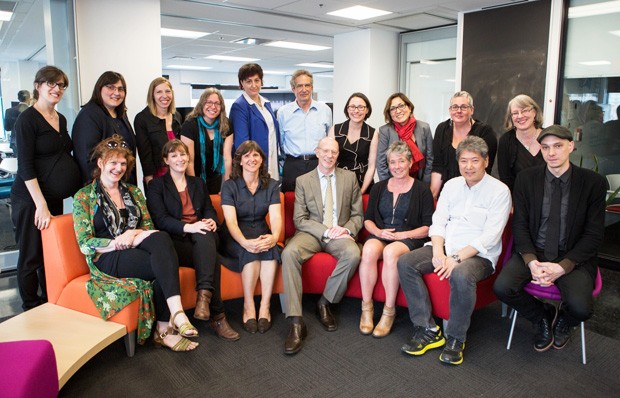 Concordia's Curriculum Innovation Fund: the 2016 projects

Concordia Libraries
Project title: Information Literacy Learning Objects for a Flipped Classroom Approach
Project leads: Andrea Cameron and Pamela Carson
The innovation: To create a series of online learning objects to cover the following library research essentials: developing a research question, finding background information, finding books, finding scholarly articles, understanding the peer-review process, reading and note-taking, citation and using RefWorks. Online learning objects allow for a flipped classroom approach and also provide a reference point that students can return to as needed, encouraging them to be more self-directed in their learning.
Department of Education
Project title: Interdisciplinary Problem-Based Blended Learning
Project lead: Ann-Louise Davidson
The innovation: Ten faculty members and three graduate students from all four units in the Department of Education have embarked on a three-year curriculum innovation project that aligns with Concordia's strategic direction Teach for Tomorrow. Ann-Louise Davidson leads the project with Holly Recchia, Giuliana Cucinelli, M. Ayaz Naseem, Maria Carolina Cambre, Richard F. Schmid, Robert M. Bernard, Kim McDonough, Helena Osana and Teresa Hernandez-Gonzales. The team is engaged in a multidisciplinary dialogue about developing problem-based learning (PBL) resources that will provide graduate students meaningful, authentic and practical experiences with research methods. The primary objective of the project is to update and enrich qualitative methods, quantitative methods and cross-listed research methods in MA-level courses. Some of the PBL resources will be produced in a media production course, "ETEC 565/665: Intro to Digital Media in Education," taught by Cucinelli.
Department of Computer Science and Software Engineering
Project title: A New Approach to Teaching Embedded Computing: Inventing a Hardware Flip to Enhance Lab Instruction
Project lead: Terrill Fancott
The innovation: Embedded computers are often called "Systems on a Chip." They are, in effect, central processing units with an array of extremely flexible and programmable interfaces with a wide range of functions. Teaching their structure and application requires intensive hands-on training, normally only available in specialized labs. Fancott's idea is to extend the hands-on experience by providing take-home hardware kits coordinated with Moodle instruction modules designed to synchronize this work with the weekly lectures and labs. In essence, this is a "flip" concept adapted to hardware/software design.
Centre for Engineering in Society (CES)
NSERC Chair in Aerospace Design Engineering
Project: Building Your Career and Getting Your Hands Dirty in Aerospace Engineering
Project lead: Catharine Marsden, NSERC chair in aerospace design engineering (NCADE)
The innovation: This project proposes the creation and implementation of a series of hands-on laboratory training sessions in aircraft systems at the École Nationale d'Aérotechnique (ENA) for aerospace engineering undergraduate students. Those in the first year of the degree will be offered a series of laboratories. Students in the NCADE apprenticeship program, in partnership with Pratt & Whitney Canada, Bombardier Aerospace, Bell Helicopter Textron Canada, Altair Engineering and Marinvent Corporation, will be offered eight weeks of aircraft systems training in their first year.
Department of Communication Studies
Project title: Games, Media, and Culture
Project leads: Sandra Gabriele and Mia Consalvo
The innovation: "COMS 298 - Games, Media, and Culture" is a new course that will explore the role that digital games play in contemporary culture, including how they are created and their role in the digital economy, how players make sense of games, how scholars analyze games and why digital games are a key element in a global society. It will be the first inter-faculty, open-access Game Studies course at Concordia. It will also be the largest Game Studies course at Concordia and the entry point to a new Game Studies minor. It's a unique opportunity for training graduate students in digital pedagogy.
Department of Mathematics and Statistics
Project title: Development of an Online Version of "MATH 200 - Fundamental Concepts of Algebra"
Project lead: Nadia Hardy
The innovation: This proposal calls for the development of an online version of the course "MATH 200 - Fundamental Concepts of Algebra." The goal is to resolve the difficulties of offering a flexible and personalized teaching approach that addresses students' individual learning needs as a function of their mathematics backgrounds. The online approach will provide the opportunity of individual learning pathways, where students can focus on what they need, assisted by self-assessment tools and via online forums and live-chats with the instructor and teaching assistants. The interactive features in lectures and tutorials will contribute to students' engagement, fostering active learning.
Department of Sociology and Anthropology
School of Community and Public Affairs
Project Title: A Multidisciplinary Think Tank to Conceptualize a New Major and Minor in Alternative Economies for Social Justice
Project leads: Anna Kruzynski and Satoshi Ikeda, with graduate student Erika Licon
The innovation: The idea is to create a think tank with faculty from different disciplines who are interested in topics pertaining to social, economic, cultural, political and/or environmental justice in order to collaborate on the conceptualization of a major and a minor in alternative economies for social justice (name to be defined). The aim is to put forth a hands-on approach by developing a curriculum with a strong theoretical and practical component. We aim to provide a holistic set of ideas and skills that vary — from international internship opportunities, collaboration with indigenous communities and implementation of academic projects in solidarity economy organizations, to systems thinking, community organizing and collective entrepreneurship — among others.
Simone de Beauvoir Institute
Project title: Teaching Interdisciplinarity: Developing Structures and Tools for Success
Project lead: Viviane Namaste
The innovation: This project is driven by a fundamental question: what is needed to foster interdisciplinary teaching at Concordia? Three approaches will be taken to find answers: 1) training graduate students interested in teaching the concepts, models and theories of interdisciplinarity, as well as how these are to be considered in course design, delivery and evaluation. Two humanities students will each design, deliver and evaluate an interdisciplinary course, to be housed at the Simone de Beauvoir Institute; 2) producing relevant resources (guidebook, instructional video, workshops) for professors interested in developing an interdisciplinary course; and 3) "testing the waters" of a particular model to administer interdisciplinary courses (PhD in humanities students offer interdisciplinary reserve courses at the Simone de Beauvoir Institute).
The Department of Political Science
Centre for Engineering in Society (CES)
Project title: Technology and Public Policy
Project leads: Stephanie Paterson, Brandiff Caron, Ketra Schmitt
The innovation: We propose to develop a joint certificate that will focus on technology and public policy, ensuring that graduates in the MA in Public Policy and Public Administration program and the CES programs will have a solid background in each field. The ultimate goal is to develop two programs: an executive certificate we can offer to professionals and a diploma we can offer to students as a certificate following their bachelor's degrees or while enrolled in either Political Science and Engineering programs. There will be a daylong workshop on how Concordia can craft an executive certificate and a graduate diploma that employs qualitative, quantitative and engineering methods to public policy and public administration problems with emerging technical, environmental or social challenges. Following the workshop, eight faculty members will meet to create the proposal for the creation of the joint certificate.
Department of Applied Human Sciences
Project title: ULab Social Innovation Hub (hosting)
Project lead: Eva Pomeroy
The innovation: In fall 2016, Pomeroy will host a ULab Social Innovation Hub to bring together community members from a variety of organizations to create a learning community. ULab is an educational platform for leadership and change developed at MIT's Sloan School of Management. Pomeroy's CIF funding is to help mount a pilot project to integrate 20 students into the hub experience. This would give students the opportunity to work and learn alongside a wide range of community participants on real social problems and projects.

Find out how to submit your own proposal to the Curriculum Innovation Fund!
---