From TAG flying squads to a performer's kitchen: Curriculum Innovation Fund projects are 'carving new paths' at Concordia
New CIF applications are due March 11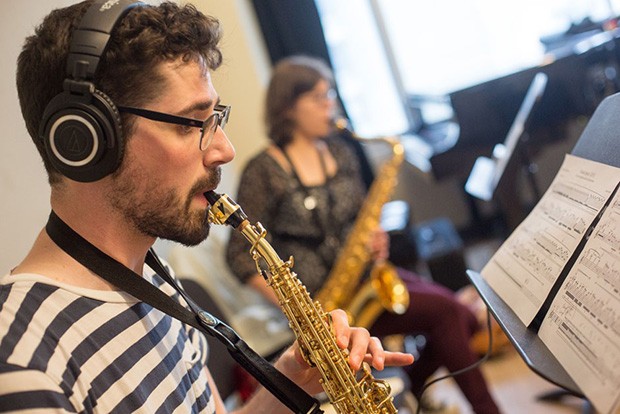 Hatching a plan to transform a course or program, or create an entirely new one? Help is here.
The next application deadline for the Curriculum Innovation Fund (CIF) is March 11, 2016.
The CIF is a Concordia initiative that supports faculty members as they explore ways to improve classes and teaching methods. A joint effort of the Office of the Provost and VP, Academic Affairs and the School of Graduate Studies, the fund upholds the university's Academic Plan to provide students with dynamic programs and engaging learning experiences.
"It's so gratifying to see CIF projects in action," says Catherine Bolton, vice-provost of teaching and learning. "They're carving new paths, crossing disciplines and re-tooling to be more responsive and engaging."
It's time to check in with a couple of the 2015 winners for inspiration. Here are two CIF projects in progress:

The business side of being a musician
Liselyn Adams, professor and chair of the Department of Music, always thought her MPER 223 - Contemporary Music Ensemble course had the potential to offer something extra — something unique. The performance aspect was already intense, but the course lacked an entrepreneurial component that would benefit aspiring professional musicians.
"Our music students will graduate and they'll need to know the business side of working in the industry," says Adams.
With that objective in mind, she applied to the CIF and began transforming her course into a three-week, three-credit summer course called MPER 498 – Performer's Kitchen Intensive. It will run from June 3 to June 23, 2016 and is also being offered through The Centre for Continuing Education, either as a credit or a non-credit course.
"For the past two summers, I've been gaining experience by hosting the one-week Composer's Kitchen Workshop, so why not create a Performer's Kitchen Intensive with an added business angle?" says Adams.
She is in the process of changing the curriculum to include lectures from Ronald J. Abraira, a full-time management lecturer at the John Molson School of Business and coordinator for the Dobson Practicum.
"Students need hands-on experience with logistics, budgets, marketing, promotion and talking to stage managers," says Adams. "We're having someone come from a legal clinic to talk about contracts, bookings and intellectual property. I'm also bringing in speakers from CALQ, the Canada Council and the City of Montreal to talk about how to apply for grants."
And Adams is making one more major change in the course. She's adding art students.
"I wanted to find a way to cross over into Studio Arts, so we're inviting three or four art students," says Adams. "For them, a musical score could be a drawing. Or, our students could make music to express their drawings — an animated score. Anything's possible."

TAG flying squad touches down
Darren Wershler and Bart Simon have a vision. They want to create a nimble "flying squad" of graduate students to help faculty incorporate all forms of games and related media into their teaching. The team would offer both lab-based support at TAG and on-site support for courses and instructors.
Enter the CIF. Simon, an associate professor in the Department of Sociology and Anthropology and the director of TAG, and Darren Wershler, an associate professor in the Department of English and Concordia University Research Chair in Media and Contemporary Literature, received funding in fall 2015 for their three-year project.
"It's early days, but it's going well," says Wershler. "We're working with faculty from English, sociology, engineering and communication studies. The idea is that students get to experience something unique in a Concordia classroom. We need to evangelize it and get the word out. Games are great allegories to illustrate another idea, such as politics or finance."
Faculty member Jia Yuan Yu agrees. He wants a game to help explain supply chain economics.
"We started the collaboration last month and two separate games are evolving," said Yu, an associate professor at the Concordia Institute for Information System Engineering. "Supply chain notions have emerged in video and board games, so it's only natural to use games to teach supply chain."
Another example of this CIF project in action is its collaboration with Fenwick McKelvey, an associate professor in the Department of Communication Studies.
"Fenwick is an early adopter," says Wershler. "In his case, we sent in a graduate student with a specific expertise to deliver a lecture on game media and cultural-economic policy."
Wershler and Simon are taking an inventory of the services they can offer, including lectures and traditional board games as well as games-related programming.
"If there's a professor who wants to invent an entirely new video game from scratch for their course, well, that's a huge undertaking and not very realistic," says Simon. "However, one of the things we're doing is modifying games that are open source already. We're experimenting with Minecraft. It's a big game but it's moddable — you can change it. It has an adaptable platform and it's easy to access. Darren has been using it in his English classes. We can invent and change the rules by which players interact with one another to create social and psychological experiments."
Wershler and Simon also highlight the unique experience the TAG flying squad provides the graduate students who join their team.
"Our long-term goal is to provide graduate students with hands-on experience in course creation," says Simon. "They'll actually be creating entirely new modules of curriculum, which is much better for their training than simply marking papers."

Read the full call for Curriculum Innovation Fund proposals and apply to the CIF before the March 11, 2016 deadline. To submit a proposal, please fill out this form and send it back to Special Projects Coordinator Émilie Martel at emilie.martel@concordia.ca.
Learn more about Concordia's strategic direction, Teach for Tomorrow — delivering a next-generation education that's connected, transformative, and fit for the times.
---