10 new curriculum proposals power Concordia classroom innovation
University fund supports the next generation of course and program transformations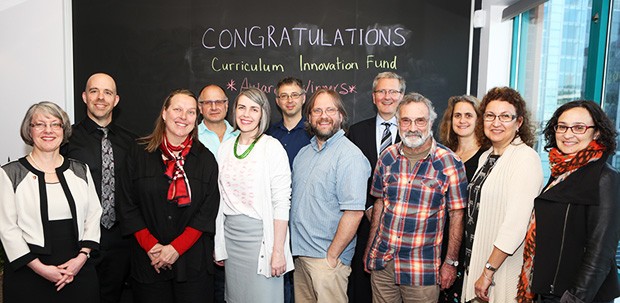 Benoit-Antoine Bacon highlighted the CIF applicants' impressive range of ideas, which encompass everything from a science-focused journalism lab to game-related programming. | Photo by Concordia
What if students had more digital resources to consult before each class, so that time spent with peers and professors was less like a lecture and more like a workshop?
That's called "flip the class" and it's just one of 10 exciting new proposals to receive funding from the Curriculum Innovation Fund (CIF) for the 2014-15 academic year.
A force for change, the CIF is a Concordia initiative that supports faculty members as they explore ways to improve classes and teaching methods. It's a joint effort of the Office of the Provost and the School of Graduate Studies that upholds the university's Academic Plan to provide students with dynamic programs and engaging learning experiences.
On May 14, funding recipients and participants came together at the Centre for Teaching and Learning to celebrate this year's 10 successful CIF proposals.
Benoit-Antoine Bacon, provost and vice-president of Academic Affairs, championed the development of the program as it encourages faculty to bring their best classroom ideas to life.
"The range of ideas among the applications was impressive, with everything from suggestions for a science-focused journalism lab to support for game-related programming across campus," Bacon said at the May 14 event, which counted CIF recipients and their departmental chairs and deans among its numerous invitees.
The CIF's 10 accepted proposals this year span the academic spectrum. Two of the proposals aim to change programs, while the eight others aim to transform specific courses. According to Catherine Bolton, vice-provost of Teaching and Learning, it's funding well spent.
"Resources for curriculum innovation are especially important when finances are constrained and there is less room in budgets for important course and curriculum development work," says Bolton. "We need to keep abreast of advancements in pedagogy — such as 'flip the class' — to make sure our students maintain their competitive edge."
For the 2014-15 academic year, the fund accepted projects falling under three overarching themes: blended/online learning, multidisciplinarity and community engagement.
Bolton was pleased to approve Liselyn Adams' proposal to create an intensive three-week summer contemporary music program with an arts management component. "Having the students actively participate in the promotion and production of the final concert, (which sees them) engaging with the business community, is the kind of real-world experience that's invaluable."
Likewise, the Department of Art Education is reaching out to the community with Kathleen Vaughan's proposal. Vaughan plans to transform the ARTE660/850 course to take advantage of Montreal's Nuit Blanche on February 27, 2016.
"The last half of the course, including reading week, will allow for the co-creation of a Nuit Blanche project in association with a local cultural institution," wrote Vaughan in her CIF proposal.
Meanwhile, the Department of Journalism continues to use the CIF to evolve. David Secko successfully applied to the fund to create a new science journalism lab.
"It would make Concordia a Canadian leader in digital first, open discipline, experimental science journalism," wrote Secko.
Bacon and Bolton are heartened by the previous 22 great projects funded by the CIF that have now become reality, and look forward to seeing how the current round of ideas develop.
"We learn something new every time about how to become more interdisciplinary, how to collaborate with the community and how to activate change," Bolton says.
"It's a process, so we don't expect overnight success, but this takes us beyond the conversation stage."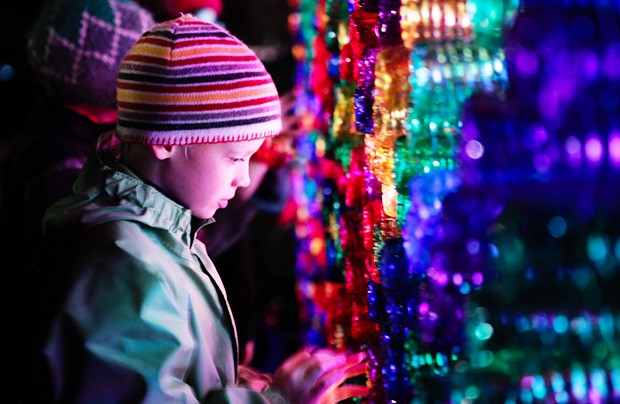 One of the projects to receive funding this year will focus on Nuit Blanche (February 27, 2016) as participatory-art-cum-spectacle. | Photo by Gregory White via Wikimedia Commons
Concordia's Curriculum Innovation Fund: the 2015 projects
The CIF has two tracks: course transformation and program transformation. To date, 33 projects have received the CIF's support.
Community Engagement
Art Education
Course: ARTE660/850 – The Artist in the Community: Nuit Blanche at the Museum
Project Lead: Kathleen Vaughan
Term accepted: Winter 2015
The innovation: "With a focus on Nuit Blanche (February 27, 2016) as participatory-art-cum-spectacle, this course will be mini-intensive, with the last half concentrated during Reading Week so as to allow for the co-creation of a Nuit Blanche project in association with a local cultural institution."
Music
Course: MPER223 - Contemporary Music Performance Institute
Project lead: Liselyn Adams
Term accepted: Winter 2015
The innovation: "Our course is a three week intensive summer program modeled on the Contemporary Music Ensemble Course (MPER223) and enhanced by an arts management component. Students will prepare off-campus ensemble performances of contemporary music while simultaneously managing the promotion and production of a final concert."
Art History, Art Education, Theatre and History
Course: Right to the City: Post-Industrial Ecologies
Project lead: Cynthia Hammond
Term accepted: Winter 2015
The Innovation: "The teaching challenge we wish to meet is to help students learn in place, from a place, and with its residents and social organizations — in this case, in Montreal's south-west post-industrial neighbourhoods. Our design challenge, as educators, is to find ways to encourage students' participation in what sociologist Henri Lefebvre famously termed the 'right to the city,' by which he meant the power to change the city, to render it more inclusive, responsive, and respectful."
Multidisciplinarity
Journalism
Course: JOUR402 - Experimental Science Journalism Studies
Lead project: David Secko
Term accepted: Winter 2015
The innovation: "The project will re-design JOUR 402, a science reporting course in the Department of Journalism, and launch a Science Journalism Innovation Lab to the Concordia community. These innovations seek to create a space where all Concordia students interested in science journalism (future scientific storytellers) can experiment to create future practice and leadership roles."
English, Sociology, Anthropology, English, Communications, TAG Research Centre and Design and Computation Arts
Course: TAG Flying Squad
Project lead: Darren Wershler and Bart Simon
Term accepted: Winter 2015
The innovation: Wershler: "This project will support the creation of a team of skilled graduate students to offer curriculum support for game-related programming in any department across campus. The team will offer lab-based support at TAG and on-site support for courses and instructors."
History, Art History, Sociology and Anthropology
Course: HIST387 - Museums & Heritage in a Globalized World
Course: ARTH615 - Postcolonial and Indigenous Theories and Methodologies for Art History in North America
Project lead: Erica Lehrer and Heather Igloliorte
Term accepted: Winter 2015
The innovation: Lehrer: "Our proposal is innovative in particular with respect to bridging student learning experiences across a variety of boundaries — including individual and group learning; theory and practice (or critique and creation); academy and community; aesthetic appreciation of material culture and cultural critique; undergraduate and graduate levels; Anthropology and Art History."
Chemistry and Biochemistry
Program: Integrated, Multidisciplinary, Intermediate Advanced Lab Courses
Project lead: Peter Bird, Christine DeWolf, Heidi Muchall, and Sébastien Robidoux
Term accepted: Winter 2015
The innovation: Robidoux: "We want to develop two new laboratory courses, specifically a synthetic lab and a characterization lab. Why? To break down the traditional disciplinary barriers and reinforce that material learned should not be compartmentalized. It would reinforce the interdisciplinary nature of science in the modern environment."
Blended/online learning
Computer Science
Course: COMP248 – Object-Oriented Programming I
Project lead: Nancy Acemian
Term accepted: Winter 2015
The innovation: "The goal of this project is to create narrated, annotated Powerpoint slides and to juxtapose them with formative evaluations to support and reinforce the learning taking place in class. This would also allow some class meetings to be "flipped," or in other words, have students listen to recordings as homework before coming to class, while using class time for hands-on group activities, thus reinforcing students' mastering of the content via peer learning."
Mechanical and Industrial Engineering
Course: ENGR243 - Dynamics
Project lead: Alexandre Paradis
Term accepted: Winter 2015
The innovation: "To create an app enabling the student to interact more efficiently in class, to have a portable professor."
Management
Course: COMM320 – Introduction to Entrepreneurship
Project lead: Peter Jaskiewicz
Term accepted: Winter 2015
The innovation: "We want to leverage our existing strengths to complement and transform the ways in which we teach entrepreneurship. Instead of sharing portions of cemented content in a set lecture in a set classroom week by week, we will enable students to learn on a weekly basis a) what they need, b) in the way that works best for them, and c) as often as they want. We will leverage Concordia's and the community's strengths to improve the real-life and local entrepreneurial learning opportunities of our students."

Find out about Concordia's previous Curriculum Innovation Fund winners.
---