The Royal Society of Canada recognizes three Concordia faculty's outstanding research and achievements
Catherine Mulligan, Emad Shihab and Tristan Glatard are among the 2022 inductees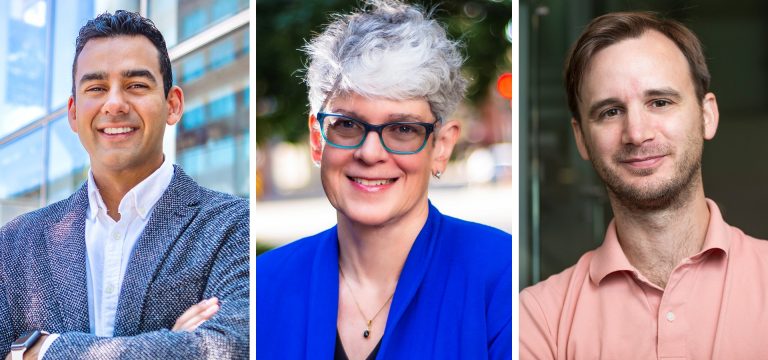 Three Concordia researchers are joining the Royal Society of Canada, the national academy that recognizes distinguished Canadians. Being inducted into the society is the highest accolade available to scientists, scholars and artists from across the country.
Catherine Mulligan, professor in the Department of Building, Civil and Environmental Engineering, and professor Emad Shihab and associate professor Tristan Glatard, both of the Department of Computer Science and Software Engineering, will be inducted in recognition of their outstanding achievements this fall.
"Having our faculty join the Royal Society speaks to the research excellence in our ranks and sets the tone for our future generation of researchers and innovators," says Paula Wood-Adams, interim vice-president of research and graduate studies.
"It's one of the greatest honours to receive this recognition as a researcher. Congratulations to our 2022 inductees for this incredible achievement."
'Research related to soil is generally underappreciated'
Catherine Mulligan has been elected as Fellow of the Royal Society, a position reserved for distinguished Canadians who have made remarkable contributions in the arts, humanities and sciences, as well as to Canadian public life.
Researching ways to decontaminate the environment has been at the centre of Mulligan's career for three decades. She studies the development of remediation technologies for water, sediments and soils for implementation nationally and internationally.
"Decontaminating the environment is necessary to protect humans and wildlife from the effect of contaminants such as heavy metals," she explains.
While water is a crucial human necessity, soil quality is also highly important since it helps ensure good water quality.
"Entry into the Royal Society will help advance research related to soil, which is generally underappreciated, and the role that engineers can play in this very multidisciplinary research area," Mulligan notes.
"I am very grateful to join the fellowship, for the mentorship of my PhD supervisor and the contributions of my graduate students and collaborators over the years."
Mulligan's leadership in environmental sustainability is deeply felt at the university. Until 2021, she was the Concordia Research Chair in Geoenvironmental Sustainability (Tier 1).
"Concordia's support has been very important to my research," she says.
Mulligan is also the founder and director of the Concordia Institute for Water, Energy and Sustainable Systems, which trains students in sustainable engineering practices.
'This speaks to our world-class researchers'
Emad Shihab as been inducted to the Royal Society's College of New Scholars, Artists and Scientists. The college provides recognition for Canada's emerging generation of multidisciplinary intellectual leaders.
An undergraduate internship at BlackBerry in Waterloo, Ontario, prompted Shihab to consider the impact of software reliability in broader, interconnected networks. Today, his research is dedicated to improving software quality.
"With the huge role software plays in our daily lives — from navigating our cars to tracking our health — it's more important than ever that these systems be reliable," he explains.
In Shihab's lab, historical data, machine learning and artificial intelligence (AI) are used to predict potential future failures so they can be avoided.
"It's all in the lines of code," he says. But it's not enough to think about software alone.
"We have to think about ethics, privacy and knowledge transfer to keep improving it."
In 2021, Shihab and his team secured a $1.6-million grant for a program that trains the next generation of engineers and scientists in the development and social aspects of AI-based software systems.
Shihab's work has earned him national and international distinction, including the CS-Can/Info-Can Outstanding Young Computer Science Researcher Prize in 2020. He also holds a Concordia University Research Chair (Tier 2) in Data Analytics for Software Systems.
"Having Concordia faculty join the Royal Society speaks to our world-class researchers — who have all helped me in receiving this prestigious induction — and highlights Concordia's excellence in software engineering," he adds.
'An improved relationship between society, technology and science'
Tristan Glatard has also been inducted to the College of New Scholars, Artists and Scientists. He is a Canada Research Chair (Tier 2) on Big Data Infrastructures for Neuroinformatics and co-director of Concordia's Applied AI Institute, which he co-founded in 2021.
Glatard's research focuses on improving the reproducibility of computational analysis with neuroimaging as a primary application area.
"Computing systems and data analysis have pervasive impacts on all fields of science," he explains. "Applying them to neuroscience may help advance our understanding of some of the most challenging diseases of our times."
The societal angle of his work is very important to him.
"Computational processes fuelled by big data are transforming society in areas like media, entertainment, industry and retail. They can also play a role in polarizing opinions on critical topics such as public health or climate change," he says.
"Democratizing them through open-source software and facilitating open science through data and software sharing are major priorities in my research."
For Glatard, the Royal Society is an exceptional opportunity to discuss these issues.
"A constructive exchange between Canadians in different disciplines could lead to better scientific practices and an improved relationship between society, technology and science," he says.
Glatard adds that the university has been very supportive of his research, especially early in his career as he was developing his program. "It's not common to find institutions that support multidisciplinary research, and I'm grateful that Concordia does."

Learn more about the Royal Society of Canada and research at Concordia.
---