Concordia launches the Applied AI Institute
Tristan Glatard and Fenwick McKelvey take the helm of the interdisciplinary group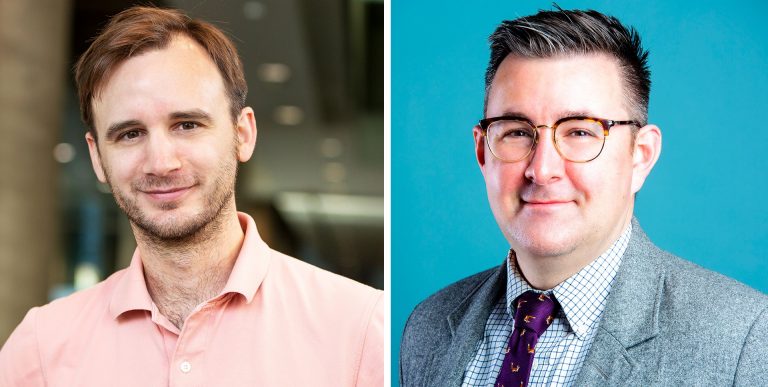 Climate change, smart cities, health care, transportation, aerospace, cybersecurity, privacy and trust — Concordia researchers have been applying artificial intelligence (AI) solutions to these problems for years.
Now, they're joining forces under the university's newly launched Applied AI Institute.
Today, the institute announced the appointment of Tristan Glatard and Fenwick McKelvey as co-directors, to further its interdisciplinary activities, partnerships and interests.
"It's my privilege to continue the extraordinary contributions made by my colleagues," says Glatard, professor in the Department of Computer Science and Software Engineering at the Gina Cody School of Engineering and Computer Science.
"The institute has grown exponentially in a very short time since its inception last year. Moving forward, my work will strive to be representative of the excellence they brought to the table, and will amplify the innovation that research at Concordia brings to the global AI ecosystem."
Glatard holds the Canada Research Chair (Tier 2) on Big Data Infrastructures for Neuroinformatics. Before coming to Concordia in 2016, he was a research scientist at the French National Centre for Scientific Research and a visiting scholar at McGill University.
In his research, Glatard designs infrastructures to enable efficient, open and reproducible neuroinformatics which have applications in medical image analysis and neuroimaging.
In 2021, Glatard co-founded the Applied AI Institute along with Gina Cody School professors Kash Khorasani from the Department of Electrical and Computer Engineering and Nizar Bouguila from the Concordia Institute for Information Systems Engineering.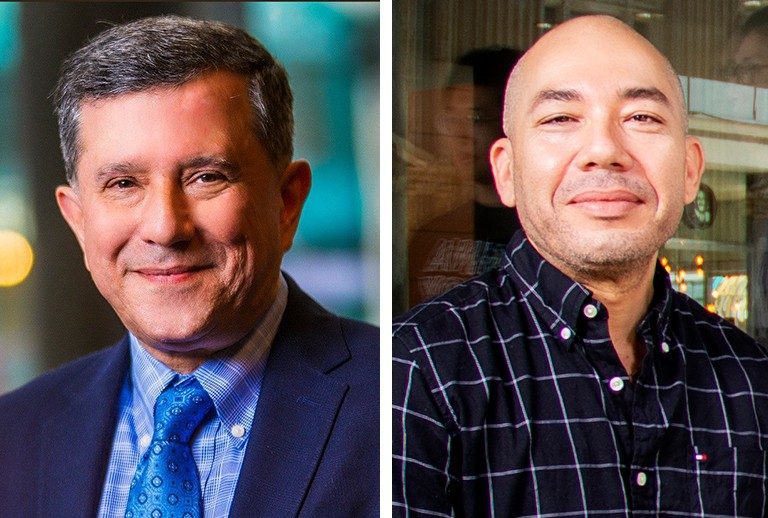 Khorasani, who leads the Security-Policy Nexus of Emerging Technology, and Bouguila will remain involved in the institute as founding directors and will add their research expertise and leadership to the institute's capabilities.
McKelvey, professor in the Department of Communication Studies at Concordia's Faculty of Arts and Science, joins Glatard as the institute's co-director. He studies the internet's infrastructure, looking at the AIs, daemons — computer programs that run in the background — and bots lurking in our networks. These artificial intelligences pose new governance questions.
In his research, McKelvey explores the comparative international shaping of AI, its legitimacy as a solution to media problems and the long history of technological fixes for societal problems.
His openness to dialogue and advocacy has brought him to be called on as a commentator for a variety of media organizations, including CBC's Power and Politics and The National, and The Guardian and Wired.
"Artificial intelligences raise governance questions, challenge our traditions of technology regulation. Solutions have to be interdisciplinary," says McKelvey. "The Applied AI Institute builds capacity and creates spaces to not only solve today's problems but work toward imagining better futures."
With over 95 professors and 200 graduate students, the institute collaborates with eight research centres across Concordia's four faculties.
Their focus is on three research clusters that address AI applications' impact on all members of society, creating deep learning methods for scientific medical imaging, and integrating AI into smart cities, industry and manufacturing, and aerospace.
As women are historically underrepresented in engineering and computer science, a main priority of the institute will be to foster a diverse and inclusive environment.
Focus on partnerships and training
The Applied AI Institute will partner with industry and governments to solve real problems. Its relationship with Ericsson has been a proof-of-concept that has produced real-world results for both academia and industry.
Starting in 2018, Ericsson worked with Concordia and the Natural Sciences and Engineering Research Council of Canada (NSERC) to house three industrial research chairs at the Gina Cody School, specializing in:
Software-Defined Networking and Network Functions Virtualization Security – Lingyu Wang
Cloud and Edge Computing for 5G and Beyond – Roch Glitho
Model-Based Software Management – Ferhat Khendek
In 2019, Concordia collaborated with Ericsson in its Global Artificial Intelligence Accelerator, attracting $1.2 million in funding to support 25 Concordia graduate students and postdoctoral researchers.
In 2021, Concordia researchers began delivering tailor-made training to help Ericsson employees further expand AI and machine-learning knowledge with project-based applied learning.
In addition, researchers affiliated with the institute have ongoing partnerships with businesses and organizations such as:
Hydro-Québec
Thales
National Bank of Canada
Government of Quebec
Ciena
Ubisoft
CAE
IBM
Heyday
Brainbox AI
Mitacs
NSERC
Concordia researchers are also already training the next generation of AI-capable workers.
Last year, Emad Shihab, associate professor of computer science and software engineering, and his team attracted a six-year, $1.6 million NSERC-CREATE grant to create a training program on the software engineering and social aspects of AI systems. The program aims to fill the major shortage of highly qualified professionals who can create and maintain AI-based software systems.
Shihab is the project's primary investigator and is joined by other researchers from leading institutions such as École Polytechnique, Queen's University and the University of Alberta.
"Integrating our next-gen research in AI with the work of innovative partners has yielded significant results, showing Concordia's unique approach to applied AI," says Paula Wood-Adams, Concordia's interim vice-president of research and graduate studies.
"The institute has been a multidisciplinary network from inception and the new co-director appointments acknowledge the value of collaboration that we will continue to deliver to society, science and emerging technologies."
Looking forward, the institute plans to offer an array of services to students, researchers and the AI community in general, including training opportunities and help to startups.

Find out more about the Concordia's Applied AI Institute.
---