Concordia to co-lead new $160-million Canadian cybersecurity innovation network
Mourad Debbabi is leading this initiative with other co-directors from universities across Canada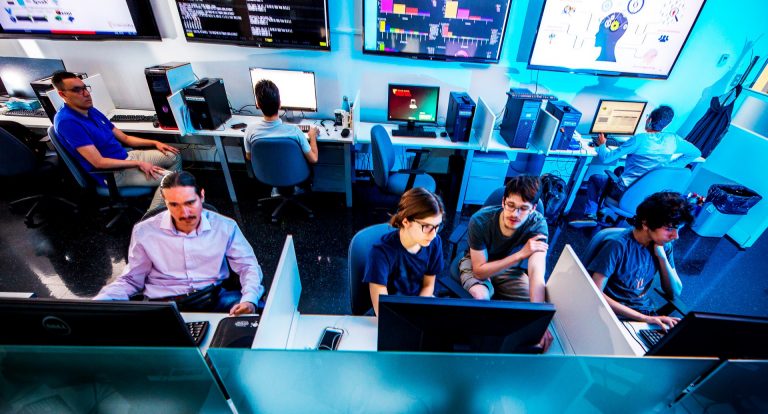 Every day, a deluge of cyberattacks target the cyber infrastructure of corporations, governmental agencies, and individuals. The damage can be even more potent when the attack involves critical infrastructure components.
To address the cybersecurity challenges in terms of R&D, innovation, and training, and to help institutions and businesses across the country manage cyber threats, the Government of Canada announced $76.4 million in funding over four years to the National Cybersecurity Consortium (NCC).
The NCC, as a lead recipient, will establish the Cyber Security Innovation Network (CSIN), a vital platform for the advancement of cybersecurity in Canada.
The CSIN is a pan-Canadian network of post-secondary institutions, large and small private-sector firms, provincial/territorial and municipal governments, and not-for-profit organizations. The members are linked into a collaborative and engaged network that delivers strategically selected highly innovative projects in R&D, commercialization and training.
The NCC and the CSIN network, are co-led by Concordia and four other Canadian universities: University of New Brunswick, University of Calgary, Ryerson University and University of Waterloo.
The investment is among the largest-ever grants Concordia has been a part of.
"Demands on the digital economy continue to rapidly grow, and cyber security is an ever-increasing concern for Canadians and Canadian businesses," said François-Philippe Champagne, Canada's minister of innovation, science and industry, in his announcement today.
"That's why it is vital to support and invest in a strong, secure and resilient Canadian cyber ecosystem. Through this investment, the Cyber Security Innovation Network will not only help drive Canada's prosperity, security and innovation but also help build a nation of cyber security trailblazers."
"Cyberattacks are on the rise with unprecedented sophistication, speed, intensity, volume, damage and audacity," says Mourad Debbabi, director of Concordia's Security Research Centre and one of five co-founding executive directors of the National Cybersecurity Consortium.
"I salute the vision of the minister and the Canadian government as this investment will usher in a new era of collaborative R&D, innovation, and training that will further secure Quebec and Canada's economy and nurture sustainable prosperity," adds Debbabi, who is also dean of Concordia's Gina Cody School of Engineering and Computer Science.
The network will enhance research and development, increase commercialization, and develop skilled cybersecurity talent across Canada. It will fund high-impact projects that will be realized in collaborations between universities and colleges, private-sector firms of all sizes and public-sector and not-for-profit organizations from all regions of Canada.
With the federal investment, the consortium will have a starting budget of over $160-million in cash and in-kind contributions from supporting organizations. The consortium's focus is to help expand the commercial cybersecurity sector in Canada while contributing to the country's cybersecurity health.
In applying to lead the network, the consortium worked collaboratively with more than 140 researchers from 35 postsecondary institutions across Canada, 46 companies of all sizes, 26 not-for-profit organizations as well as provincial governments and governmental organizations.
The Security Research Centre (SRC) at Concordia is fully engaged in the NCC and CSIN network. It has over 75 cybersecurity researchers, including 55 doctoral and Master students, 20 faculty members, among which five are research chairholders, and several postdoctoral fellows and research staff.
The SRC offers an integrated platform for the delivery of high-quality cybersecurity research, innovation, and training with projects, degree-based programs, partnerships, and a dedicated infrastructure. SRC researchers are involved in partnerships with leading organizations such as Hydro-Québec and Ericsson.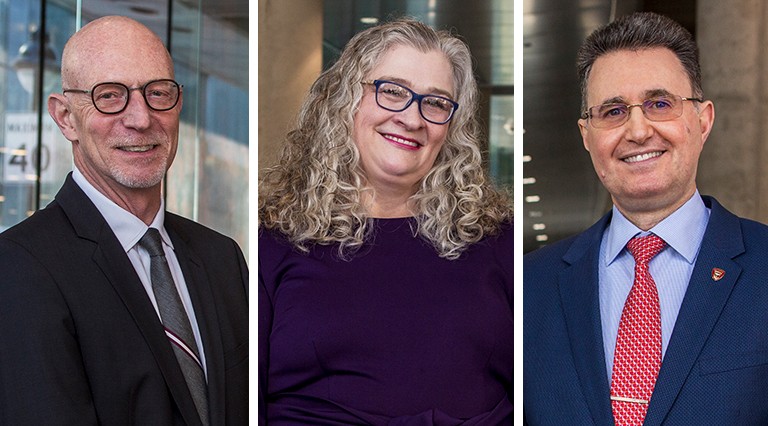 Graham Carr, Paula Wood-Adams and Mourad Debbabi.
Multidisciplinary approach
Paula Wood-Adams, Concordia's interim vice-president of research and graduate studies and chair of the board of the National Cybersecurity Consortium, points out that the initiative shows how invaluable universities are in bringing stakeholders together to find solutions to a global challenge like cybersecurity.
"Tackling cybersecurity challenges requires a multidisciplinary research approach spanning engineering and computer science and draws on expertise from social sciences and management. All of these areas represent some of Concordia's strengths," she says.
"This network will foster game-changing cybersecurity research and development and will create opportunities for initiatives that bring academia, industry and government together."
According to Statistics Canada, the Canadian cybersecurity industry contributed over $2.3 billion in GDP and 22,500 jobs to the Canadian economy in 2018. In Quebec, the government recently created the ministère de la Cybersécurité et du Numérique to coordinate and lead Quebec's cybersecurity efforts.
As the labour shortage impacts all sectors of the national economy, training highly qualified talent in cybersecurity is of critical importance, explains Concordia President Graham Carr.
"Universities are key drivers of the knowledge economy as we train the next generation of skilled and forward-looking talent," he says. "We welcome this government investment which is critical to Canada's future and are proud to take our place as the lead Quebec university in this Canadian cybersecurity consortium."
The network will lead training projects that make equity, diversity and inclusion a priority. In addition to the research and training, the network will connect scholars, entrepreneurs, cybersecurity professionals and learners through many channels such as working groups, conferences, workshops and research challenges.
Established in 2020 as a federally incorporated not-for-profit organization, the National Cybersecurity Consortium is led by five cybersecurity experts:
Nadarajah Asokan, executive director, Cybersecurity and Privacy Institute, University of Waterloo
Ken Barker, director, Institute for Security, Privacy and Information Assurance, University of Calgary
Mourad Debbabi, director, Security Research Centre, Concordia
Charles Finlay, founding executive director, Rogers Cybersecure Catalyst, Ryerson University
Ali Ghorbani, director, Canadian Institute for Cybersecurity, University of New Brunswick

Learn more about Concordia's Security Research Centre.
Learn more about the National Cybersecurity Consortium.
---