Concordia receives $2.67M to build the digital highway to 5G — and beyond
The Gina Cody School partners with ENCQOR 5G and Ericsson to create infrastructure to support IoT and next-gen apps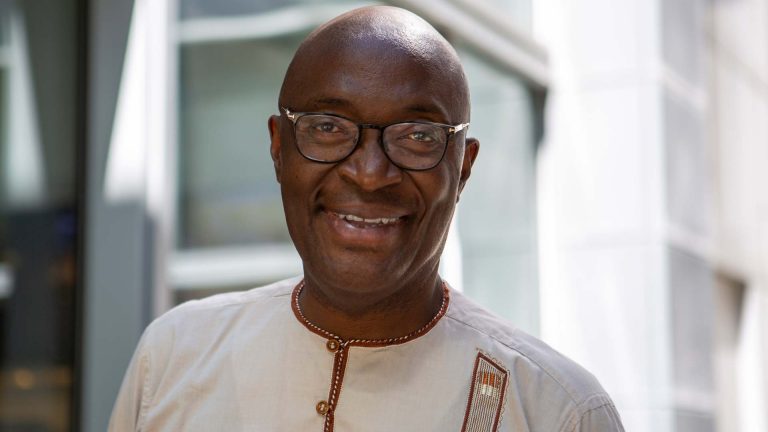 Buffering, slow downloads, frozen computer screens — a wonky internet connection can frustrate even the most Zen person.
"But it's a matter of life and death when we're talking about something like remote robotic surgery. Every millisecond counts," says Roch Glitho, a professor and cloud network expert at Concordia's Gina Cody School of Engineering and Computer Science.
"Having fast, reliable communications is a necessity to enable the next generation of 'smart' Internet of Thing (IoT) devices for our increasingly interconnected world."
This June, Glitho was appointed the holder of Canada's first Ericsson/ ENCQOR 5G Industrial Research Chair in Cloud and Edge Computing for 5G and Beyond. He is also a Tier II Canada Research Chair in End-User Service Engineering for Communications Networks
Edge computing is when some processing tasks are distributed and processed closer to the source of the data on local servers, instead of all tasks processing in the cloud. It's faster than sending all the data back and forth to the cloud, and decreases the chance of delays and/or dropped messages.
5G is the emerging digital infrastructure needed to accommodate the coming wave of IoT devices, such as autonomous cars, self-repairing wind farms, ambulance drones and smart HVAC systems, to name a few.
Concordia partnered with Ericsson and ENCQOR 5G to create the new chair, valued at $2.67M over five years.
It brings together industry and academia, including a team of 10 graduate students and three post-docs, alongside industrial researchers and subject matter experts to proactively develop the networks of the future.
"We're honoured to partner with ENCQOR 5G and Ericsson to tackle these research and deployment challenges," says Mourad Debbabi, interim dean of the Gina Cody School and holder of the NSERC/Hydro-Québec/Thales Senior Industrial Research Chair in Smart Grid Security.
"Together, we aim to strengthen Canada's digital backbone through the support of cloud computing systems, critical infrastructure, cyber-physical systems, and Industry 4.0. We also intend to train highly-qualified personnel for these sectors."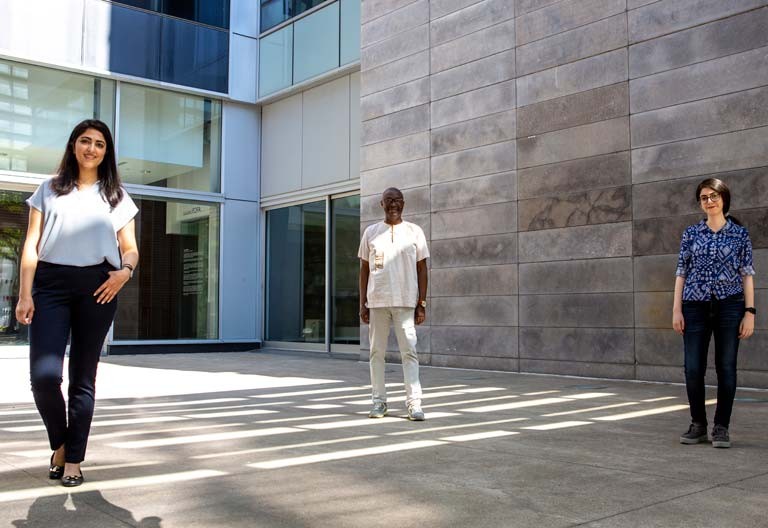 From left: PhD student Seyedeh Negar Afrasiabi, professor Roch Glitho and PhD student Behshid Shayesteh.
Cloud and edge computing
Glitho and his team are focusing on two main research areas related to cloud and edge computing:
"We're asking ourselves how to build the new cloud and edge computing of the future," says Glitho, who is part of the Concordia Institute for Information Systems Engineering (CIISE) and a member of Concordia's Security Research Centre and of the Software Engineering Research Centre.
"To do that, we're working on 'intelligent clouds' in which artificial intelligence (AI) will drive all the management tasks. Edge clouds featuring intelligent management would be particularly helpful to connect first responders during a disaster scenario, like an earthquake. The idea is to expand the cloud as close as possible to data sources and end-users, make it autonomous."
The chair's other area of interest is developing 5G applications, which rely on cloud and edge computing for their success.
"We're working for instance on remote robotic surgery, and remote phobia treatment using virtual reality," says Glitho.
"In the case of remote robotic surgery, we're looking at how AI can be used to determine which computer processing tasks should be performed closer to the surgeon using edge computing and which processing tasks can occur in the cloud without risking latency, or delays. In the event of delays between the robotic arm and the surgeon, we can use AI to predict the missing message."
Industry partners in action
The chair co-funder ENCQOR 5G (Evolution of Networked Services through a Corridor in Québec and Ontario for Research and Innovation), is a transformational $400M Canada-Québec-Ontario partnership focused on innovation in the field of 5G disruptive technologies, adoption initiatives and system uses.
The ENCQOR 5G partnership is made possible in part by funding from the Canadian government and the provincial governments of Quebec and Ontario.
Their ENCQOR 5G project established the first Canadian pre-commercial corridor of 5G digital infrastructure — the key to making the digital economy a reality.
"Our program brings together large companies, SMEs, and academia, to contribute to the advancement of research, innovation and demonstration of applications through collaborative research and development in 5G and the use of a pre-commercial testbed in Québec and Ontario," says Pierre Boucher, general manager of ENCQOR 5G.
"The Concordia research chair with Ericsson offers the potential to become a flagship in our research co-development program in Québec."
Glitho's team will be working from his Telecommunication Service Engineering Research Lab at Concordia while remotely accessing the Ericsson and ENCQOR 5G network. They will also be working in Ericsson's lab in Saint-Laurent and accessing on-site ENCQOR 5G equipment.
"Ericsson has constantly promoted the research collaborations with academia and, in particular, with Concordia University. We believe these partnerships represent a great opportunity to benefit from the unique expertise and innovative mindset at Concordia," says Sorin Georgescu, research leader, Ericsson Research, CSP Cloud Intelligence.
"Dr. Roch Glitho's strong research results and know-how in cloud & edge technology makes us confident that our research objectives will be fully met."
Magnus Frodigh, Vice President, Head of Ericsson Research, concurs.
"At Ericsson Research we see that future networks with deeply embedded computing will build up what we call a network compute fabric, providing a unified, integrated execution environment for distributed applications," says Frodigh.
"The chair position on "Cloud & Edge Computing in 5G and Beyond" at Concordia will be one important vehicle to explore many research questions along the journey to such a network compute fabric."
Paula Wood-Adams, Concordia's interim vice-president of research and graduate studies, notes that the university's new chair is the first of its kind in the country.
"As well as creating the next cloud architecture and making it mobile, the chair's research will develop applications like remote robotic surgery and self-driving cars that require a solid backbone of 5G infrastructure," says Wood-Adams.
"With the significant increase in complexity of edge cloud architectures for 5G, new paradigms are required to ensure its proactive management and operation. We're excited to embark upon this cutting-edge project with Ericsson and ENCQOR 5G, building upon our history of collaborative innovation."
Poised for deployment
At this point, most 5G networks are experimental.
"What we want to do is build a better 'highway' for 5G now, create new apps for that infrastructure to best leverage the technology, and more important look into what will happen beyond 5G — for example, 6G," says Glitho.
"In some cases, like remote robotic surgery, the potential outcome can democratize the surgeon's skills regardless of location. Processing closer to data sources and end-users at mobile edges will lead to better outcomes across the board."

Learn more about the Gina Cody School of Engineering and Computer Science.
---