'I'm excited to be able to experience crossing the stage'
Concordia welcomes back recent grads to celebrate convocation in person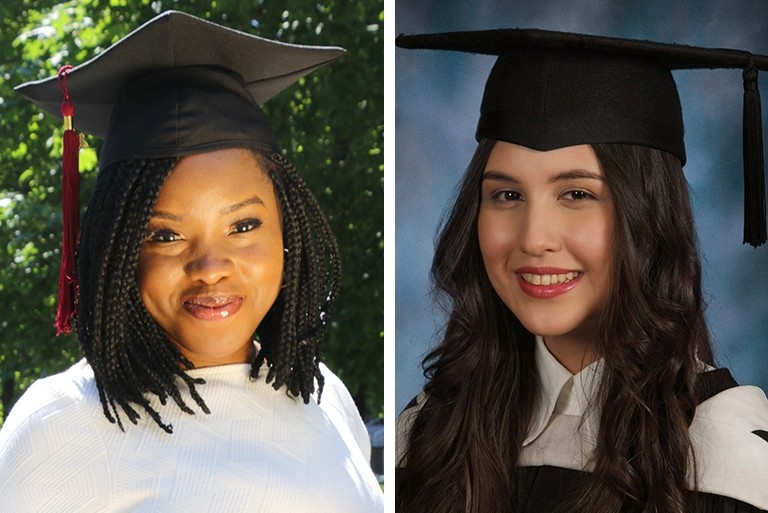 From left: Adewunmi Ajike and Erica Chelini.
Concordia's 2020 and 2021 graduates will share in an unspoken feeling of connection as they each cross the stage to collect their diploma this month.
The highly anticipated in-person convocation ceremonies are taking place after the COVID-19 pandemic threw many challenges the cohorts' way: adapting to virtual learning, finding community during isolation and coping with ongoing uncertainty — to name only a few.
"I really loved my time at Concordia. It was such a wonderful and supportive environment," says Erica Chelini, BSc 21.
"So when I did not get the chance to walk around on campus, sit in my favourite spots or visit different spots on campus like the Hive, the art galleries or CUCCR one last time because we moved online, I felt like I did not get to say goodbye to my time as an undergraduate in a way."
Now, thousands of Concordians are getting a chance to take back their milestone moments together this August.
More than a ritual
It's been over a year since Chelini graduated on paper ⁠— and virtually through CU Celebrate, an online celebration the university launched in June 2020 to honour its new graduates during the pandemic.
"My loved ones and I had a small gathering outside in my backyard and we joined the online festivities from my laptop," recalls the recent honours psychology and linguistics graduate.
"We watched the videos and virtual yearbook, joined the Wonder room and the dance party on Zoom together, and we ate good food!"
For Adewunmi Ajike, BA 21, her milestone moment coincided with another one.
"It was in the same week of my 21st birthday, so I celebrated graduating with great distinction and turning 21 with friends," she says.
While both alumnae have taken on new projects since completing their studies, revisiting the past at the in-person ceremony is an opportunity to honour their years of dedication — and their resilience.
"I'm excited to be able to experience crossing the stage after four years of hard work and over a year of waiting," says Ajike.
Chelini echoes the sentiment. "I can finally get that closure and truly take the opportunity to commemorate all of the hard work and care that I put into my studies and my time at Concordia."
It's also a chance to share the accomplishment with family, friends and mentors — to hear an auditorium full of supporters burst into applause for the new grads.
"This ceremony is super meaningful to my family. They watched me work hard and have always been there to cheer me on and encourage me. They finally get to celebrate this milestone with me and watch me cross the finish line," says Chelini.
There are the subtle moments on that day to appreciate, too: the anticipation before crossing the stage, the instant the room quiets when the ceremony is just about to start, sitting in a sea of other grads wearing gowns — it all matters.
Welcoming what's to come
While the pandemic continues to linger, there is much to look forward to. Convocation marks a new beginning.
This fall, Chelini enters her final year towards her master's degree in speech-language pathology at McGill University. "I'm trying to figure out the population I'd like to work with and the setting I'd like to work in," she explains.
Meanwhile Ajike has joined the workforce, putting her honours economics degree with minors in business and French to use.
"I'm very grateful to have had a full-time offer lined up for me before graduating. I currently work as an artificial intelligence/machine learning product manager at Bell in their speech-to-text team," she says.
"Change is the only constant thing in life and I'm fully embracing it."

Learn more about the convocation ceremonies taking place on August 24, 25 and 29.
Concordia graduates can also make new connections, expand their professional network, attend engaging events and more through the university's alumni community.
---