Board of Governors notes: June 2022
The Board learns that Concordia's V1 Studio will receive $600,000 in government funding over the next three years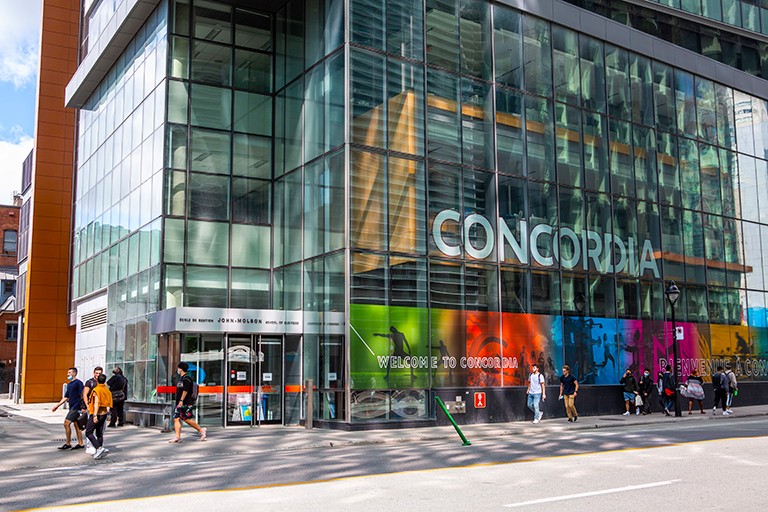 Chair Helen Antoniou welcomed the Board of Governors to its final meeting of the 2021-2022 academic year, held in person and virtually on June 16.
She described the previous week as very exciting, as the university held eight convocation ceremonies, the first in-person convocations since 2019. Antoniou thanked the Board members who attended and encouraged others to do so in future.
Antoniou pointed out that graduates should be especially proud of their accomplishments given that they had to endure the COVID-19 pandemic and pivot to online learning.
Concordia President Graham Carr added to his report.
Regarding the June convocations: more than 6,200 students graduated; the university graduated close to 20,000 students over the last three years. The ceremonies included nine outstanding honorary doctorate recipients and eight terrific student valedictorians.
The president thanked Stéphanie de Celles, university registrar, and her team for their work in making the ceremonies run smoothly. Eight time slots have been booked in August for convocations for the cohorts who graduated in 2020 and 2021.
University Advancement hosted the Alumni Recognition Awards at Montreal's Windsor Hotel on June 13, to celebrate 2020 and 2022 recipients; those honoured included Board members Norman E. Hébert, Roger Côté and Georges Paulez. Also on June 13, the university held its annual faculty awards celebration in the John Molson Building
On the morning of June 16, Concordia hosted the steering committee of the Partenariat Climat Montréal in the Molson Building. On June 10, the Stingers women's hockey team players and coaching staff met Montreal Mayor Valérie Plante at City Hall and signed the Book of Champions in recognition of their national championship.
The Molson Building (MB) recently earned a Diamond Distinction from BOMA Quebec, the province's largest association of commercial property owners and managers; the MB merited the top distinction for universities and laboratory buildings for its emissions decline of between 50 and 90 per cent
The chief scientist of Quebec announced on June 15 that the university's V1 Studio will receive $600,000 in funding over the next three years; V1's efforts to help PhDs advance their ideas to the market provide an important way of retaining top research and entrepreneurship talent.
Frederica Jacobs, secretary-general and general counsel, explained the revisions to the Policy Regarding Sexual Violence to the Board. The Board approved the new policy in 2020 but changes became necessary due to recently enacted legislation by the Government of Quebec, based on a recommendation made by the human rights commission.
Lisa White, executive director of equity, added that the permanent Standing Committee on Sexual Violence reviewed the changes. The Board approved the revisions.
Antoniou concluded by thanking and wishing the best to departing Board members George Georges Paulez, Suzanne Sauvage and Roy Cross, and student representatives Shalini Peruka, Eduardo Malorni and Lauren Perozek.

Find out more about Concordia's Board of Governors.
---