V1 Studio's Scientific Venture Program looks to recruit its next crop of entrepreneurial researchers
The initiative guides PhD grads to advance their research ideas to the marketplace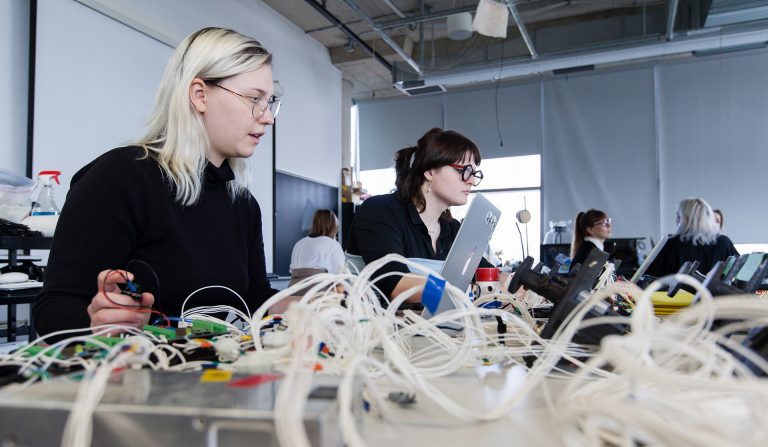 PhD researchers with a great concept for a startup should take note: A unique postdoctoral program is once again offering the opportunity to showcase the next generation of entrepreneurs and industry disruptors.
Open to PhD graduates of Concordia and other institutions, the Scientific Venture Program (SVP) aims to accelerate innovative, research-based ideas in science, health, agri-food, cybersecurity and cleantech. SVP is the only program of its kind in Canada and was created by V1 Studio, a non-profit founded by Concordia in partnership with District 3.
Rather than shelving their PhD research, participants receive tools and resources that help them transition ideas to implementation, including $71,000 in financial and in-kind services per year.
Scaling up with the right support
After joining SVP's first cohort, Concordia alumni Mohammad Mortezazadeh (PhD 19) and Ali Katal (PhD 21) founded cleantech startup Planete GreenLeaves. Their web-based platform develops models of indoor and outdoor environments in order to make them more energy-efficient and help mitigate the impact of climate change.
"We had ideas but didn't have any business experience. The program helped us discover our market and build our business model," says Katal.
The technology expands off the pair's PhD thesis work with Liangzhu (Leon) Wang, professor of building, civil, and environmental engineering and associate director of Concordia's Centre for Zero Energy Building Studies, one of the university's 25 university-recognized research units.
So far it has been used by researchers in North America, Asia and the Middle East, and continues to gain momentum through climate-resilience studies and projects in urban planning and renewable energy.
"We are in the decade of action. Such urban modelling tools help cities to make the right choices to mitigate climate change now," says Ursula Eicker, Canada Excellence Research Chair in Smart, Sustainable and Resilient Cities and Communities and also professor of building, civil, and environmental engineering.
Wang, who is also Concordia University Research Chair in Building Airflow and Thermal Management, adds that SVP not only connects scientific research to entrepreneurship. "It mobilizes the intelligence of our students to tackle mounting real-world challenges, such as the impacts of climate change and extreme weather on our cities and communities."
The fall 2022 SVP application deadline is July 10.

Learn more about or apply for the Scientific Venture Program.
---