Concordia helps bring innovation from lab to market through the Scientific Venture Program
V1 Studio welcomed its first cohort of postdoctoral startups this fall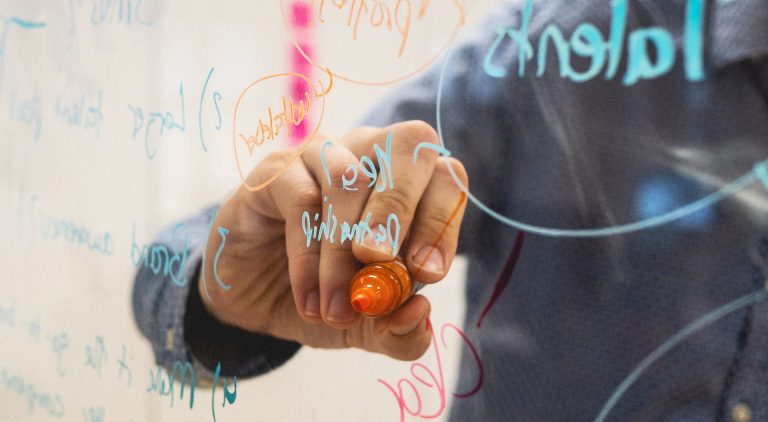 An average PhD program lasts five years, positioning the candidate as an innovator and expert in their subject matter. Upon graduation, some become tenured professors while others are hired in industry managerial positions. The rest either land jobs not directly related to their fields or explore opportunities abroad.
In other words, a big portion of lab innovation gets lost.
For PhDs who wish to pursue an entrepreneurial path rather than an academic one, options are limited. Acceleration programs are mostly short term, which means they're not suited to scientific research that requires time for research and development as well as substantial funding.
"We found that many PhD-led scientific startups needed a different kind of support tailored to their specific needs" said Diana Horqque, executive director of V1 Studio.
In collaboration with Concordia, District 3 Innovation Hub founded V1 Studio to fill in the gaps and create a solid foundation for scientific entrepreneurial initiatives.
V1 Studio's Scientific Venture Program, a two-year postdoctoral program aimed at building stronger bridges between the scientific and business innovation sectors, began in September, backing four startups for its first cohort out of 80 applicants.
Innovation not-for-profit Mitacs has offered program participants the opportunity to apply for funding through their lab-to-market pilot program.
'The right path for me was to advance my own PhD research'
Ali Katal and Mohammad Mortezazadeh have had very similar educational paths. After finishing an MSc in Aerospace Engineering followed by a PhD in Building and Environmental Engineering from Concordia, they were fuelled by their entrepreneurial drive to build a business.
"We had the idea and technology, but we lacked the tools to turn the research into a tangible product," explains Katal, co-founder of Planete GreenLeaves, one of the inaugural Scientific Venture Program startups.
"All the programs we found funded research of interest to the academic institution. While this option suited many candidates, I was convinced that the right path for me was to advance my own PhD research."
What is the carbon footprint of your building? What are the effects of a heat wave on your city? These are the types of questions at the core of the engineering duo's everyday work. Planete GreenLeaves is a web-based platform focused on building retrofitting, designing energy-efficient and smart buildings, and mitigation of extreme weather events.
With an advisory council curated to their specific industry, including Christian Bélanger, director of research for Hydro-Québec, and Ben Lipowitz, vice president of real estate services company JLL, the V1 Studio fellows are supported through funding along with deep expertise from relevant business leaders.
Other notable academic on the advisory council include Ursula Eicker, founding co-director of Concordia's Next-Generation Cities Institute and Canada Excellence Research Chair in Smart, Sustainable and Resilient Communities and Cities.
Katal and Mortezazadeh are currently building the platform's technology based on the city of Montreal and are aiming to scale up to other major North American cities.
The Scientific Venture Program is not just for Concordia graduates. Alejandra Huerta, Syed Taha Taqvi and Meysam Taghinasab are the three other members of this year's cohort.
Huerta has a PhD in organic chemistry from McGill University and her project is on wearable e-cosmetics, while Taqvi has a PhD in chemical engineering from the University of Waterloo and is working on a platform to enable companies to seamlessly transition their operations to greener alternatives.
Taghinasab earned his PhD in plant-microbe interaction from Justus Liebig University Giessen in Germany. His project focuses on microbial farming to facilitate sustainable agriculture.
Paula Wood-Adams, Concordia's interim vice-president of research and graduate studies, says the program is one way the university and its partners are helping develop future research and innovation capacity.
"Research can take many forms, and this program bridges an important gap that exists for many recent PhDs who are looking at entrepreneurship. It offers unique support for emerging scientific innovators."
Startup Community Awards 2021
V1 Studio, District 3, Concordia and Mitacs were recently nominated for the Community Collaboration of the Year award, part of the Startup Community Awards 2021, for the Scientific Venture Program. According to the awards site, "this award recognizes the collaboration between two or more organizations that significantly impacted the community over the last year (initiative, activity, event)."
Xavier-Henri Hervé (BEng 87, DSc 11), V1 Studio co-founder and board member and co-founder and executive director of District 3, was nominated for the Community Champion of the Decade Award, which "recognizes the person or organization that has shown a significant and constant commitment to the success of the startup ecosystem."
Winners will be announced December 3.

Registration is now open for the second cohort of the V1 Studio Scientific Venture Program. The postdoctoral positions within Concordia are fully dedicated to supporting PhDs as they move beyond the lab into entrepreneurship. Apply by December 2.
Find out more about the Startup Community Awards 2021.


---