Concordia, V1 Studio and District 3 Innovation Hub launch a lab-to-market venture program exclusively for PhDs
Applications are now open for the first postdoctoral offering, valued at $71K per year for up to 2 years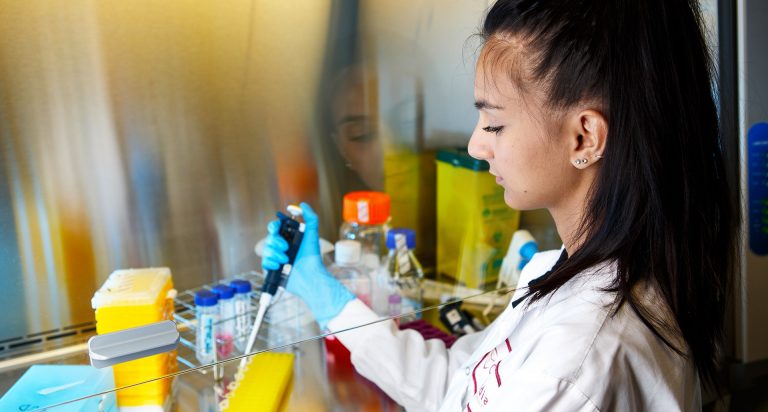 After working with more than 600 scientific entrepreneurs through Concordia's District 3 Innovation Hub and the Quebec Scientific Entrepreneurship Program (QcSE), Xavier-Henri Hervé and his colleagues realized there was a gap in the journey beyond the lab. The path to a successful startup can be a long and risky one — just one per cent of PhDs in Montreal manage to commercialize their research.
Hervé (BEng 87, DSc 11) is the co-founder of the venture builder V1 Studio, which is launching its Scientific Venture Program in collaboration with Concordia and District 3. The two-year postdoctoral program, aimed at building stronger bridges between the scientific and business innovation sectors, begins this September and is currently accepting applications from researchers across the country.
By fostering lab-to-market potential for PhD candidates and recent grads and supporting them in building their own world-class deep technology companies, V1's program also hopes to combat the brain drain that sees so many researchers leaving Montreal and other parts of Canada for better opportunities elsewhere.
Not only will participants receive a package valued at $71,000 per year and retain ownership over their future startup, V1 will not request their intellectual property rights.
The goal of the venture program, which is supported by Canada Economic Development for Quebec Regions, Montreal International and Mitacs, is to provide PhDs with a strong career alternative that positions them as drivers of innovation and economic growth and to increase the number of deep tech companies that will be positioned to improve our society.
'I'm not alone on this journey'
Allie Huerta is a PhD candidate in organic chemistry and a past participant in the QcSE program, a collaboration between District 3 and the Fonds de recherche du Québec. Huerta's research aims to transform bio-renewable resources into commodity chemicals including cosmetics.
"With the Scientific Venture Program, I'm not alone on this journey — it gives me the structure, resources and guidance to launch a company," she shares.
Many researchers like Huerta are eager to find alternatives to academia once they finish their degrees. The number of PhD grads is increasing in Canada while the number of open permanent university positions is stagnant or decreasing. Not only that, but industrial opportunities in the country are also quite limited and scientists who do land gigs in the private sector are often underemployed.
"We need to better support PhDs so that their valuable research doesn't sit on the shelf," says Hervé, who is also executive director of District 3.
"They have the potential for a positive global impact. Supporting their startup journey will help to foster an innovation-driven economy and avoid the current brain drain."
Program details
By leveraging the strengths of District 3 and Concordia, V1 Studio will help PhDs reduce the risk of their transition to entrepreneurship by bundling together significant financial support, programs, coaching and other resources, allowing time for the transition from a researcher to CEO.
The $71,000/year package includes:
An annual stipend of $40,000
Access to workspace in state-of-the-art research labs: the BioHub lab, the Genome Foundry and the Centre for Applied Synthetic Biology
Personalized business and leadership coaching
Best-in-class workshops and programs
Personalized guidance from a board of academic and business advisors
A network of investors and partners around the world
The Scientific Venture Program is currently seeking applications from forward thinkers with innovative research-based technologies and ideas related to national and regional science, technology, and innovation clusters and strengths such as health and life sciences, artificial intelligence, electric and smart transportation, agribusiness, cybersecurity, aerospace, advanced manufacturing and cleantech.
PhD graduates who finished their degrees in the last five years or will be done in the next six months are eligible. Candidates must reside in Montreal or be willing to relocate. Full eligibility requirements are available on the VI Studio website. The deadline to apply is June 15.
"More ideas and technologies coming from academic research could make it beyond the lab, but often scientists lack the resources and skills to commercialize," says Paula Wood-Adams, interim vice-president of research and graduate studies at Concordia.
"We need to enable early career researchers to develop those skills and commercialize their research outcomes, so entrepreneurship is a viable career path."

V1 Studio's Scientific Venture Program is accepting applications for the September 2021 cohort until June 15.
V1 will host info sessions on May 26 and June 9. Sign up here.
---