Concordia's District 3 and adMare BioInnovations team up to support Canada's next great biotech leaders
A new partnership brings high-quality programs, coaching and lab access to life sciences startups nationwide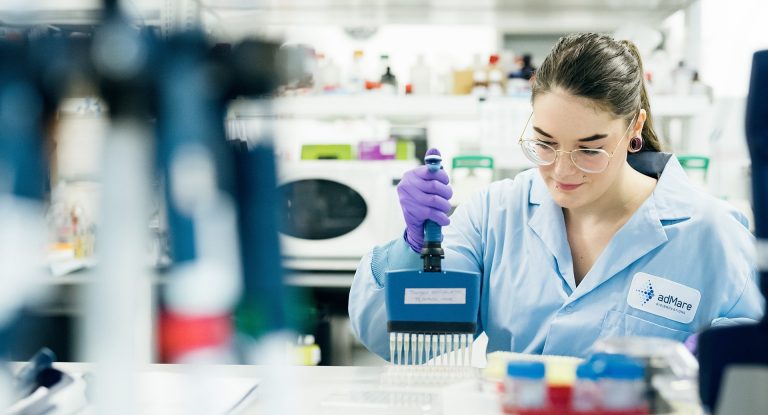 If you ask Collin Horner, co-founder of Cura Therapeutics, one of the biggest hurdles biotech startups face is equipping and operating a lab.
"The cost of buying the equipment puts most projects out of reach for early-stage companies," says Horner, who is responsible for business development for the successful Montreal-based immunotherapy business.
A new partnership between Concordia's District 3 Innovation Hub and adMare BioInnovations, also based in Montreal, hopes to change that. The two organizations are teaming up to grow Canada's life sciences ecosystem by helping startups scale up faster.
Leaders in their field, they both offer high-quality programs, one-on-one coaching, access to research and development labs and shared resources for life sciences entrepreneurs nationwide.
"Together, we will support the development of new ways of thinking that significantly affect the way we create pharmaceuticals, address food issues and source energy and protect the planet," says Maggie Bywater-Ekegärd, District 3 coach and Bio Stream lead.
'A game-changer for our company'
adMare BioInnovations, whose vision is to see Canadian life sciences leading the world, will support District 3's early-stage startups in a number of ways. These include funnelling them into their programs and providing access to their in-house industry experts and investment team.
Once those startups are ready, this already-established connection to adMare will ease the transition as they move to the next stages of company development.
Startups working with both organizations will receive one-on-one coaching, funding, global expansion support and access to world-class wet and dry lab facilities to help make their mark on the national industry.
"The adMare BioInnovations and District 3 program has been a game-changer for our company," shares Horner, whose startup develops innovative immunotherapies for cancer and infectious diseases.
"Having a turnkey solution and working in a fully functional therapeutics facility with access to tissue culture rooms, flow cytometry and animal facilities allows us to direct our capital toward research and development and reduce our capital expenditures on equipment."
Molecular Forecaster and Modelis are two other examples of promising startups that have accelerated their journey through District 3 as well as through adMare's Accelerate Quebec Program. District 3 Launch and Grow Program participants Simmunome and Perceiv AI are also being advised by adMare experts.
"Concordia's District 3 Innovation Hub plays an important role in bringing stakeholders together and advancing new made-in-Canada innovations and companies," says Mounia Azzi, vice-president of program development and partnerships for adMare.
"As destinations for scientific and business expertise, R&D infrastructure and investment capital, District 3 and adMare have a shared goal of building strong new Canadian life sciences companies that can grow to be world-leading anchors."
The collaboration is in line with the recently announced Government of Canada biomanufacturing and life sciences strategy, designed to address a 40-year decline in the sector that left the country vulnerable when the COVID-19 pandemic hit last year.
The government has dedicated a significant budget toward rebuilding domestic biotech capacity and adMare is one recipient of this funding, which will support company creation, scale-up and training activities.
'Positive impact for years to come'
District 3's Bio Stream helps early-stage startups leverage bioengineering and biomanufacturing to accelerate their progress and augment their commercialization potential. Founders build a sustainable startup with global impact through bio-specific programs and access to Concordia's world-class BioHub and Genome Foundry facilities to build on their expert research and knowledge.
The stream currently supports teams working in biopharma, agri-food and sustainable technologies including cleantech and biomaterials.
The collaboration with adMare is a natural fit. The latter uses its specialized expertise, infrastructure and investment capital to build new companies, robust ecosystems and industry-ready talent — and re-invests its returns back into the Canadian industry to ensure it is sustained and thrives for the long-term.
Its 25-plus portfolio companies have attracted more than $1.4 billion of investment, have a combined value of more than $3 billion and employ more than 900 Canadians. The adMare Academy has trained more than 260 alumni — 95 per cent of whom are employed in the Canadian life sciences industry.
Horner says that support from District 3 and adMare enabled Cura to accelerate its preclinical development, increase its runway and expand its team.
"Having access to both material and intellectual resources is invaluable for early-stage biotech company success," Horner notes.
"These two significant ecosystems working together will continue to accelerate the advancement of the early-stage biotech development in our region and positively impact economic growth in Quebec and Canada for years to come!"

Learn more about Concordia's District 3 Innovation Hub and adMare BioInnovations.
---