Concordia's District 3 creates a fast track for business professionals and engineers to work in the Bioeconomy
A new program offers next-generation innovators fluency in the science and language of biology to kick-start their careers in biotech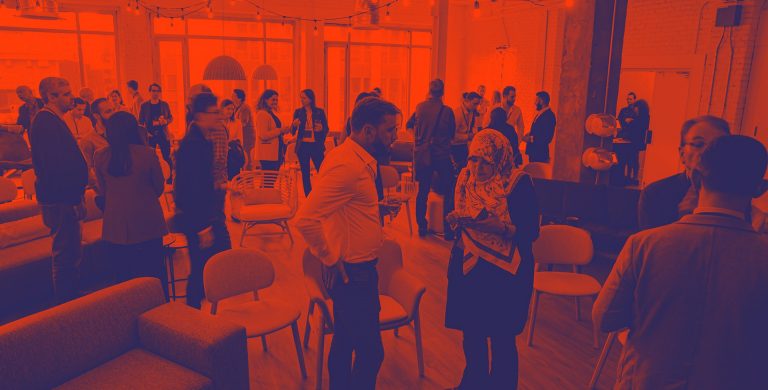 You start your day with a breakfast of synthetic eggs and lab-grown sausages — a diet tailored to your genetic needs. You do your morning workout dressed in biosynthetic training clothes made from fibres that can self-repair. Your Neuralink monitors your attention levels as you work on a project. A self-driving robot running on biofuels produced by synthetically engineered microbes delivers your groceries.
This may sound like science fiction — but it could actually be our world in a decade from now.
For those considering professional opportunities to advance their careers, there is a wave of possibilities to work in the emerging bioeconomy. That's why Concordia's District 3 Innovation Hub is fast-tracking training for talent to work in multidisciplinary teams with innovative biotech and life sciences startups.
BioLingual Program: a launch pad for a career in biotech
This summer, District 3 hosted a four-week intensive program to enable business professionals and engineers to understand the science and language behind biotech — crucial for those who wish to work in this field.
The BioLingual Program offered practical multidisciplinary learning opportunities through several interactive live online sessions. Participants learned how the latest technologies are used to engineer biological solutions and began developing their network by meeting startups and biotech scientists looking for co-founders and team members.
"We created the BioLingual Program to speed up opportunities for business professionals, engineers and scientists to build biotech and life sciences startups at District 3," explains the innovation hub's executive director, Xavier-Henri Hervé (BEng 87, DSc 11).
The program covered a breadth of topics, including macromolecules, gene expression, enzymes and enzymatic pathways, anatomy and physiology, immunology and the future of translational research in biotech. Christopher Gregg, biology professor at Vanier College, and Michael Mee, principal at Amplitude Ventures, both based in Montreal, led the courses.
The four weeks culminated on September 10 with a matchmaking session, with biotech scientists and founders looking to hire new team members from among the graduates.
More than 40 participants took part alongside six startups looking to hire. Several individuals who completed the Quebec Scientific Entrepreneurship Program also attended, keen to find co-founders for their new ventures.
Immediate results
Georgy Beketov (BComm 18), who came from a business background with no prior knowledge of biotech, completed the BioLingual Program and immediately connected with a District 3 startup.
"Biotech is very interesting and full of opportunities. I found the program to be a great way to work in this emerging field," Beketov says. "Following the networking event, I started working with Ora Solutions."
The company offers partial weight support technology that helps lighten the load carried by children with gait issues. This allows pediatric patients to feel less muscle fatigue in their legs. They can travel greater distances and play hands-free with their friends. The solution offers an alternative to the walkers on the market, which allow children to compensate for their deficiencies, thus not strengthening their muscles.
Geoff Crampton (BComm 11), another program participant, says he joined to earn a functional base of understanding in the biomedical field.
"I enjoyed the level of depth you can explore within a limited timeframe."
Crampton works with Molecular Forecaster and wanted to further hone his knowledge of biotech. The District 3 startup is collaborating with multiple research teams to apply its computational approaches to advance the discovery of repurposed drugs for tackling COVID-19.
'A blue ocean of opportunities'
"As the bioeconomy revolution takes place, there's a blue ocean of opportunities for Canada and Quebec to emerge as world leaders in this field to serve as the foundation for a resilient economy," Hervé adds.
It's that reality that inspires program director Jane Somerville and her team, including Houda Jawhar and Alexandra Allen, to run programs that accelerate talents' competencies to work in emerging tech.
"District 3 looks for the brightest of minds and offers them rigorous training to bridge the knowledge, skills and resource gap for them to join or build a business with global impact," Somerville says.

If you are a scientist looking to bring your research to market and explore entrepreneurship, apply to the Quebec Scientific Entrepreneurship Program.
If you already have a proof of concept in biotech or healthtech, you can apply to District 3's new BioHub accelerator.
If you are interested in exploring entrepreneurship and getting involved in the innovation ecosystem, discover the many programs available at District 3.
Stay tuned for the latest District 3 news, open events and workshops on LinkedIn, Facebook, Twitter and Instagram.
---