How Concordia's District 3 is playing a pivotal role in the emerging bioeconomy revolution
Multidisciplinary teams leverage AI and machine learning to gain expertise and develop innovative solutions in genomics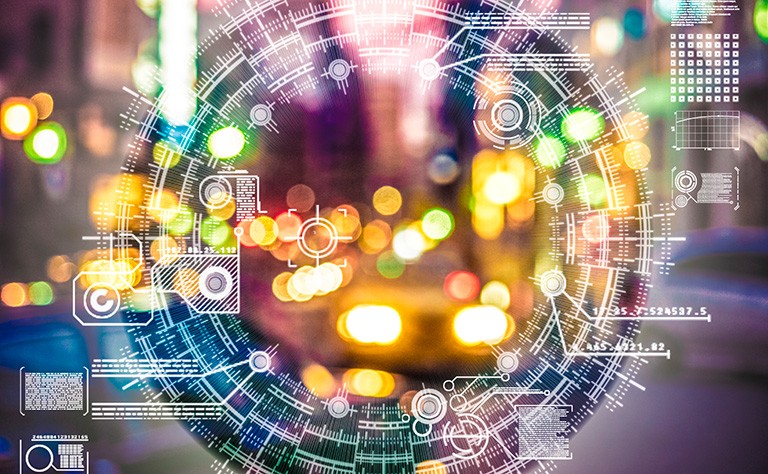 Major innovations in artificial intelligence (AI) and machine learning are happening around the world. By integrating enormous volumes of complex data, these emerging technologies are providing novel computational capabilities for scientists to engineer more effective solutions in many fields.
As an advocate for fostering the next generation of innovators, Xavier-Henri Hervé (BEng 87, DSc 11) recognizes the potential of emerging technology applications and their acceleration because of COVID-19.
"As the pandemic makes us rethink the fundamentals of our economy, we are witnessing the rapid emergence of the bioeconomy revolution. It's set to define the next decade with innovations in synthetic biology, genomics, biological engineering and much more," says Hervé, executive director of Concordia's District 3 Innovation Center.
Over the course of 12 weeks from January to April, the centre hosted its first cohort of the AI for Genomics program. Eight multidisciplinary teams of students and scientists in life sciences explored the latest in AI and machine learning as applied to genomics — a burgeoning field ripe for innovation.
Training life sciences leaders of tomorrow
The program is part of a partnership with the City of Montreal to help the life sciences industry overcome its shortage of scientific talent. It aims to support graduates to thrive and develop innovative solutions for both startups and industry.
The AI for Genomics program is led by District 3's life sciences manager, Mahzad Sharifahmadian, and AI fellow Sydney Swaine-Simon (BSc 10, BCSc 15). The initiative is a collaboration with Mila, IVADO, Montréal InVivo and Génome Québec, which all provide expertise and mentorship to participants.
After a fast-paced and challenging experience being introduced to machine learning and building models, the top teams received up to $2,000 in prizes, including access to IVADO's summer school, with many of the participants also being recruited by District 3 startups.
Immersive experiential learning
The projects developed by the program participants were presented at a demo day and tackled a diverse range of problems. They included building models for managing large genomic data, assessing bone fracture risk, correcting lack of diverse population representation in research, using a generative approach for predicting gene expression, improving bias representation with generative adversarial networks, predicting cancer patient survival and examining double-strand DNA break hotspots during meiosis.
Qifei Zhao, who's completing a BSc. in Computer Science (Honours) at McGill, was inspired to join the program because she had always been curious to explore applications of AI in the real world. "The program made me realize that many potential problems could be solved with machine learning," she says.
Throughout the experience, experts guided the participants in completing their projects and dealing with roadblocks. "They helped us overcome the challenges we encountered, which made us understand the entire procedure of building machine learning models," Zhao adds.
For Sydney Sue, the biggest takeaway was learning the processes needed to train AI models. "I did not have the opportunity to create models in my career, so it was interesting to learn the required steps," says Sue, who is completing an MSc in medical genetics at McGill University and is a graduate research student at the Douglas Mental Health Institute in Montreal.
Participants also caught a glimpse of how to develop solutions as part of a startup or industry. "I see enormous potential in applying AI in the biotech industry," says Dongjoon Lim, who is pursuing a PhD in computer science at McGill.
"As the accessibility and size of genome sequences grow, we could soon develop a more reliable genome analysis through machine learning techniques, and I could see myself involved in a startup if I get a chance."
Zara Khani also joined the program to get involved in the startup world. "One of the major reasons for choosing this program is to build a startup or at least join a startup in this field," notes Khani, who earned her M.Sc. in Computer Science at Université de Montréal.
Scientists ready for the future of work
The AI for Genomics program is part of a wider District 3 vision set to push scientists to pursue entrepreneurship and the future of work. With the latest emerging technology developments, novel career paths are arising for scientific entrepreneurs to seize and have a world-changing impact.
"We are pioneering an alternative path for graduate students, researchers and scientists in Quebec and Canada. As the renowned physicist Richard Feynman used to say, scientific progress depends on our appetite for discovery and exploring alternatives," Hervé remarks.
"10 years from now, I hope today's scientists will share their journey with its many high and lows. As students ponder their career path and ask for guidance, we hope their answer will enthusiastically be, don't be afraid to take risks!"
Concordia's District 3 Innovation Center nurtures and develops multidisciplinary teams and scientific entrepreneurs that harness emerging technologies to create businesses with global impact. Over the past six years, it has supported more than 600 startups in emerging technologies.
With the university's Applied Science Hub set to open this summer, the centre will be launching Montreal's first biotech accelerator with a laboratory and co-working space. The Science Hub will provide state-of-the-art dry and wet laboratories for scientific entrepreneurs to collaborate with industry and prototype solutions.
Several individual experts were instrumental in the AI for Genomics program's success. They include Mila's Joseph Paul Cohen, postdoctoral fellow; Paul Bertin, PhD student at Mila; Ahmad Pesaranghader, postdoctoral research scientist at the Montreal Heart Institute and Mila; Tariq Daouda, postdoctoral fellow at Harvard University; and Julie Hussin, IVADO assistant professor at the Université de Montréal's Faculty of Medicine.

If you are a scientist looking to bring your research to market and explore entrepreneurship, apply to the Quebec Scientific Entrepreneurship Program.
If you have a team and a potential idea, apply to the District 3 Innovation Center to assess the market viability and business model of your startup.
Stay tuned for the latest District 3 news, open events and workshops on LinkedIn, Facebook, Twitter and Instagram.

---