Concordia's District 3 and the FRQ are working closely with Quebec researchers to bring urgent solutions to market
'With COVID-19, we have no choice but to accelerate innovation by investing in scientific entrepreneurship'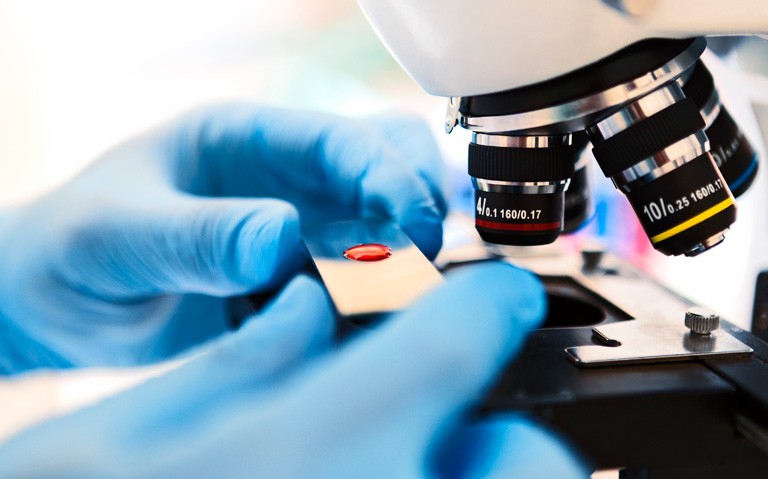 The devastating health and economic impacts of COVID-19 continue to dominate headlines in Canada and around the world. And even as Quebec and other provinces look to gradually lift current lockdown measures, a genuine return to normal remains out of reach without effective treatment options and a vaccine.
"With COVID-19, we have no choice but to accelerate innovation by investing in scientific entrepreneurship," says Xavier-Henri Hervé (BEng 87, DSc 11), founder and executive director of Concordia's District 3 Innovation Center. He believes that, with Canada's ratio of eight researchers for every 1,000 workers, the country is well-positioned to develop some of these much-needed solutions.
"We stand to benefit from enhancing collision between industry, researchers, government and top-tier talent in Quebec and Canada to develop both immediate solutions for the pandemic and long-term solutions for our economy."
District 3 has been working on numerous initiatives for the past three years to transform scientists into entrepreneurs. This includes the Quebec Scientific Entrepreneurship Program (QcSE), a partnership with the Fonds de recherche du Québec.
Its mission is to accelerate scientific entrepreneurship across the province by proactively working with local and national partners in innovation, including all Quebec universities, Montréal InVivo, Génome Québec, the City of Montreal and para-governmental organizations.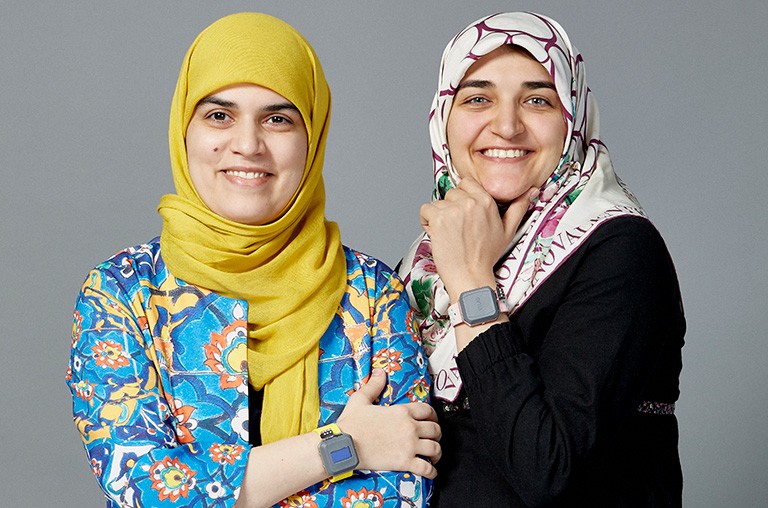 VitalTracer co-founder Azadeh Dastmalch with Concordia alumna Zahra Zangenehmadar (PhD 16).
200 participants and counting
The QcSE is a 100 per cent online and bilingual program to help Quebec scientists develop an entrepreneurial mindset in order to go from lab to market.
"This program presents an exciting option for academics: to see their laboratory work have real-world impact through their mastery of entrepreneurial skills," says Rémi Quirion, chief scientist of Quebec.
Since its launch in January 2019, 200 graduate students from universities across the province have signed up. The aim is to see 10 per cent of Quebec PhD and postdoctoral researchers turn toward entrepreneurship by 2022.
The deadline to apply for the spring 2020 cohort is May 1.
Personalized medicine of the future
Concordia alumna Zahra Zangenehmadar (PhD 16) and her business partner Azadeh Dastmalchi are graduates of the QcSE program. Together they run VitalTracer, a startup that provides personalized medicine to reduce the risks of diseases through continuous monitoring of vital signs.
Through the support of the online lab-to-market program as well as District 3 seed funding, they were able to recognize the economic opportunity of their idea and gain the confidence to take the leap into entrepreneurship.
"VitalTracer will revolutionize personalized medicine by creating an easy and accurate way to track and record all vital signs and prevent diseases instead of just treating them," Zangenehmadar explains.
In response to the changing economic climate due to COVID-19, VitalTracer co-founders have quickly adapted their business model. They have received funding to develop and validate continuous monitoring of vital signs in children by automated machine learning with their VTLAB smart watch.
The two women were also recently selected as the 2020 CANIE Quebec Region Winner for the Innovation Award by the Innovators and Entrepreneurs Foundation.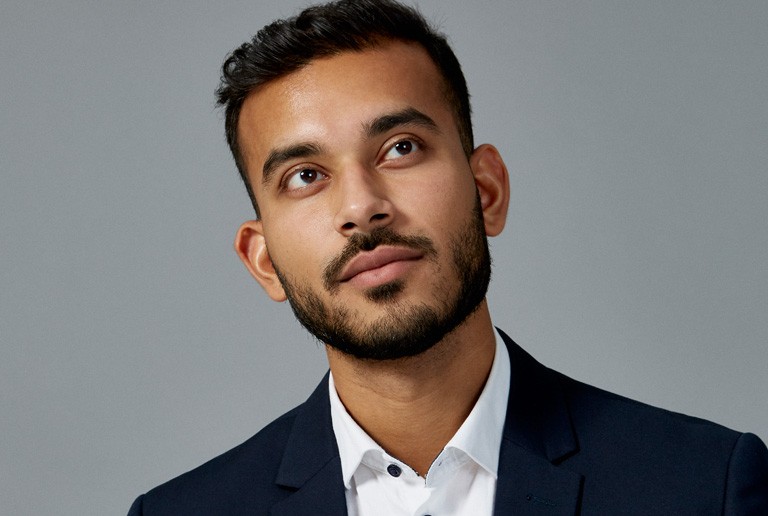 Kashif Khan
'A huge need to be addressed'
Kashif Khan, PhD candidate in experimental surgery at McGill University, also completed the QcSE program.
The experience provided him with the assistance necessary to further develop his startup, PLAKK, which focuses on solutions relating to heart attacks and strokes.
Through the use of artificial intelligence and deep learning, PLAKK aims to revolutionize how researchers and clinicians characterize atherosclerotic plaque.
"By better understanding what the plaque is made of, we will be able to improve the prediction, treatment and ultimately the prevention of heart attacks and strokes," Khan explains.
"We spoke with researchers and clinicians, and we found that this was a huge need to be addressed."
The job creators of tomorrow
The QcSE program is one of many ways that District 3 supports impactful solutions to the most pressing problems, including COVID-19. Life sciences startups are collaborating across sectors to bring better prevention, testing and treatment options to market.
"Researchers and innovators are the job creators of tomorrow," Hervé says. "Their scientific knowledge, combined with the right support, could see several innovations come to market that positively impact employment in the province and country."
A number of District 3 startups have joined the fight against the global pandemic. They include Affinité Instruments' miniaturization and acceleration of testing, Molecular Forecaster's computational approaches to repurposed drug discovery and IntelliStem Technologies' development of a peptide-based vaccine.
Whether under the current crisis or beyond it, bringing STEM (science, technology, engineering and mathematics) research to market is a significant priority for District 3. Over the past six years, it has supported more than 530 startups in emerging technologies.
The centre is also working with the City of Montreal to help the biosciences and life sciences industries address shortages of scientific talent, as well as to train graduates who seek jobs to match their skill set. In June 2019, the city awarded District 3 $250,000 for the initiative.
With Concordia's Applied Science Hub set to open this summer, the centre will be launching Montreal's first biotech accelerator with a laboratory and co-working space. The Science Hub will generate a state-of-the-art collaboration between researchers, talent and industry.


If you are a scientist looking to bring your research to market and explore entrepreneurship, apply to the Quebec Scientific Entrepreneurship Program. The deadline for the spring 2020 cohort is May 1.
If you have a team and a potential idea, apply to the District 3 Innovation Center to assess the market viability and business model of your startup.
Stay tuned for the latest District 3 news, open events and workshops on LinkedIn, Facebook, Twitter and Instagram.
---