Canada's first training program for synthetic biology attracts top talent
SynBioApps wraps up year three of its six-year, $1.65-million Collaborative Research and Training Experience grant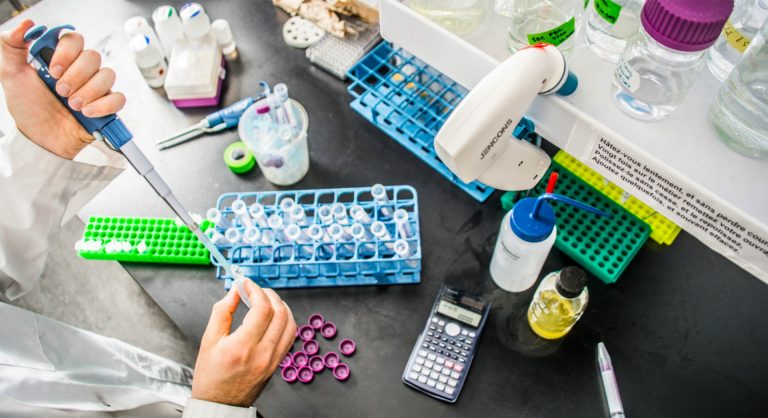 Before the COVID-19 pandemic, mRNA vaccines were a foreign concept to many. But with promising signs that they are effective in staving off severe illness caused by the virus, the world's attention has been turned to the science behind bioengineering molecules for other purposes.
"More than anything, the pandemic has awakened people to the importance of these sorts of technologies, and that's exactly what we're trying to teach students," says Orly Weinberg, program manager for Concordia's SynBioApps.
The program just finished year three of its six-year, $1.65-million Collaborative Research and Training Experience (CREATE) program grant from the Natural Sciences and Engineering Research Council of Canada (NSERC). The grant emphasizes collaboration and aims to combine professional development with research.
"The need for high-quality, creative professionals who can really work together on different fronts, be it engineering or life sciences, to create these capacities is only growing," says Weinberg. "It's an amazing time to be a SynBioApps student and be able to take this knowledge into a world that's ready and waiting for it."
'The future potential is amazing'
Synthetic biology, or engineered biology, is the science behind getting molecules to do things they normally wouldn't, such as modifying organisms to add more nutrients to food or converting forest and agricultural waste into fuels or novel materials. It's the ultimate in multidisciplinary fields, used in therapeutics, diagnostics, sustainability, agriculture, chemical industries and other sectors.
And while disinformation about the technology has been common, Weinberg says the industry is thriving, with companies working in the synthetic biology space expanding during the pandemic while other sectors are struggling.
"Currently, the exploitation of biological systems is pretty impressive, but the future potential is amazing," says biology professor Malcolm Whiteway, SynBioApps principal investigator and Canada Research Chair in Microbial Genomics.
"Synthetic biology fits in very nicely with a potential green economy because, fundamentally, the exploitation of living things is renewable. These tools are going to be great for a future that requires some level of renewability and production."
Industry mentorship
Concordia is home to Canada's only Genome Foundry and the only formal graduate-level synthetic biology program. In the first three years of the CREATE-funded SynBioApps program, students from engineering and life sciences have engaged with industry partners such as lululemon, whose biomaterials consultant has mentored the students on how to create more sustainable materials.
Montreal startup Modelis has also mentored students on novel drug-discovery platforms, and Concordia's District 3 Innovation Hub has held business discovery workshops with program trainees. Students have also linked with peers in Concordia's John Molson MBA program to transition their work from the science and engineering spheres to the commerce world by working together on business pitches.
Whiteway says the program's fusion of disciplines has attracted exceptionally talented students who are working on a variety of diverse projects.
"It's not just a tool that is being used to produce products — the students are discovering new things about how cells work, so it's sort of a feedback process," he explains.
"The tools give you access to more information about how cells and organisms work, which then can be fed back to build new tools to find out more things."
With students not just learning bioethics, intelligent design and the language of genetic machinery, but also important soft skills like teamwork and communication, the SynBioApps team hopes to create an embedded, multidisciplinary program at Concordia that continues well beyond the NSERC-CREATE grant.
"Right now, there's nothing slowing us down," Weinberg says.
Another Concordia program, Leadership in Environmental and Digital Innovation for Sustainability (LEADS), is coming to the end of the first year of its own six-year NSERC-CREATE grant.
Paula Wood-Adams, interim vice-president of research and graduate studies, isn't surprised that Concordia researchers are at the forefront of tackling major societal issues and proposing viable and innovative solutions.
"We are very lucky to have such a deep complement of incredibly talented researchers and students at both the undergraduate and graduate levels who are able to meet these challenges head-on and come up with innovative ways to address them," she says. "Their work truly is transformative and will not just benefit themselves or their peers, but ultimately society as a whole."

Learn more about Concordia's SynBioApps and LEADS programs.
Find out more about the Collaborative Research and Training Experience program grant from the Natural Sciences and Engineering Research Council of Canada.
---