$5.1M for genome engineering at Concordia
National Research Council, Genome Canada and Genome Quebec investing in infrastructure, discovery and collaboration in synthetic biology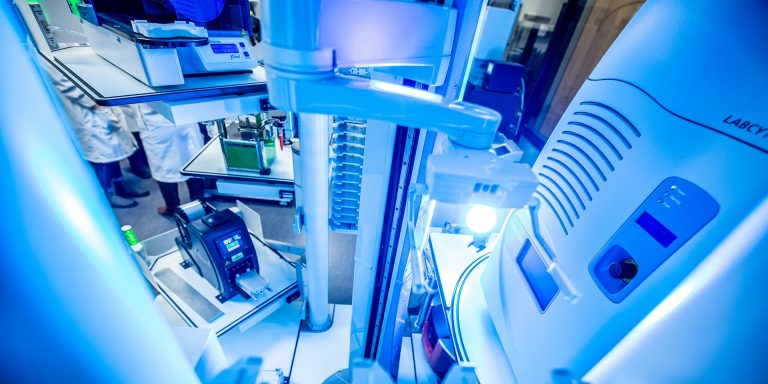 "Practically every component of milk is used for something in dairy processing," explains Vincent Martin, professor of biology and Concordia University Research Chair in Microbial Engineering and Synthetic Biology.
"For milk, cream, cheese, protein concentrate — all of the dairy product is going somewhere."
Lactose, however, is one important by-product not used much, Martin adds. "The reality is that if it has no particular use and therefore can't be sold, it will be disposed as waste with an environmental and economic cost."
That's something Martin and his collaborators at Concordia's Centre for Applied Synthetic Biology hope to change with the support of a generous $1.95 million grant over the next three years through Genome Canada's Genomic Applications Partnership Program (GAPP).
Martin is principal investigator for a project developing a bioprocess to transform lactose. The aim is to produce a special kind of yeast to ferment lactose and produce fumaric acid, a compound used in food production.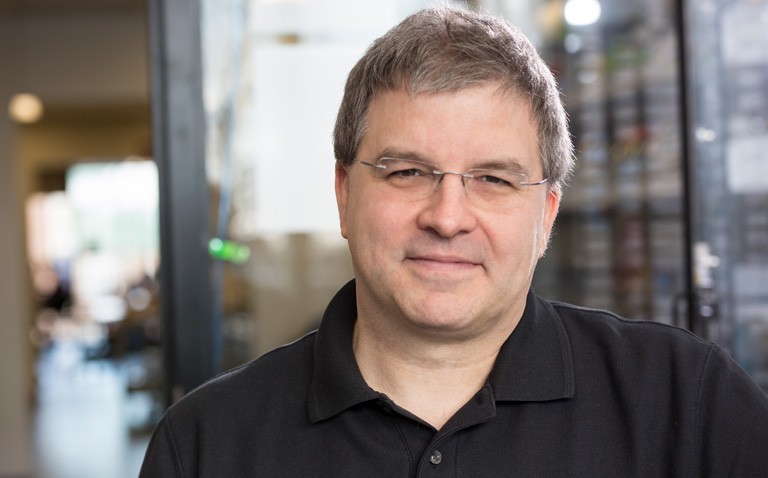 Vincent Martin: "We can create a valuable product that absolves the need for disposing of lactose."
Genetic engineering
"Prior to the early 2000s or so, if someone needed a microorganism to convert some kind of compound into another substance, they would basically go out into nature and collect samples of different microorganisms," he explains. "They would look until they found one that naturally produced the desired compound from the desired source; and then they would domesticate the microbe."
With genetic engineering, researchers can now create their own microbes to do this.
Martin has worked on engineering microbes for similar purposes for some time, converting waste into biofuels. Finding uses for agricultural by-products ensures sustainability, minimal waste and maximum efficiency in the use of resources.
"I met with dairy industry representatives a few years ago at Concordia. I learned about the problem of lactose disposal. They hadn't known about the kind of genetic engineering that we do, and I suggested a solution."
Economics and sustainability
Martin notes that others have considered making alcohol from lactose, which can be derived from many organic substances. But a viable choice of what to produce from an otherwise wasted by-product depends on a few factors, and a techno-economic analysis first has to be done.
"Alcohol is generally accessible. The value of it doesn't quite justify this kind of process. Fumaric acid, on the other hand, is in demand and widely used as a preservative in foods," Martin explains. "It can justify the cost of transforming the lactose. In creating fumaric acid, we can create a valuable product that absolves the need for disposing of the lactose."
He adds that this kind of engineering is really a platform technology.
"It has a fairly universal applicability. In principal, we can use similar kinds of methods to make whatever compound we want."
Genome Canada
Martin is working on the project with Concordia Department of Biology professors Michael Hallett, Canada Research Chair in Bioinformatics Algorithms, and Malcolm Whiteway, Canada Research Chair in Microbial Genomics.
Genome Canada and Genome Québec are private non-profit organizations that fund genome research related to health care, agriculture, environment, food production and forest management.
The GAPP competition in particular provides funding to promote partnerships between academic researchers and industry, encouraging the practical application of genome research. It is intended to improve the sustainability of production practices.
Genome research and technology at Concordia
This boost in funding to genome research and its application adds to Concordia's growing reputation as a centre for genome engineering technology.
Paula Wood-Adams, Concordia's interim vice-president of research and graduate studies, is confident these investments will accelerate the Genome Foundry's production of world-class research results.
"These contributions speak to Concordia's influence and leadership in synthetic biology," she says.
"They provide our researchers with resources and promising new technologies ensuring that their work will lead to breakthroughs in health care and other essential areas."
In 2015, Martin and others established Concordia's Genome Foundry, where microbes could be modified for practical purposes.

More recently, the Government of Canada's National Research Council (NRC) invested $3.17 million in the foundry to expand its capabilities and to host national collaborations. This included a $790K contribution from Concordia University.
The NRC's Disruptive Technology Solutions for Cell and Gene Therapy Challenge program, distributed funds, which are intended to augment the foundry's capacity to edit mammalian cells.
This foundry's new capacity will be utilized for advancements in regenerative medicine and immunotherapy.


Find out more about Concordia's Department of Biology and Centre for Applied Synthetic Biology.
---