Notable Concordian
Richard J. Renaud
BComm 69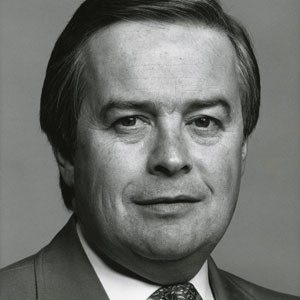 Awards & Distinctions
Great Concordian Chancellor's Builder Loyola Medal Humberto Santos Award of Merit
Philanthropy is important if we are to have a civilized, caring and healthy society.
A graduate of Loyola College, one of Concordia's founding institutions, Richard J. Renaud, BComm 69, is chairman and CEO of Montreal-based TNG Corporation. Trained as a chartered accountant, he is a self-made businessman who built an empire in private equity, also specializing in restructuring, buying and re-selling businesses.
He is a founding partner and chairman emeritus at Wynnchurch Capital; co-founder, co-chairman and co-CEO of Dundee Sarea; and chairman and director at Pethealth. Renaud has held directorial roles for more than a dozen companies over the years, including Northbrock Capital, Canstar Sports and Diagem.
Passionate about philanthropy, Renaud has been a creative and generous supporter of numerous charities and institutions: Centraide, the Canadian Council of Christians and Jews, the Canadian Olympic Foundation and St. Mary's Hospital, among others. In 1984, he founded the Roasters Foundation, which promotes entrepreneurial philanthropy, education and innovative healthcare programs.
Renaud has also been an ardent supporter of his alma mater, which he described as "the most under-told story in town" in an interview for Concordia's Thursday Report.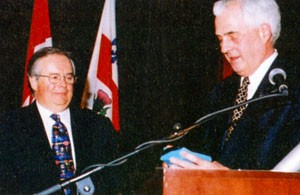 Raymond Huot, BSc 68, president of the Loyola Alumni Association, presents Richard Renaud with the Loyola Medal at a ceremony held on January 22, 2002.
The science complex at Loyola Campus carries his name in recognition of his generosity and ongoing commitment to the university.
Philanthropy "is important if we are to have a civilized, caring and healthy society," he told the crowd at the inauguration of the Richard J. Renaud Science Complex.
His contributions to Concordia — the Carolyn and Richard Renaud Endowment, the Hitting the High Notes Gala, and his invaluable efforts as director of the Concordia Foundation — have been celebrated in numerous ways: Renaud is the recipient of the Loyola Medal (2002) and the Concordia University Alumni Association's Humberto Santos Award of Merit (1998).
In 2008, Renaud was bestowed the title of Governor Emeritus after 20 years of service on the Board of Governors. The following year, the university awarded him an honorary doctorate.
Recognized by the wider community, Renaud is the recipient of the Dalai Lama's Unsung Heroes of Compassion Award and a National Philanthropy Day Award from the Association of Fundraising Professionals. In 2005, he was presented with the Cross Pro-Ecclesia at Pontifice for distinguished service to the Church of Montreal.
In 2017, he was appointed a member of the Order of Canada for his philanthropic generosity as founder of the Roasters Foundation and for his leadership within a number of charitable organizations in the Montreal community.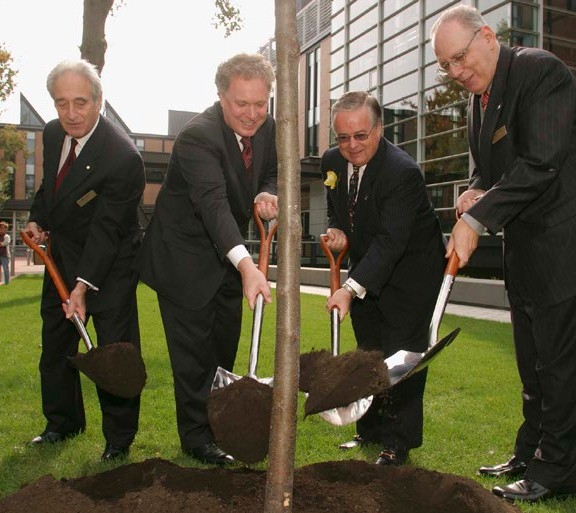 Rector Frederick Lowy, Premier Jean Charest, Richard J. Renaud, and Martin Singer plant a tree to mark the opening of the Richard J. Renaud Science Complex on September 22, 2003. | Photo: Concordia Records Management and Archives (Photographer: Andrew Dobrowolskyj)
More Great Concordians