Student profile
Adrian Deveau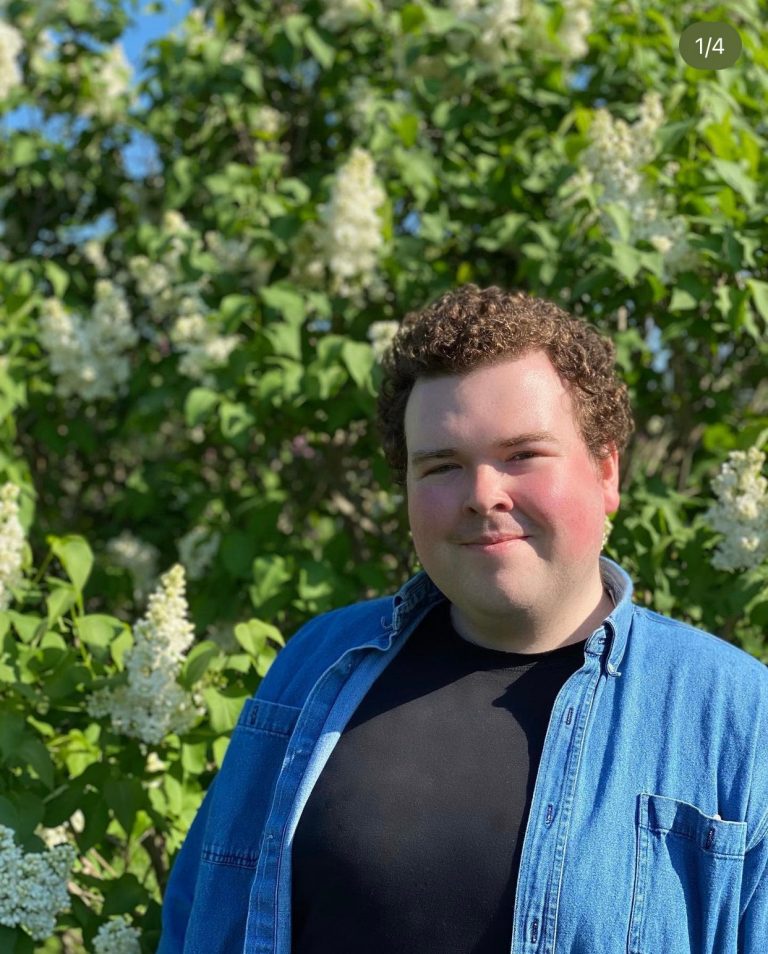 Adrian Deveau is a writer, artist, and PhD student in Art History at Concordia University and holds an MA in Art History and Theory from the University of British Columbia. Adrian has worked with arts-based organizations including Thinking Through the Museum: Museum Queeries, the Museum of Anthropology (Vancouver), Vancouver Biennale, Modern Fuel Artist-Run Centre, and Reelout Film Festival. In their research, Adrian is interested in the intersection of queer art and political protest, Artist-Run Centre Culture, and the methodology of Telepathy within the archive.
Thesis Title: Telepathic Visions: The Reification of a Queer Self in Canada, 1990-2020
Supervisors: Dr. Michelle McGeough
Research Interests:
Canadian Art
Queer phenomenology
Artist-Run Centre Culture
Marxist Feminism
Witchcraft
Teaching Assistantships:
ARTH200 Perspectives in Art History (2021-2022, 2022-2023)
ARTH262 Aspects in the History of Drawing: The Performative Line (2022)
Research Assistanships:
Research Assistant for Dr. Michelle McGeough, Thinking Through the Museum: Museum Queeries
Publications, conferences and exhibitions:
Publications:
"A Story of a Lost Life: Absence and Longing in HIV/AIDS Photographs" in Les Lieux des Savoirs Photographique: Les archives/Sites of Photographic Knowledge: The Archives, Edited by Martha Langford and Eduardo Ralickas. Montreal: Artexte. Forthcoming Winter 2023.
Conferences:
25/05/2021 – 28/05/2021: "Love on the Other Side: A Telepathic Investigation of Montreal's Love Discotheque," From Revival to Renewal, Society for the Study of Architecture in Canada, Montreal, QC.


05/11/2021 – 06/11/2021: "Methotrexate, Azidothymidine (A Prayer for Healing): The Rise of Technopharmaceutical Capitalism in the Work of Sharona Franklin and General Idea," Edible Undercurrents: Food in Art History, The 56th Annual UCLA Art History Graduate Symposium, UCLA, Los Angeles, California.
Accessible: https://www.youtube.com/watch?v=ssYTOLPcg8k


17/09/2021 – 18/09/2021: "Fires of Tyrannical Value, Bodies of Dereification: The Crimes of Petr Pavlensky," Letting It Burn: Art Worlds Ablaze, Seventh Annual Symposium in Art History, University of North Carolina, Chapel Hill, NC.


24/04/2021 – 25/04/2021: "Localizing the Matrix: Creative Time and the Optimistic Failure of the Bernadette Corporation's Pedestrian Cinema (2007)," Interruption: Reflections of Crisis Across Time and Space, History in the Making, Concordia University, Montreal, QC.


03/06/2020: "Exploitation in Memoriam: The Trap of Imperial Valorization and Postcolonial Nationhood through the War-time Photography of Glenn S. Hensley," Decadence: Flows of Abundance and Decay, AHVA Symposium, The University of British Columbia, Vancouver, BC.


01/02/2019: "Discipline in Crisis, or the Manifestation of a New Hope: The Mobilization of Foucauldian Philosophy towards a Queer Art Histor(ies)," Context and Meaning, Queen's University, Kingston, ON.